Riding Out the Tides & Finding Your True "Ah-ha" Moment with Christine Oneto

Wednesday, February 26, 2014 from 5:30 PM to 8:30 PM (PST)
Event Details
For our February Inspired Women Speaker Series, this special event is sure to get you on the path to living your dream live in 2014!
Have you recently been through a career turning point?  A period of joblessness? Change in relationship status? All of these and more can cause one to look at their present circumstances and think: "There must be something better for me out there."  Know that: There is! You have the ability to reinvent yourself at any point in your life. You can have all you ever wanted...even if you don't know what that is, yet! You can find your true voice and realize what your true calling or mission in life is or can be.
With anecdotes from her own multi-industry career, including jobs at Salesforce.com, Toshiba, as the Editor of Girls in Tech, and recently with the non-profit, Fuse Corps, Christine Oneto will talk about how those "jumping-off points" like being laid off, for example, lead her to seek out and finally get to her "Ah-ha" moment. Speaking on topics from her new e-book: One Woman's Voice and How Using Yours Can Start a Revolution, she'll go into some gritty -- and sometimes humorous -- detail about what helped get her to this moment...and how this might happen for you.  
Be prepared to share (optional, of course) your experiences in this area and find out how you can also turn your life around to find that best job, or best new venture that you've always wanted to embark upon but never knew where to start.This will be an interactive discussion; and you will find out how Christine went from being a sales support rep in a tiny department of a high tech networking company, to a sales support supervisor in the leading cloud companies out there today. --- How she went from a life in marketing for tech companies, to her own PR consulting business and becoming a first-time author. If nothing else, come and enjoy being in the company of amazing women, who are reinventing themselves daily, each in their own way.  
You can follow Christine on Twitter at: @Yourwomensvoice & for social media/PR/tech/wine news: @christine1oneto
 About Christine: 
As a former Editor at Girls in Tech and having held marketing and PR roles at several start-ups and large tech, consulting, non-profit/innovation and financial services companies (including Salesforce.com, Toshiba International, and Fuse Corps.), Christine Oneto is a writer first, and a PR and Marketing strategist by profession. Her goal is to see that every woman lives up to her full potential & in doing so perhaps leaves the world a little better place. Believing that your Voice can cause a ripple effect...that can start of a "revolution in thought," Christine has written One Woman's Voice and How Using Yours Can Start a Revolution.
An editor for women in technology networking for some years, she decided to turn my writing towards making changes for women, globally, not just in the tech sector. She has written for the International Museum of Women, Life360 (a family safety blog), Why Not Girl!, and Girls on IT (Sao Paolo, Brazil). A PR Consultant for @FuseCorps, Social Media for @MorganBraxton Wine Society and Rolf Lygren Fine Art, and a Digital Content Strategist, she is most often found as contributor and Writer/Blogger, a supporter of @GirlUp and the Miss Representation Project. She is also a child advocate, ocean advocate and an avid sailor. Always willing to lend her talents to help others find their own Women's Voice, she also volunteers for HackCancer SF and the Mill Street Shelter.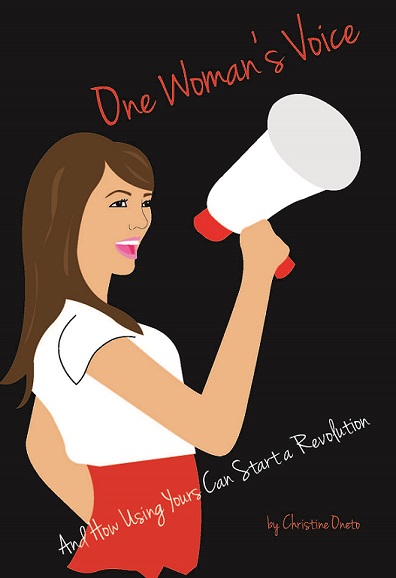 To read the full, un-amended version of her current work, download the e-book, "One Woman's Voice and How Using Yours Can Start a Revolution" you will find it on Amazon at: http://amzn.to/1hZ2eaJ | Or on Smashwords (independent bookstore site) at: https://www.smashwords.com/books/view/385564
One Woman's Voice e-Book Website link: yourwomensvoice.com  
Oneto PR website: christineoneto.com
Women's Voice Blog: yourwomensvoice.blogspot.com
Thank you to our sponsorsRodan + Fields Independent Consultants, Team San Francisco.

Stay tuned for other upcoming Inspired Women's Workshops in the upcoming months. Contact Stephanie Wong at stephanie@stephaniewong.com to be added to the list for upcoming events or to be considered as a speaker in our Inspired Women's Workshops.   
When & Where

WeWork SOMA
156 2nd St
Downstairs Conference Room
San Francisco, CA 94105


Wednesday, February 26, 2014 from 5:30 PM to 8:30 PM (PST)
Add to my calendar
Organizer
Inspired Women Bay Area
Stephanie Wong
Rodan + Fields Independent Consultant
stephanie@stephaniewong.com
415-844-0714

Riding Out the Tides & Finding Your True "Ah-ha" Moment with Christine Oneto