Description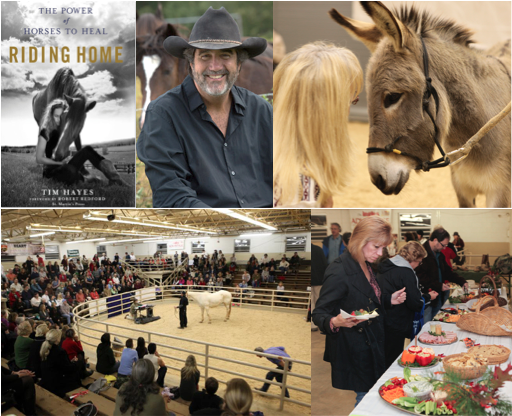 Heart of Horse Sense is excited to introduce and celebrate some of our horses that bring such healing power to the work that we do in an arena environment where guests will see first-hand the powerful nonverbal communication and connections between horses and humans that go into the realm of their shared need for safety, acceptance, and compassion.
Special Guest, Tim Hayes, author of Riding Home: The Power of Horses to Heal, will address how horses help people heal, resulting in the kind of life-saving results that we see with equine-assisted therapy and learning every day. Heart of Horse Sense horses and some of our Veterans will demonstrate the horse-human connection that plays such a powerful role in human healing.
Come and enjoy great food and beverages from local purveyors, exciting equine-themed raffle prizes, and a chance to meet and mingle with the horses and Bruiser, the mini-donkey, with lively music in the background.
Since Heart of Horse Sense was founded, it has supported equine-assisted therapy for more than 1600 Veterans, Youth and their families in their post-combat struggles with PTSD and other trauma.
Riding Home with Heart of Horse Sense will take place November 7 from 6:30 to 8:30pm in the Sale Barn at the WNC Agricultural Center Livestock Sales Arena at 761 Boylston Highway in Fletcher, NC (near Asheville Regional Airport). To purchase Advance Tickets, or for more information go to www.heartofhorsesense.organd the Heart of Horse Sense Riding Home event page on Facebook.
THANK YOU TO OUR SPONSORS!