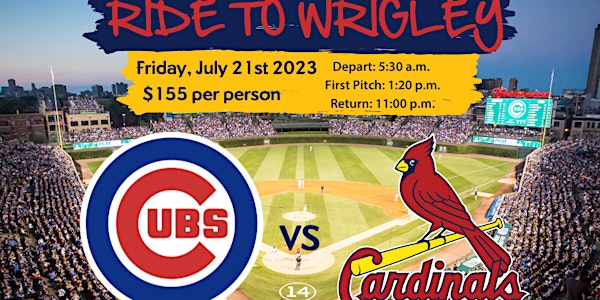 Ride to Wrigley
Join Marion and Hiawatha for a chartered trip to one of baseball's greatest and most historic venues...Wrigley Field.
When and where
Location
Wrigley Field 1060 West Addison Street Chicago, IL 60613
About this event
17 hours 30 minutes

Mobile eTicket
Open to All Ages (18 and under must be accompanied by an adult)
Join Marion and Hiawatha Parks and Recreation Departments for a chartered trip to one of baseball's greatest and most historic venues...Wrigley Field. Leave the transportation and parking to us and travel in comfort in a chartered motor coach to watch one of baseball's best rivalries, the Chicago Cubs VS the St Louis Cardinals, from the historic bleachers. Food and drink are permitted on the bus. Your fee covers the bus fare and ticket into the game. You will be responsible for food, drink, souvenirs, etc. Hurry! Limited number of spots available and they will go fast!
Fee: $155.00 per person, includes bus fare and game ticket*
Date: Friday, July 21st (first pitch at 1:20 p.m.)
Time: Pick-up: 5:30 a.m.; Drop off: 11:00 p.m. (First pitch at 1:20 p.m.)
Pick-Up/Drop Off Location: Target on Blairs Ferry Road (1030 Blairs Ferry Rd NE, Cedar Rapids, IA 52402)
Registration Deadline: Open until all tickets are sold *Seats are located in the outfield bleachers. Ticket will guarantee you a seat in the bleachers but are not reserved seats…they are first come.
*No refunds will be given after July 1st, 2023.
Ride to Wrigley Rules
1. All riders must be 18 years or older to participate. Those under 18 years of age will have to be accompanied by a responsible adult age 18+.
2. Guests are welcome to bring food and drink on the bus, but must be respectful and clean up after themselves.
3. NO ALCOHOL of any kind is permitted on the bus. Guests can enjoy adult beverages during the game.
4. Participants must be at their pick-up location at the designated time. Due to our schedule and bus driver drive time limit, we CANNOT wait for people who are late.
5. Once we arrive at Wrigley Field, you are on your own for the game. We will all be sitting together, but you are welcome to do as you please until after the game.
6. After the game, please be back on the bus at or before the designated time (TBA). We will take roll call and once everyone is accounted for, we will depart for home. We may stop on the way back from the game as time allows to grab a bite to eat along the way, but that is not guaranteed. Please pack food, snacks, drinks accordingly.
7. Refunds are NOT given to those who are late and miss the bus departure.
8. Please be respectful and courteous to all members on the bus, at the stadium, and anywhere else while on this trip.
9. Chaperones are expected to be just that on this trip…RESPONSIBLE for the person you are chaperoning.
10. The Marion and Hiawatha Parks and Recreation Departments are not responsible for any lost, stolen, or damaged items that you bring with you.
More information and a daily itinerary will be emailed to participants in early July.
FOR QUESTIONS OR MORE INFORMATION CONTACT
Marion Parks & Recreation at 319-447-3590 or Hiawatha Parks & Recreation at 319-393-1515