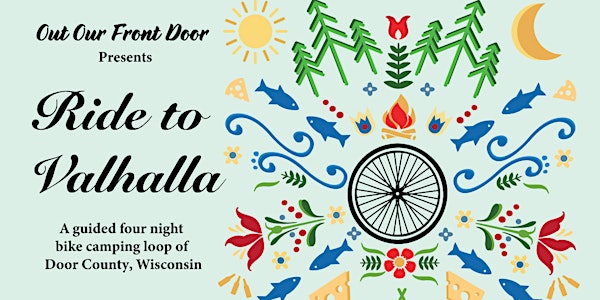 Ride to Valhalla: 4 Day Ride Door County Wisconsin 2023
A 4-day, 3-night Bike Camping Adventure circumnavigating Door County Wisconsin from Sturgeon Bay, WI to Washington Island, WI and back!
Date and time
September 15 · 11am - September 18 · 7pm CDT
Location
Sunset Park in Sturgeon Bay, WI 747 N. 3rd Ave Sturgeon Bay, WI 54235
About this event
3 days 8 hours

Mobile eTicket
A 4-day, 3-night Bike Camping Adventure circumnavigating Door County Wisconsin from Sturgeon Bay, WI to Washington Island, WI and back!
EVENT DETAILS
When: Fri - Mon on September 16th-Monday 19th
Meet: 11am Friday September 16th at Sunset Park in Sturgeon Bay, WI
Itinerary:
Day 1 - Sturgeon Bay to Peninsula State Park - 30mi
Day 2 - Peninsula State Park to Washington Island Campground - 45mi
Day 3 - Second overnight on Washington Island - 25mi
Day 4 - Washington Island to Sturgeon Bay - 75m
Pace: Casual, option to ride together as a group. 12-15mph
Trail/Route: Paved road with minimal gravel incorporated
Lodging: Tent (camping gear not provided)
Support: Semi supported - you carry a majority of your own camping gear etc on your own bike. We will allow 1 school-size backpack to be carried in our support vehicle to lighten your load.
Meals: More details below.
Additional Nights: OOFD has a group site reserved for the Thursday before and the Tuesday after the event that all riders are welcome to stay at for FREE! That way if you want to arrive the night before and/or not drive home after riding 70+ miles on Monday, you can stay with us at Potowatomi State Park in Sturgeon Bay. No meals provided during those additional nights.
Transportation: You can drive (just under 4 hours from Chicago) and park for the duration of the trip in Sunset Park in Sturgeon Bay (this is where we will beginning and ending the ride). There is no charge for parking.
Parking: Sunset Park, Sturgeon Bay
TRIP DESCRIPTION
This is not your average group bike ride. At certain breakpoints and along the way, our Guides will immerse and educate in the history, geography, architecture and the uniquely beautiful natural habitats and ecosystems of Door County. We will incorporate cultural stops to see some of the more interesting sights of Door County.
We will learn about the quest for Icelandic-American inventor, Chester Thordarson to build a Valhalla in America on Rock Island. Jens Jensen, the landscape architect responsible for such Chicago landmarks as Humboldt and Garfield Parks, has an intellectual commune and natural retreat called The Clearing which will be a stop along the way.
Natural highlights include the splendor and glaciated cliffs of Door County looking out onto Green Bay and Lake Michigan.
We'll take a rest day on Washington and Rock Islands allowing us some time to explore the island by bike. See such sites as the Stavkirke, a Scandinavian church and the Mountain Park Lookout. Rock Island is a former private estate of the Thordarson family and see the historic boathouse.
MENU DESCRIPTION
Biking through Door County in the fall allows us to enjoy the majority of our meals outdoors. We take every opportunity to enjoy the comfortable fall weather and have as much outdoor time as we possibly can. Each morning, hearty, traditional breakfasts like breakfast tacos with eggs, bacon or sausage and tortillas or oatmeal, fresh fruit and coffee, of course, will be prepared for you by your camp guides. Our days are full of biking adventures and to keep us rolling, we've planned our route so that guides can set up a sandwich bar lunch with popular condiments and salty chips to keep up your electrolyte levels as we're en-route to our next destination. Door County is rich in historical and natural beauty, and our lunch spots are planned to help us discover some of the best. Dinners are shared as a group and provide an opportunity to chat about the day, learn about one another, and relish in the satisfaction of a full meal after a day of outdoor activity. On our first evening, we'll enjoy watching (and eating) one of Wisconsin's oldest traditions, the fish boil. And for those who are vegan or vegetarian there are alternative options available. Once we arrive on Washington Island we enjoy catered dinners at the campground that include grilled meats and veggies, salads, and deserts that feature the fruits of Washington Island. Dinners are served at around the same time each night, and with two days on the island, we start to feel the campground is our home away from home
Meals and entertainment will be provided on this unique adventure. We'll hope for clear skies at night for clear viewing of the stars from Washington Island.
What is Bike Camping? It's where you stay overnight in a tent by bike. Get a bike rack. Strap your Tent, Sleeping Bag, and Supplies then adventure out. So Gather some friends and let's have a good time!
To learn more about the region we'll be traveling through, check out Destination Door County's video on Icelandic Heritage.
WHAT TO BRING
Required Items:
• Your bike!

• Helmet - please bring one

• Tent/Camping Gear

• Head Lamp

• Cash/Debit/Credit Card for your food and your drinks

• Photo I.D. and Emergency contact Info

• Two spare inner tubes and tools to replace a flat if not around a guide

• Water bottle

• Bike lights, front and rear

• Lock for your bike

• High Energy Snacks

• Personal Items - There are showers at the campsites so bring your own soap, small towel and deodorant.

• Helmet - please bring one

• Change of clothes and be sure to include a swimsuit!
ABOUT THE GUIDES
They will have A bike tool kit, an air pump, a presta/schrader valve adapter, tire lever, chain breaker, and a crescent wrench (for those older bikes), a multi-toolkit, lights and emergency packet. Our guides will help you with any needed repairs. *If you have any of the above items please bring them along at your own convenience.
Our Guides have worked with historians, Biologists, Forest Rangers, and leading people in their fields to deliver a one kind story to remember. They have set up multiple breakpoints along the way in all the right places to ensure you can go the distance. So if this is your first time out on a long ride You'll be surprised by how far you can actually go.
TIPS FOR THE RIDE
Use a Bike rack
We suggest purchasing a back rack if you do not have one already. A bike back rack will improve this trip and any future riding you do on your own. A bike rack will also keep the weight off your shoulders. Stop in your local bike shop to help get your bike geared up.
Keep it light and keep it tight!
Secure your belongings and keep highly used items accessible when packing. Light weight usually makes for a more enjoyable ride; So don't bring your living room furniture on the ride. And Avoid dangling straps, they can get entangled in the wheels and cause an accident; Be smart and protect your safety.
Other Stuff To Bring
You might want to bring a photo device, pain killers, comfortable cushion bike gloves, sunglasses, sunscreen, lip balm, information to share.
Clothing
Dress for the season and dress in layers. In the spring and fall the outside temps may be great to wear a T-shirt but when biking the wind can make your chest, hands, and fingers cold. Bring a pair of gloves and a sweater/windbreaker if need be. If a little rain is in the forecast, bring a rain jacket. Don't be afraid of the rain!!! Some of the best views are when a storm is on the horizon. If it gets intense there are shelters along the way to sit it out for the moment.
FREQUENTLY ASKED QUESTIONS
Can anyone ride this Tour?
This tour is a challenge mostly because of the large distance we cover on the last day! You should build up your riding distance/endurance to at least 50-70 miles before the ride and be able to maintain 13-15 mph.
What kind of bike do I need?
We recommend a Touring Bike. Or a road bike with 28 to 35 mm tires. The trail and route is mixed terrain. from paved road to limestone to some gravel. These types of bikes make for a more comfortable ride. Attaching a bike rack will help carry your daily supplies and keep weight off your shoulders. Do not ride 100 miles with a backpack.
Do you rent bicycles out to the public?
What if I get tired?
We champion perseverance and the challenge. We encourage you to push on, the reward of completion is great. In the event of injury, our sag vehicle will assist. However, this vehicle should not be relied upon for mere fatigue. There are limited seats.
What should I bring for the bike trip?​
Always bring two spare inner tubes and a bike tool kit. Dress for the season, during spring and fall make sure to bring gloves for your hands and layer your clothing. Even when the weather is nice, when riding your bike the wind can make you chilly really quick.
What happens if it rains, is the event cancelled?
No. We still ride if there is rain. Some of the best views are after a rainstorm. Though safety is our top priority. So if there is extreme severe weather we will break and wait it out in a provided shelter, then continue to our destination.
How fast do you Ride? What is the pace of your tours?
This tour in particular is for intermediate riders. The pace we ride at is around 12-15 miles per hour. This is to accommodate everyone riding the tour, to be able to take in all the views and to be able to ride a third day. 
What happens if I'm too slow? What happens if I'm too Fast?
We ride together as a group. We do not leave anybody behind. A guide will always be riding at the back and at the front. Certain days will have ferries, however, requiring the group to meet a certain schedule.
What happens if my bike breaks?
First, always bring two spare inner tubes. Our prepared Guides are always ready to help, are trained for emergency repairs, and carry extra tools and supplies.
REFUND/CANCELLATION POLICY:
Individual/Participant Cancellations: No Refunds. No Transfers. | We are a small organization and due to the small group size of our rides, a ticket cancellation/no show has a real impact on the planning of the tour and as such, we cannot provide any refunds for a participant cancellation. By registering, you acknowledge and agree there will not be a refund if you cancel or do not show up for the event. Tickets are non-transferable and can not be resold. Please contact the ride organizer if you are no longer able to attend.
Organizer Cancellation: Full Refund | Nobody wants an event to be canceled. But in the very rare case, the organizer does cancel the event at their discretion due to unforeseen circumstances, then registered participants will receive a full refund. To date this organizer has never canceled an event.
Weather and Rain: We do not cancel an event for rain or a storm. We ride rain or shine. Understand that Chicago weather is typically passing, if it gets intense we will wait it out in a provided shelter then continue biking. FYI-Some of the best views and greenery are after a rainstorm.
Inclusivity and Non-Discrimination Statement (included in the Waiver)
We at Out Our Front Door believe in the radical inclusion of all people on our bike camping trips. Regardless of your race, gender identity, sexual orientation, economic status, or even the types of bikes you ride, we want you rollin' with us. We want everyone to feel welcome except those that make others feel unwelcome. As a participant of an Out Our Front Door event, you are inherently agreeing to ride and let ride. 
If you exhibit any micro-aggression observed by leaders such as being judgemental of another's bike, touring experience/skill, mansplaining, or generally being unfriendly you will be politely yet firmly corrected by OOFD leaders. If you commit any serious offense such as repeated unwanted flirtation, sexual harassment, overt racism, etc, you will be asked to leave the tour without refund and will no longer be welcome on future rides.
If you feel you are a victim of any of the above or have observed it, please raise the issue to one of the leaders and they will handle the issue accordingly and with appropriate discretion.
We have this policy in place because we want everyone to feel safe and welcome on tour. Out Our Front Door is an open community of bike campers, and we will forever work to bring all sorts of folks into the fold. Thank you for being a positive contributor to that community.
ABOUT US
We're The Out Our Front Door Organization. A Bike Camping Community For Chicago and The Lower Lake Michigan Basin.
About the organizer
"Established in 2015, we are an all volunteer non-profit organization that immerses, educates, and preserves the history, culture, trails, and native habitats of the Lower Lake Michigan Basin Area through exploratory adventures. "
The Out Our Front Door Organization. Founded in 2015
 Visit us at: https://www.facebook.com/outourfrontdoor/