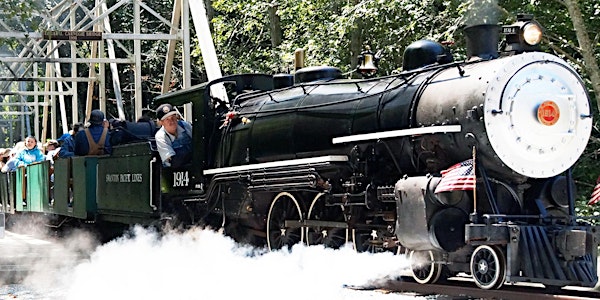 Ride the 1915 PPIE Overfair Railway Steam Train at Swanton Pacific Railroad
Location
Swanton Pacific Railroad
297 Swanton Rd
Davenport, CA 95017
Description
Our next reservation-based events will be in April 2016 and September 2016.
Check later on our website calender or facebook to find the next dates (as of 9/2015 these are TBD).
http://sprr.calpoly.edu/calendar-and-events
https://www.facebook.com/SwantonPacificRailroad/
Railroad Centennial Open House: Take a train ride on the Swanton Pacific Railroad with 100-year old steam locomotives from the Overfair Railway that ran along San Francisco's Marina during the 1915 San Francisco Panama-Pacific International Exposition (PPIE). The railroad is located about 15 miles north of Santa Cruz and 35 miles south of Half Moon Bay. Tour the railroad roundhouse and workshops. Learn about the locomotive's history. Talk with railroad volunteers about becoming an active member of the Swanton Pacific Railroad Society.
Railroad Hours 10:00 AM - 4:30 PM
Tour the railroad roundhouse and workshops.

Bring your own picnic (no alcohol) and have lunch at our tables or lawn (please take your trash home with you).

Swanton Pacific Railroad store open for cold drinks, t-shirts, railroad hats (cash or check only).

Learn about participating at the railroad.

Steam Up at 8:00 AM - watch the steam locomotive get ready to run for the day.
Train Rides Depart from 10:30 AM to 4:00 PM
Half-hour steam train rides throughout the day (crew will break for lunch around noon).
How to Get to 297 Swanton Road, Davenport
Swanton Pacific Railroad is 15 miles north of Santa Cruz and 35 miles south of Half Moon Bay. From Hwy 1,

take the nearest Swanton Road entrance.

Swanton Pacific Railroad

is 2.8 miles from the south entrance, 4.1 miles from the north entrance, and between Big Creek Fire Station and a meadow. The round house is visible from the road.
What to Wear

Bring layers of clothing, mornings can be cool but the afternoons can be quite hot.

W

ear shoes that work on uneven terrain and lawns.

Period clothing from 1915 is encouraged, since it is our centennial after all!
Restrictions
No alcoholic beverages permitted

No pets

Reservations required!
Our next reservation-based event is on September 27. For more information, check Facebook at the end of August.