About this Event
EVENT PARKING INFORMATION
With registration at capacity, please leave extra time for parking and finding seating. Doors will open at 6:15 PM. Please refer to the below map for parking locations.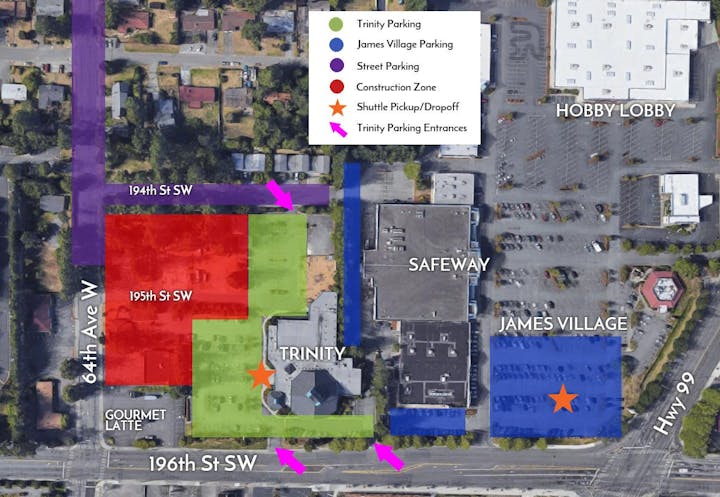 ELCA WORLD HUNGER PRESENTS
Rick Steves Hunger and Hope: Lessons from Ethiopia and Guatemala
FREE PREMIERE SCREENING & BENEFIT
Rick Steves, guidebook author and travel TV host, and the Rev. Elizabeth A. Eaton, presiding bishop of the Evangelical Lutheran Church in America (ELCA), will host the premiere screening of Steves' new special "Hunger and Hope: Lessons from Ethiopia and Guatemala" on Monday, October 7 from 7–9 PM at Trinity Lutheran Church & Schools in Lynnwood, WA. Following the screening, Steves and Eaton, with Rev. Dan Rift, ELCA World Hunger and Disaster Appeal Director, will engage in conversation and take questions on issues surrounding world hunger. Attendees will be given the opportunity to learn more about ELCA World Hunger and how to support their efforts to address these issues.
ABOUT THE FILM
In this hour-long special, Rick Steves ventures beyond Europe. Traveling through Ethiopia and Guatemala, he learns from locals and experts about key aspects of extreme poverty and how to beat it. Together, we'll witness the importance of water, education, empowering women, and nutrition during a child's first 1,000 days. And we'll see firsthand the impact of globalization and the effects of climate change. More than 700 million people remain in extreme poverty — struggling to live on less than $2 a day. But with the help of innovative solutions and smart development aid, world hunger has been cut in half in the last generation. Ending hunger is possible. And, with travel as our classroom, we can learn about both the challenges and the solutions.
ABOUT ELCA WORLD HUNGER
Working with and through ELCA congregations, in the United States, Puerto Rico and the U.S. Virgin Islands Lutheran churches overseas and other partners, ELCA World Hunger is uniquely positioned to reach communities in need. From health clinics to microloans, water wells to animal husbandry, community meals to advocacy, gifts to ELCA World Hunger make it possible for the ELCA to respond, supporting sustainable solutions that get at the root causes of hunger and poverty.
By providing immediate relief to those who are hungry, we meet basic needs and recognize the universal human right to food. But ending hunger is about more than food. By connecting people with the resources they need to produce food and gain access to clean water, education, health care and sources of income, long-term, sustainable change can be accomplished. Learn more at elca.org/hunger
RICK STEVES' CLIMATE SMART COMMITMENT
Travelers face a dilemma: While international travel is one of the best ways to become a better global citizen, every flight emits damaging carbon into the atmosphere. Fortunately, it's possible to mitigate this environmental toll. Each year, Rick Steves' Europe invests $1 million in a portfolio of nonprofits that are making a big difference, including $100,000 to ELCA World Hunger. That means that each traveler who takes a Rick Steves' Europe tour can enjoy the peace of mind that they are traveling climate smart. Learn more at ricksteves.com/climate.