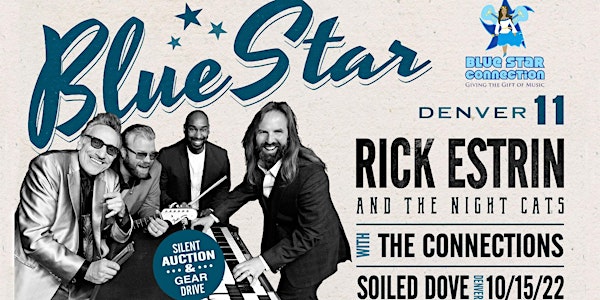 Rick Estrin and The Nightcats
UNDER 21 WITH PARENT OR LEGAL GUARDIAN
Presented by Blue Star Connection
Blue Star Connection welcomes Rick Estrin and The Nightcats with special guests The Connections!
When and where
Location
Soiled Dove Underground 7401 E. 1st Ave Denver, CO 80230
Performers
Rick Estrin And The Nightcats
About this event
Blue Star Denver 11 comes to the Soiled Dove again in 2022 with a stellar lineup for a great cause. This annual fundraiser supports Blue Star Connection, a special program of the Grand County Blues Society, founded by John Catt with a mission of bringing music into the lives of children who are struggling with serious life challenges. This year's fundraising event will feature Rick Estrin & the Nightcats along with special guests The Connections plus a large Signed Guitar Silent Auction sponsored by Category 5 Amps!
For the past 11 years, many supporters of Blue Star have enjoyed being a part of these great fundraising events knowing they are getting a great night of music and they are helping Blue Star kids in the process. This year's special guests are The Connections, a group of Denver area pros that are connected by their love and support for Blue Star Connection. Long time friend of Blue Star, Kai Turner of Strictly Blues fame, will Emcee the show. The Connections will kick things off with some blues to get you going and on your feet. Award-winning, national artist Rick Estrin & the Nightcats will headline the evening with his unique and hip style of delivering blues rock music. Be sure to purchase your tickets early to avoid disappointment as this anticipated annual event sells out every year! To learn more about Blue Star Connection, please visit www.bluestarconnection.org
"Hugely entertaining, intelligently conceived and executed roots rock with a wickedly cool and otherworldly twist on tradition. Estrin's harp work is masterful." –Living Blues
Larger-than-life blues star Rick Estrin has piloted the wildly fun and musically fearless Rick Estrin & The Nightcats for the last decade, touring the world and proving night after night why they won 2018's Blues Music Award for Band Of The Year. The limitless combined talents of blues harmonica virtuoso and sly, soulful singer Estrin, guitar mastermind Kid Andersen, keyboard wizard Lorenzo Farrell and endlessly creative drummer Derrick "D'Mar" Martin take Estrin's inventive, original songs to new and unexpected places. On stage, the band's ability to deliver an unpredictable, no-holds-barred show is unmatched. Now, Rick Estrin & The Nightcats return with their fourth studio album, Contemporary. With the band kicking everything up a notch, Estrin and the Nightcats explore some different sounds, instrumentation and grooves, while maintaining the trademark Nightcats style. Produced by Andersen and Estrin and recorded at Andersen's now-famous Greaseland Studio in San Jose, California, Contemporary delivers twelve surprising, wise-cracking, foot-stomping songs, including nine by Estrin (one co-written with Andersen), one each by Andersen and Farrell, and one obscure Bobo Jenkins cover. From the noir-ish romp I'm Running to the hilarious title track to the sardonic Resentment File (co-written with Estrin's friend of over 50 years, Joe Louis Walker), Contemporary packs a modern blues punch. According to Estrin, "Recording at Greaseland, we all had so much fun and were so relaxed, the genius ideas just started pouring in from all sides. I really expect this record to blow some minds."
In addition to Estrin's celebrated songwriting and spectacular harmonica playing, he and the band are among the most entertaining and colorful showmen around. Estrin's flashing harmonica solos, quick wit and signature hipster-cool look, Andersen's off-the-cuff guitar pyrotechnics, Farrell's mighty organ and piano work and D'Mar's dynamic drumming bring instant fun to their live performances. "People don't go out to see people who look like themselves," says Estrin. "They want to see something special. I was schooled in this business to be a showman, and that's what you get when you come to see us perform. We know how to put on a show. I feel sorry for anyone who has to follow us."
Estrin was schooled by some of the very best blues musicians. While still a teen, he was tutored by San Francisco's famous musician (and pimp) Fillmore Slim. He was mentored by Oakland's legendary Rodger Collins, and gigged with blues stars Lowell Fulson and Z.Z. Hill. Estrin moved to Chicago when he was 19 to work with Windy City bluesmen Johnny Young, Eddie Taylor, Sam Lay and John Littlejohn, and even jammed with Muddy Waters. He returned to California and continued to hone his craft. By the time he joined forces with guitarist Little Charlie Baty and formed Little Charlie & The Nightcats in 1976—a band he would front for the next 30 years—Estrin was a seasoned performer with plenty of talent and a newfound knack for writing killer original songs.
Upon Baty's retirement from touring in 2008, Estrin recruited high-flying guitar wunderkind Christoffer "Kid" Andersen and formed Rick Estrin & The Nightcats. The band quickly became a worldwide favorite with blues fans as well as critics and radio programmers. "Kid's a fearless nut on the guitar," says Estrin. "He's really the only guy who could fit in with us." With an uninhibited style that perfectly meshed with Estrin's wildly imaginative songs, the new band charged out of the gate. Billboard called them "fabulous, remarkable and original."
Since the 2009 release of Rick Estrin & The Nightcats' celebrated Alligator Records debut, Twisted, the 2012 follow-up One Wrong Turn, 2014's crowd-pleasing You Asked For It...Live!, and 2017's Groovin' In Greaseland, the band has toured the world, earning high praise and standing ovations everywhere they go. The Chicago Sun-Times said, "These are serious musicians having a hotter than hot good time. It's tough to stay in your seat when Estrin and his musical cohorts get cooking." They've performed at festivals and concert stages from San Francisco to Chicago to New York, and everywhere in between, plus tours of the United Kingdom, Norway, Belgium, France, Switzerland, Poland, Australia, Israel and recently Estonia and Russia. The band's worldwide popularity helped Estrin win five Blues Music Awards, including two nods for Song Of The Year (1994 and 2018), Best Instrumentalist—Harmonica (2013) and Traditional Blues Male Artist Of The Year (2018). The full band, Rick Estrin & The Nightcats, won the highly coveted 2018 Blues Music Award for Band Of The Year.
According to Estrin, "Contemporary is the most fully realized expression of who Rick Estrin & The Nightcats really are and what we're capable of as a band. With the group's help, everything I envisioned for the songs got turned up a notch, with everyone getting more and more inspired." This is modern blues at its most potent and powerful, with phenomenal musicianship and lyrics that cut with a wink and nod. According to the UK's Blues & Rhythm, "Rick Estrin & The Nightcats have crafted an instantly identifiable sound. They serve up insightful, original blues combined with tough rock'n' roll. This band is superb."