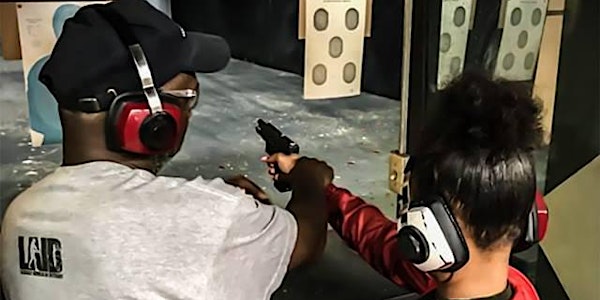 Rick Ector's Detroit Michigan CCW CPL Class - Sun. December 11, 2022 - $159
Michigan CPL CCW Training Class - Get Your Permit And Protect Your Family! Our class is taught by NRA Approved and Certified Firearm Trainer
When and where
Location
Rick Ector at FLP HQ 32231 Schoolcraft Suite 201 Livonia, MI 48150
About this event
Michigan CPL CCW Training Class - Get Your Permit And Protect Your Family!
Our class is taught by NRA Approved and Cetified Firearms Trainers and the legal portion of the class is taught by a recognized legal authority in the fields of lethal force, concealed carry, and self defense.
The topics that will be addressed in our one-day Detroit Michigan CCW CPL Training Class are listed as the following:
Defensive Shooting (50 minutes)

Three Primary Gun Safety Rules
Ethical Responsibility
Proper Mindset Conditioning
States of Mental Awareness
Intruder/Assailant Confrontations
Intent of Shooting/Stopping Threats
Realities of Shooting Encounters

Handgun Skills (180 minutes)

Range Safety Briefing
Rules for Using and Storing a Handgun
General Range Safety Rules
Defensive Accuracy
Fundamentals of Marksmanship
Elements of Good Shooting Positions
Two-Handed Standing Shooting Positions
Sight Alignment and Flash Sight Picture
Cover versus Concealment
The Tueller Drill
Thirty (30) Round Target Qualification

Legal Topics (60+ minutes)

CCW Application Process
CCW Disqualifying Factors
Record Expungement
Pistol Free Zones
Deadly Force & The Law (Case Studies)
Castle Doctrine & the Duty to Retreat
Michigan's New "Stand Your Ground" Laws
Self Defense vs. Fighting
Police Stop Encounters
Gun Sales & Transfer of Ownership
Posession and Transportation of Handguns
Safety Inspection/Gun Registration
Shooting Aftermath/Statements to Police

Home Safety/Violent Encounters (60 minutes)

Personal and Home Safety Tips
Emergency Plan for Break-in Response
Police Arrival Considerations
Emotional and Legal Aftermath Issues
Safe Storage of a Handgun

Handgun Selection (30 minutes)

Handgun Feature Considerations
Revolver vs. Semi-automatic Handgun
Handgun Ammunition Considerations
Handgun Purchasing Considerations
Handgun/Personal Protection Accessories

Sports Shooting Opportunities (20 minutes)

Shooting Activities
Additional Training Option
TESTIMONIALS GIVEN BY OUR CUSTOMERS
"Rick is a highly skilled Firearms Instructor that is passionate about his work. He cares deeply about others having the ability to protect themselves and about his community. I have known Rick for several years, and would highly recommend anyone in the Detroit area to attend his classes. He is a strong supporter and advocate for our Rights and we could use many more like him." - Nick Laurino, Indianapolis, IN
"I have taken CPL classes in a few places, I found Rick and his academy to be the most informational and hands on. The knowledge and the people that the surrounds himself with are top notch. He is always available for questions and guidance. #1 on referral list for this category!" - Adam Taggett, Detroit, MI
"As a former student of Rick's I can honestly say that he is one of the best firearms instructors in this industry. He is safe and professional with all of his courses, and is always reachable for consultation. I would highly recommend Rick for anyone seeking knowledge about firearm safety and personal protection." - Hubert Joyce, Detroit, MI
"Thorough, effective and affordable. After taking this vsClass with Rick, I not only felt more comfortable carrying my weapon, I understood the rules governing it's use better. The gun range portion was competitive, but comforting also. Rick is very knowledgeable and an awesome instructor. If you want a CPL, call Rick and attend the class today!" - Terrence T. Lane, Detroit, MI
"Rick is one of a handful of NRA instructors that truly gets what having a CPL is about and why the training is so important. That the merging of an unarmed civilian with someone who has decided to help protect themselves and by extension others takes deliberate actions and training. He understands the logic/reasons behind the science of instruction and can communicate with anyone who joins his class. His teaching style is fluid and well thought out, there is no fluff, no corner cutting, no "well that was close enough" instruction. He is an asset to the community and the best recommendation I can give is that I continue to strongly suggest that my family and friends take his courses." - James Hudgens, Flint, MI
"Rick is a fountain of knowledge and he is passionate about educating his students. Rick invites you to a comfortable atmosphere where you feel confident and empowered. When you leave his class know that you have been trained by the BEST!" - Linda Bishop, Detroit, MI
"I have had the pleasure of learning about gun safety from Rick. Rick has a wealth of knowledge about fire arms, gun laws and safety. His curriculum for both aspiring and current fire arm owners, ensures they are equipped with knowledge to be safe and responsible gun owners. Rick also hosts a free training day once a year for women. The participants for this event has almost tripled over the past couple of years. Thanks to Rick and his team, more women are learning more about fire arms, being comfortable with fire arms and becoming fire arm owners. Rick is very profession and his classes are interesting and very engaging." - Lynisha Oliver, Detroit, MI
"Rick is an expert in every sense of the word. When I've had any questions concerning firearms I was given clear and concise answers. I was always responded to in a timely fashion. Rick has an extensive wealth of knowledge. If you need any training or any information concerning firearms then Rick is the go to guy!" - Marquis Hamilton, Detroit, MI
"Rick is an excellent speaker and teacher. Rick is well known in the gun community. If there is something 2nd amendment related going on in Michigan you'll see Rick there. If you are taking a class from Rick or having him speak at your event, you will not be disappointed." - Jim Ryan, Dearborn, MI
"Yes, I loved every minute of his class, my Sister and I took his class together and we agreed it was very informational. By the time the class ended my Sister and I felt we were armed with the knowledge we needed to carry responsibly. Any one who ask me about a cpl class, I give them Rick Ector's name and number, I don't even have to think about it because he's awesome instructor, great speaker, passionate about what he teaches, all around great guy. Thank you again Rick Ector" - Tracey Fann, Detroit, MI
These testimonials are a mere handful from over 109 documented testimonials placed by satisfied customers on my business profile over at LinkedIn - Go Read All Of Them!! (https://www.linkedin.com/in/rickector/)
YOUR SATISFACTION IS 100 PERCENT GUARANTEED!
If after taking our class you are not completely satisfied with the training that you received, immediately let us know by the end of the class and your tuition will be refunded! You will then be able to find another firearm trainer to better match your educational and training expectations.
No other firearm training service is confident enough to make this guarantee!!!! We know that you will be pleased with our training services and refer your family and friends to us!
ENROLL IN THE CLASS NOW!!!!!
Seating is strictly limited to a class size of 15 students to ensure a quality learning environment. Register now to ensure your seat in this approved state of Michigan CCW Class!
FAQs
What can I bring into the event?
You may bring a handgun that you are legally authorized to possess to the class. If you do not have a handgun, you can rent one inexpensively at the range. Please follow at state laws when transporting your firearm. Please ensure that your handgun is UNLOADED. In addition, you can bring a box of 50 cartridges that match the caliber of your firearm that you are bringing to class. Further, you may also bring your own safety glasses and/or hearing protection to the course. All shooting equipment will available for a nominal fee - that will be paid by the student to the range - if you do not currently own any.
More importantly, please bring a positive attitude!
How can I contact the organizer with any questions?
Questions regarding this event should be diIf rected to the Chief Instructor - Rick Ector. His phone number is (313) 733- 7404. Alternatively, he can be reached by email at detroitccw@gmail.com.
What's the refund policy?
In general, all students are expected to show up for the class in which they are registered. Please do not register if you know that there is a good chance that you won't be able to attend. In cases of serious emergencies, you will be registered to another class only with the concurrence and consent of the Chief Instructor.
Do I have to bring my printed ticket to the event?
It is suggested that you bring a copy of your registration confirmation to the class (or show the email on your phone) . If you do not, the Chief Instructor will be able to verify your paid registration with a delay to the official start of the program.
Is my registration fee or ticket transferrable?
Yes, you may have an alternate use your ticket. Please contact us to let us know of any changes as soon as possible.
Is it ok if the name on my ticket or registration doesn't match the person who attends?
Yes, we will verify that an authorized substitution by the purchaser has been made.