Location
Cruise Ship AmaCerto - Budapest, Hungary to Nuremberg, Germany
Sales Have Ended
Registrations are closed
The river cruise is SOLD OUT for the August 11 sailing and has a very large waiting list. We hope you will join us for Rick Braun's New Year's Eve Getaway each year in Tucson Arizona! You can get on our mailing list for New Year's, additional cruises we may do, and other signature events at www.RickBraunNewYearsEve.com. Thanks!
Description

CRUISE VIDEO
CLICK HERE and imagine yourself on the cruise!
CRUISE INFORMATION
WHAT IS IT AND WHERE DOES IT GO?
The event is a seven day European River cruise from Budapest to Nuremberg, leaving Budapest on August 18, 2018 on AMA Waterways ship AmaCerto (see here to see the beauty of this ship http://www.amawaterways.com/ships/amacerto .


Rick, Peter White, and Vincent Ingala, will be on board the whole week for entertainment in the lounge each evening…and to hang with during the day and at meals. This is an up-close experience you cannot have anywhere else!


It is VERY different from an ocean cruise and any concert you have been to before. The key words are intimate and unplugged. From who you cruise with, to the great music you will hear, to just hanging with the band and like-minded people while exploring the beauty of Europe as up close as you can get.


The ship only has 82 rooms and you will only be with friends as we plan to charter the ship.


If you never have been on a river cruise, it is quite the experience. ALL of the amenities of an AMA Waterways river cruise will be part of this cruise – from world class food, complimentary wine and beer at lunch and dinner, included excursions to see sites and cities along the river, staterooms with river view and almost 60% have unique twin balconies comprised of a French balcony plus a walkout balcony, a cruise manager for questions and assistance, AND an incredible staff to passenger ratio. See below for a list from the cruise line of what is included on their end.
HOW MUCH WILL IT COST?
Credit card prices will range from approximately $4300 to $6300 per person for cabins and approximately $7500 per person for suites (there are only four suite type rooms). This is an all-inclusive rate which includes cabin, meals, wine and beer with lunch and dinners, tax, port charges, administrative costs and gratuities! This is an incredible deal that is slightly above the normal retail rates on these cruises with FIRST CLASS entertainment! SEE RATES BELOW.


A discount of approximately $200 per person will be offered to those who will make their payments by check.


We will offer MONTHLY payment plans that will start in March 2017 through February 2018 for week 2, after your initial $1000 is paid which is due UPON REGISTRATION. This makes it very affordable for you if you are working within a budget.


Normal payments will be the $1000 down payment per person which is due UPON REGISTRATION, then three separate payment periods throughout 2017 and February 2018 for Week 2.
WHAT IS INCLUDED WITH THE ACTUAL CRUISE?
Included in the AMA experience:
Accommodation during the cruise
All gourmet meals onboard (Early Riser Coffee and Croissants, a Rich Buffet Breakfast, a Festive Lunch Buffet, Afternoon Tea & Coffee with Cake, Cookies & Sandwiches and a Multi-Course Dinner;
Free Flowing Red and White Wine from the local regions, Beer or Soft Drinks for lunch and dinner
Choice of dining options at no additional cost including the main dining salon and an intimate Chef's Table Restaurant where the Chef prepares the meal in person
Free Coffee, Tea, Ice-Water and Ice-Tea are included all day. Cappuccino, Latte and Espresso can be requested free of charge during all meals! Complimentary coffee & tea station available 24 hours.
Captain's Welcome Champagne Reception and Gala Dinner and Captains Farewell Champagne Reception and Gala Dinner plus several Theme Dinners
Bottled water, fluffy bathrobes and slippers are provided free of charge in each cabin
Use of the Hot Tub or Swimming Pool (as equipped) on the Sun Deck and the Wellness Center inside including Fitness equipment (free of charge)
Use of the Bicycles and helmets onboard free of charge
Complimentary use of the internet onboard (via flat-screen TV & keyboard in each stateroom and wireless in our two lounges)
Complimentary In Cabin Movies
Elevator on board operating between 4 different levels: Restaurant (Level 1), Staterooms (Level 2), Lobby and Panorama Lounge (Level 3) and Staterooms (Level 4); (elevator does not go to the lowest deck or Sun deck)
Nightly Piano Music (post headliner performance) and also during tea and coffee
Our daily shore excursion program during the cruise with English speaking guides. Use of our Quiet vox headsets is also included at no additional cost.
Services of our professional English Speaking Cruise Director
See below for the ports of call from Nuremberg to Budapest! The daily activities included with the cruise are below the map.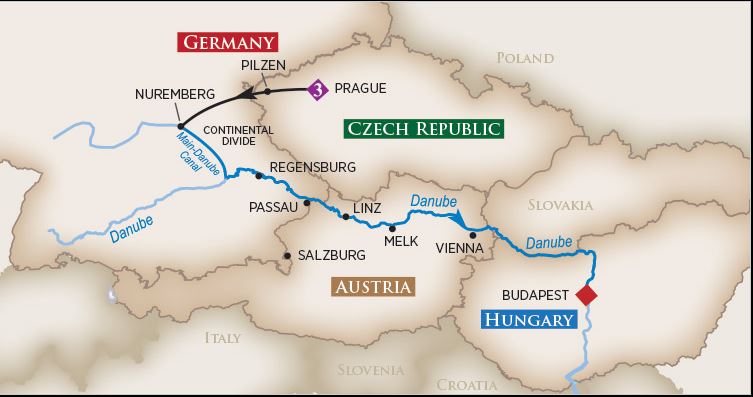 NOTE, WEEK 2 WILL GO IN REVERSE!!

Day 1 EMBARKATION – NUREMBERG, GERMANY
Embark your ship in Nuremberg. Tonight, meet your fellow passengers at the Welcome Dinner. The ship will moor overnight in Nuremberg. (D)
Day 2 NUREMBERG
You have two excursion options today. Take a tour of the city's medieval highlights, including Nuremberg Castle, the 900-year-old ramparts surrounding the city, Town Hall, Notre Dame and the house of artist Albrecht Dürer, or join a WWII tour and see the Coliseum, Nazi Parade Ground and Justice Palace. Later, the ship cruises the Main-Danube Canal to Regensburg. (B,L,D)

Day 3 REGENSBURG
This morning's scenic cruising brings you into the final stretch of the Main-Danube Canal en route to Regensburg, one of Germany's best preserved medieval cities. A guided walking tour will show you the city's architectural highlights, including the Old Town Hall and the Porta Praetoria, gates to an ancient Roman fort built in 179 A.D. (B,L,D)

Day 4 PASSAU – LINZ, AUSTRIA
After breakfast, arrive in picturesque Passau, where the Inn and Ilz rivers flow into the Danube. You will have a choice of a walking tour of Passau's Old Town, past the old city fortifications, Rathaus, Domplatz and Residenzplatz squares, as well as St. Stephen's Cathedral, or more active guests may join either a guided bike tour along the Danube from Passau to Erlau or a guided hike up to the Veste Oberhaus fortress overlooking Passau. Return to the ship this afternoon for a scenic cruise to Linz, Austria's third largest city and a major river port. (B,L,D)

Day 5 MELK – VIENNA
Early this morning, we cruise to Melk. You have a choice between a guided tour of Melk's magnificent Benedictine Abbey, a UNESCO World Heritage Site and one of Europe's largest and most revered monasteries, or a guided bike tour along the Danube. Return to the ship for lunch before cruising on through the scenic Wachau Valley. Arrive in Vienna after dinner and explore the magnificent Austrian capital on your own. (B,L,D)

Day 6 VIENNA
This morning, you will have a chance to savor the Baroque elegance of romantic Vienna through your choice of one of three different excursions. The first option is a panoramic tour of Vienna that guides you past the majestic Opera House, the former Imperial Palace of the Habsburg Emperors, Parliament, Town Hall and Vienna University. Afterwards, you will visit Vienna's historic city center, a UNESCO World Heritage Site, and see St. Stephen's Cathedral, Graben and the world famous Spanish Riding School. The second option is a walking tour of Vienna's hidden treasures that takes you to secret places and sights like Ankeruhr, a whimsical Art Nouveau clock. Your third option is a guided bike tour along the Danube and through the Donaupark. This afternoon, you can join a guided bike ride to Klosterneuburg Monastery, or explore at your leisure. Be sure to sample some Viennese coffee and pastries. (B,L,D)

Day 7 BUDAPEST, HUNGARY
Your morning excursion includes sightseeing in the cities of Buda and Pest spread over both banks of the river. You will see famed Heroes' Square and Castle Hill, home to Fisherman's Bastion, Matthias Church and spectacular views of the Danube. After dinner, the ship will sail a special Illuminations Cruise past the city's glittering riverfront. (B,L,D)

Day 8 BUDAPEST – DISEMBARKATION
Bid farewell to Budapest as you prepare for your homeward flight. (B)
---
CRUISE PRICING (based on double occupancy)
Suites* - $7552 PER PERSON - $200 cash discount if paid by check
Category AA+*- $6931 PER PERSON - $200 cash discount if paid by check
Category AA* - $6310 PER PERSON - $200 cash discount if paid by check
Category AB* - $6103 PER PERSON - $200 cash discount if paid by check
Category BA* - $5896 PER PERSON - $200 cash discount if paid by check
Category BB* - $5689 PER PERSON - $200 cash discount if paid by check
Category C **- $5171 PER PERSON - $200 cash discount if paid by check
Category D - $4550 PER PERSON - $200 cash discount if paid by check
Category E - $4241 PER PERSON - $200 cash discount if paid by check
*indicates both French and outside balcony
** indicates French balcony only (French Balconies look and act like a regular balcony, with the only exception being that there is a railing placed directly behind the glass, meaning you cannot step out onto a separate space — without splashing into the river, that is.)
---
TERMS AND CONDITIONS
By registering, you understand and accept the following terms.
I understand that all prices are PER PERSON, based on double occupancy, and includes administrative costs, taxes, gratuities, port charges and fees FOR THE CRUISE.


I understand that if I elect to pay my entire cruise fees by check, I will receive a $200 discount per person.


I understand that my registration here is for TWO people in a cabin, unless I indicate otherwise in the questions provided in the registration process. ONE registration is ONE cabin, unless you are looking for a roommate. PLEASE only indicate ONE when you register if you are registering for two people in one cabin.


I understand that my $1000 per person deposit is due when I complete my registration and I will be contacted by the cruise's travel partner to complete my booking.


My credit card will be charged by RS Productions when I pay that and all future invoices. These payments are for Rick Braun's European River Cruise Getaway ONLY.


I understand that I will be responsible for all other fees for travel to and from the ship and any other activitites I chose to do while on this trip. NOTE: we will offer transfers and additional pre and post cruise hotel/activities, for an additional fee. These will be available about 18 months before the cruise is to sail.


All fees are nonrefundable, but can be used by another person. See specific payment terms below.***
*** All payments made for a Reservation are non-refundable at the time of payment. Guests are urged to purchase Travel Insurance to offset this risk. Our travel agent will be offering this to all our guests as an option when you make your deposit.
What this means:
When you make any payment – initial payment, monthly payments, and the three payments normal plan, that money is not refundable.
For example, if you make your $1000 initial deposit and cancel prior to your first due payment, you will lose that deposit.

For example, if you make your deposit and one of the monthly payments, you will lose the deposit and first months payment.
We will, however, have a waiting list once we are full and IF we have someone who wants to go on the cruise, they will take over all payments and once they have paid in full to that point, yours will be refunded, minus credit card fees (approximately 3.0%) on payments paid to date and administrative costs ($200). If we do not have a waiting list and you find someone to take over your reservation, it is between you and them on how much they will pay you up to the point you notify us to transfer your reservation to another person.
For Week 2, Monthly payment plans will be 1/12 of the remaining cruise balance, March 1, 2017 through February 1, 2018.
For Week 2, Standard cruise payments will be due as follows (does not include any other purchases such as travel insurance, pre and post bookings, etc.):
Initial deposit: upon booking

Payment due on August 1, 2017 equal to 1/3 of remaining balance after initial deposit

Payment due on December 1, 2017 equal to 1/3 of remaining balance after initial deposit

Final payment due on February 1, 2018 equal to 1/3 of remaining balance after initial deposit