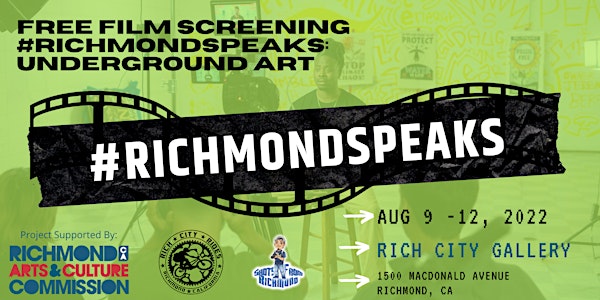 #RichmondSpeaks: Underground Art Film Screening
A film viewing of a mini-documentary series produced by local visual creative & filmmaker, R.D. López aka Shots From Richmond.
When and where
Location
Rich City Gallery 1500 MacDonald Avenue Unit C Richmond, CA 94804
About this event
Come out and hear from those in our community, about the beauty, history, and inspiration found within the underground art scene of Richmond-rooted artists and creatives. This series of short interviews, compiled into a film seek to highlight the inspirations and influences of such artists.
This recurring event will take place Aug. 9th - 12th, 2022 at the Rich City Gallery. The film will be played twice a day, each day. Feel free to drop in for full duration, or for scattered parts throughout the scheduled week of film viewing.
This project seeks to highlight the art and presence of local creatives that are seldom recognized. This crafted mini-docuseries around the works of local tattoo artists, wood carvers and urban street muralists dives into the heart of their respective creative expressions. This interview style profile of local artists who are engaged in tattoo art and urban street art, is intended to better understand their motivation, experiences, and vision.
All registered attendees who are present will be entered into a raffle, to win a free work from the Shots From Richmond #RichmondSpeaks Collection.
This project was fully supported and funded by the Richmond Arts & Culture Commission s NPA Grant , and made possible due to countless community members, and fellow local youth creatives from De Anza High School, Helms Middle School, Highland Elementary, Kennedy High School and crew team from Big Picture Anthems. Many thanks to Rich City Rides non-profit, for their flexibility in providing space for both film production and film screening.