Description
Who among us can claim to have tried every fruit and vegetable out there? Have you ever had fresh produce grown from your own personal or community garden? Does every resident in Richmond have equal access to fresh and healthy foods?
Presented by the Richmond Food Policy Council, Food Week aims to involve Richmond community members in rethinking how food is consumed and what it means to increase access to healthy and local food options. The council has planned a week long of events; see the flyer below to find an event near you.
Our Food Day Celebration is on Saturday October 27 from 11 AM to 3 PM at Unity Park. There will be a live DJ from noon until 3 PM, free food starting at noon, a produce giveaway, resources from local businesses & non-profits, and more! We hope to see you there!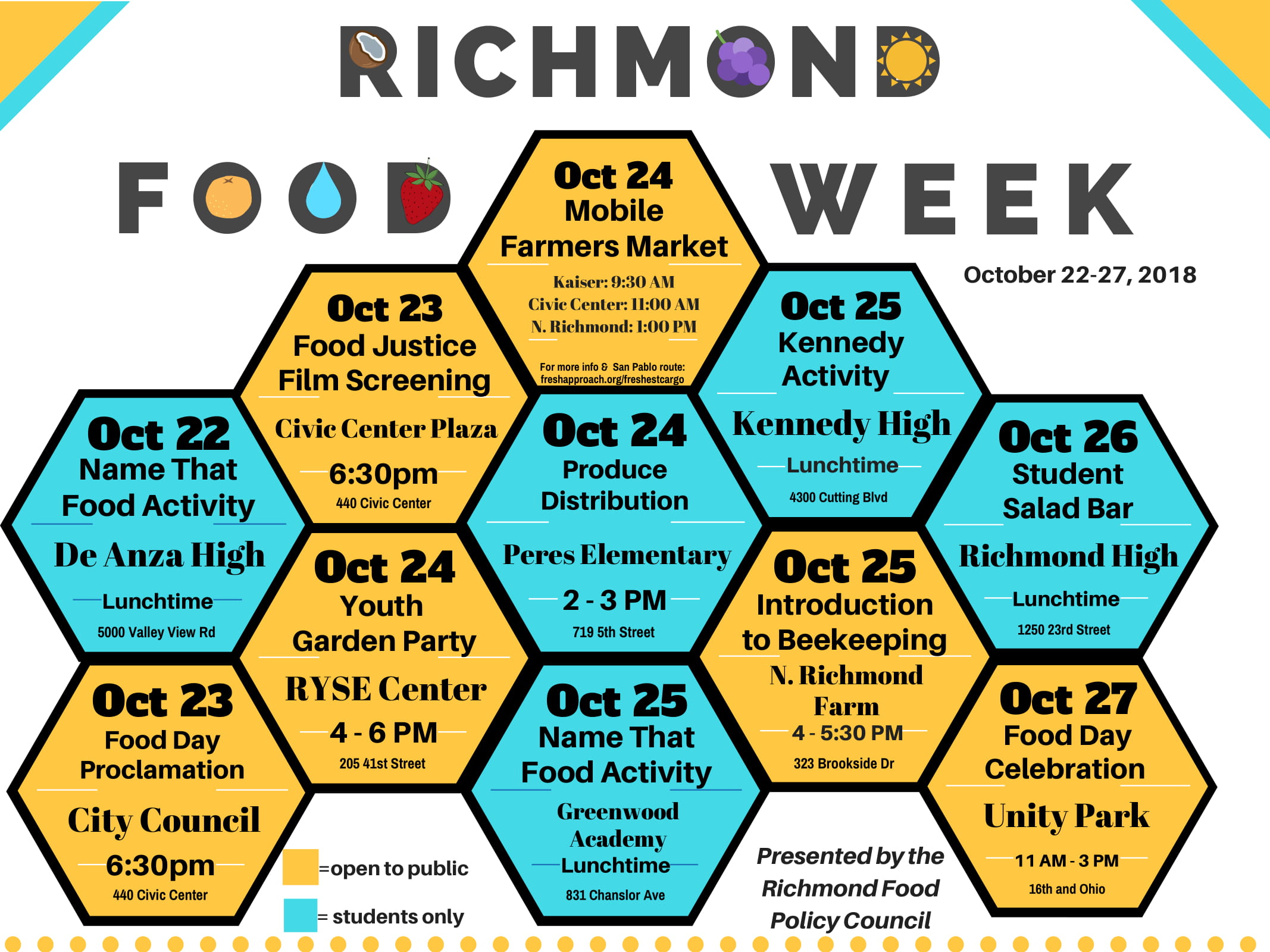 MONDAY, OCTOBER 22
Name That Food [De Anza students only]: Lunchtime, De Anza High (5000 Valley View Road)
TUESDAY OCTOBER 23
Food Day Proclamation: 6:30 PM, Richmond City Council (440 Civic Center)

Food Justice Film Screening: 6:30 PM, Civic Center Plaza
WEDNESDAY OCTOBER 24
Mobile Farmers Market: 9:30 AM - 10:30 AM, Kaiser Permanente (Harbour Way and Nevin Ave) 11:00 AM - 12:00 PM, Richmond Civic Center (440 Civic Center Plaza, between Barrett Avenue and Nevin Way) 1:00 PM - 2:00 PM, North Richmond (1443 Fred Jackson Way, in parking lot at Chesley Ave & Fred Jackson Way) For more information and the San Pablo route, visit http://www.freshapproach.org/freshestcargo/

Produce Distribution (Peres families only): 2:00 - 3:00 PM, Peres Elementary (719 5th Street)

Youth Garden Party: 4:00 - 6:00 PM, RYSE Youth Center (205 41st Street)
THURSDAY OCTOBER 25
Name That Food (Greenwood students only): Lunchtime, Sylvester Greenwood Academy (831 Chanslor Avenue)

Kennedy Activity (Kennedy students only): Lunchtime, Kennedy High (4300 Cutting Boulevard)

Introduction to Beekeeping: 4:00 - 5:30 PM, North Richmond Farm (323 Brookside Drive)
FRIDAY OCTOBER 26
Student Salad Bar (Richmond High students only): Lunchtime, Richmond High (1250 23rd Street)
SATURDAY OCTOBER 27
Food Day Celebration: 11:00 AM - 3:00 PM, Unity Park (18th Street and Ohio Avenue)