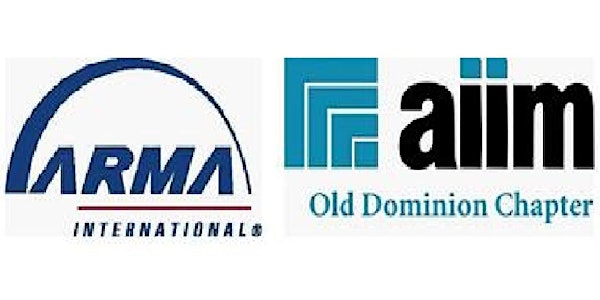 Richmond AIIM/ARMA May 9, 2018 Lunch & Learn
When and where
Location
Grapevine The Greek & Italian Restaurant 11055 Three Chopt Road Richmond, VA 23233
Refund Policy
Contact the organizer to request a refund.
Description
The Past, Present, and Future of Information Management
Please join us for a panel discussion led by current and past leaders of ARMA & AIIM. In addition to discussing the mission and merits of membership, this interactive session will encourage open discussion of the current state of Information Management and where we are headed. We will also provide an overview of the many certifications available to Information Management professionals to help you decide which may be of most value to you and your organization.

OUR SPEAKERS: Bradlee Davis, Jonathan Hawes, Jessica Lombardo, and Caroline Walters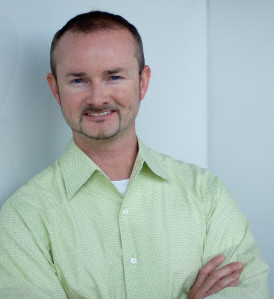 Bradlee W. Davis, CRA is the Director of Records and Information Governance for Jackson Lewis P.C., (www.jacksonlewis.com) a firm of over 800 attorneys and 59 offices nationwide. He is a magna cum laude graduate of Winthrop University and holds an MBA in Management with honors. He was recently accepted to George Washington Universities Law Firm Management MBA program. Bradlee has worked in the legal sector of the Information Governance profession since 1999 specializing in Records and Information Governance Program Implementation. He has been a member of ARMA International (www.arma.org) since 2003 and has been heavily involved in The Triangle Chapter (www.armatrian in Raleigh since joining in 2003 having served as Secretary for two terms, Treasurer for one term and President from 2007 - 2011. Brad led the Triangle Chapter to win the coveted Chapter of the Year Award at the 2008 ARMA International Conference in Las Vegas and was also named Chapter Member of the Year for 2007-2008. Bradlee has served on the International level of ARMA as a member of the Young Executives Committee and the Member Relations Committee and was part of the recent Awards Task Force. He is currently the Region Director of the Mid-Atlantic Region of ARMA. Brad recently became an active board member of the Information Coalition (www.infocoalition.com). Connect with Brad on his LinkedIn profile www.linkedin.com/in/bradleewdavis/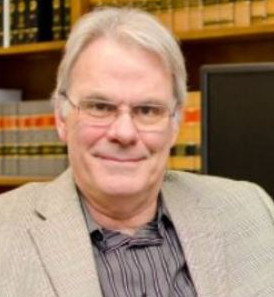 Jonathan Hawes, CRM currently leads the Scanning Team for IQ Business Group. He is a Certified Records Manager (CRM), and has led IQBG's content inventory/digitization efforts related to Enterprise Content Management. Mr. Hawes has recently recruited, staffed, and trained scanning operations for several large digitization efforts including:For Virginia State Bar, which handles membership and professional regulation records for 50,000 attorneys in the Commonwealth of Virginia, the back-fi le scanning effort for the professional regulation case files and membership records as part of an OpenText implementation. For the Confederated Salish and Kootenai Tribes of Montana in support of the Water Rights litigation and discovery efforts in as part of an IQBG ECM implementation project. For the University of Texas at Austin Technology and Information Services as part of an IQBG File Net Electronic Content Management implementation project. For Harris County, Texas Sheriff's office as part of an IQBG OpenText Electronic Content Management implementation project. He has served as a board member for AIIM and is a recognized speaker/industry leader on information governance, digitization, e-discovery, and Information Management.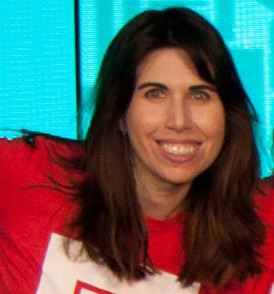 Jessica Lombardo is the Membership Director at AIIM International – the Association for Intelligent Information Management. A seasoned membership professional, Jessica has been a driving force in building AIIM's membership programs and leadership summits as well as developing its online community. Trained as a community organizer, her roots have helped her establish a network of information professionals focused on supporting their organizations and peers in automating processes, protecting information, and gaining insight from data. A Certified Information Professional, Jessica is especially interested in how information management impacts customer experience. Prior to her more than ten years at AIIM, Jessica supported various nonprofits through her roles as Outreach Manager, Event Consultant, and Sales Manager. In addition to her CIP certification, she has earned certifications in marketing through Hubspot, and has been featured in a RISK! podcast capturing her storytelling performance at the Howard Theatre in Washington, DC. Jessica graduated Summa Cum Laude from Aquinas College with a degree in Communication Arts. You can connect with her on LinkedIn at https://www.linkedin.com/in/jessica-lombardo/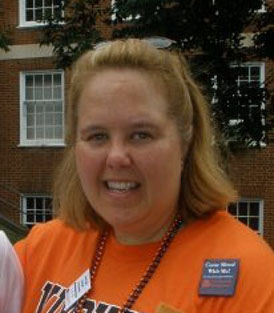 Caroline Walters, University Records Officer, came to the University of Virginia (UVa) in 2008. Receiving her CRM (Certified Records Manager) in 2011, she has been a Part 6 writer for the last six years, and has recently become the Regent for Exam Development with the ICRM. She serves on the board of the Richmond ARMA Chapter, and leads the College and University Records Management Roundtable with ARMA International. Caroline has spoken at several national conferences on records management issues, including AIIM (2010); ARMA (2012); Educause (2010); Educause Security (2009, 2010). At UVa, Caroline provides training and assistance to staff and faculty on the proper management of all records (physical and electronic) and works with technology implement teams on the development of new electronic records systems. She leads the collection and processing of information for litigation, FOIA and investigations that includes electronically stored information. Before coming to UVa, Caroline was the Records Manager at the UNC-CH and prior to this was a Local Records Analyst with the State of North Carolina Records Management Branch. She has a Bachelor of Arts in History and a Masters in Public History concentrating in archival and records management both from North Carolina State University, and a Masters in Library Science from North Carolina Central University.
---
The AIIM/ARMA monthly Luncheon and Seminar will be held at The Grapevine The Greek & Italian Restaurant; 11055 Three Chopt Rd, Richmond, VA 23233.
This event includes lunch. Please register by Sunday, May 6th. Registration allows us to provide the venue with advance seating and meal requirements.
Event cost is $24 for registration up to the cutoff date and $30 for late registration or walk-ins without prior registration.