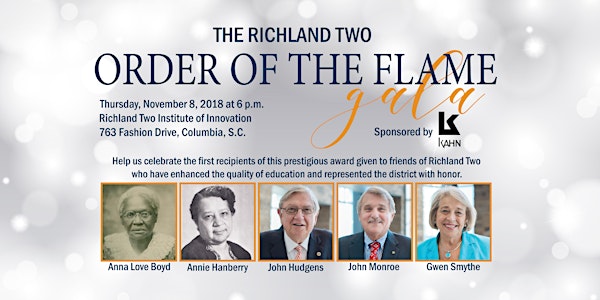 Richland 2 Order of the Flame Gala 2018
When and where
Location
R2i2 Conference Center 763 Fashion Drive Columbia, SC 29223
Description
The Richland Two Order of the Flame has been established to recognize graduates, employees and friends of Richland Two schools whose civic, professional or volunteer activities have enriched the lives of others in the district through significant contributions of time, talent or resources to the school district, his/her community and/or profession. The first class of Order of the Flame recipients will be inducted at the inaugural gala on November 8, 2018.
The 2018 recipients are:
John Monroe

John Hudgens

Gwen Smythe

Posthumous recipients are

Annie Hanberry

Anna Love Boyd
The Gala is presented by the Richland Two Education Foundation and sponsored by MB Kahn Construction Co. Inc. The Foundation's mission is to encourage and support excellence in Richland School District Two by enhancing educational opportunities for students, fostering community involvement, and providing resources that promote success in the district. Richland Two Education Foundation is a 501(c) 3 non-profit charitable organization and seeks to raise funds to promote educational programs for the district.
Proceeds from this fundraiser will benefit:
Helping Families in Need – a program created to help our Richland Two students and families obtain or maintain stable housing.
2 Ready to Read – a program organized to give books to Pre-K through 2nd grade students in the District at the end of the school year to promote summer reading.

Teacher of the Year – a banquet in the spring of the year that recognizes and rewards outstanding teachers in the District.
Tickets may also be purchased by mailing a check to: Richland 2 Gala, Attn: Martha Jones, 124 Risdon Way, Columbia, SC 29223.
Thank you for your continued support to make Richland Two an outstanding district.
Your donation is deductible to the extent allowed by law.