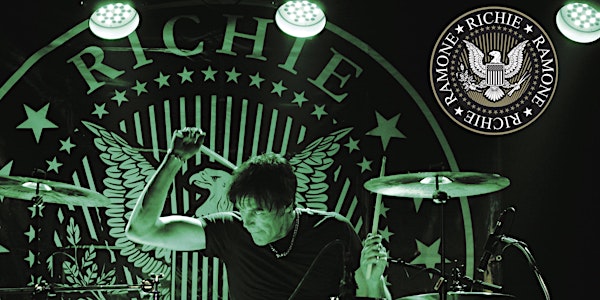 Richie Ramone(of the Ramones), Tender Beats, The Noid, Big Green Limousine
Location
The Pickering Creek Inn
37 East Bridge Street
Phoenixville, PA 19460
Sales Have Ended
Ticket sales have ended
Please Purchase Tickets At Venue
Richie Ramone invades Phoenixville, PA with Tender Beats, along with local punks The Noid and Big Green Limousine!
About this event
Richie Ramone (formerly of the world famous Ramones) smashes through Phoenixville, PA on his rock & roll explosion, spanning the globe! Tender Beats (on tour with Richie Ramone) will be in support, along with local Phoenixville punks, The Noid and Big Green Limousine! This is an intimate venue that will sell out, so grab your tickets fast!
Presented by the Phoenixville Punk Rock Flea Market
The Pickering Creek Inn
37 E. Bridge Street, Phoenixville, PA
6PM Doors Open
21+, anyone under 21 must be accompanied by a parent
$12 advance tickets
$15 tickets at the door, day of show
NO REFUNDS
Richie Ramone
Richie Ramone is the fastest, most powerful drummer who ever played with the legendary punk rock band the Ramones.  He joined the Ramones in 1983 and first appeared with the band on their Subterranean Jungle tour.
 Richie performed in over 500 shows around the world with the Ramones and wrote several critically-acclaimed and fan-favorite songs for the albums Animal Boy, Too Tough to Die and Halfway to Sanity.  Punk rock icon, Joey Ramone, remarked that "[Richie] saved the band as far as I'm concerned. He's the greatest thing to happen to the Ramones. He put the spirit back in the band."
 Richie is notable as the only Ramones drummer to sing lead vocals on Ramones songs, "(You) Can't Say Anything Nice" as
well as the unreleased "Elevator Operator." Richie was also the only drummer to be the sole composer of Ramones songs including their hit "Somebody Put Something in My Drink" which remained a staple in the Ramones set list until their last show in 1996 and continues to be covered by new generations of bands worldwide.  "Somebody Put Something in My Drink" was included on "Ramones Mania," the first Ramones album to go gold as well as "Loud, Fast Ramones: Their Toughest Hits," an album comprised of songs hand picked by Johnny Ramone as the Ramones' best works.  Richie also wrote "I'm Not Jesus," "Can't Say Anything Nice," "I Know Better Now," "Humankind" and "Smash You" which became the title track for one of the Ramones' most successful re-releases, Smash You: Live '85. Richie's "I'm Not Jesus" took the Ramones in a heavier direction and has become a frequent cover tune for innumerable heavy metal bands.  Richie's songwriting contributions were supported by Joey Ramone:  "I encouraged Richie to write songs . . . we never let anybody else write our songs."
 In 2007, Richie Ramone introduced his virtuosic drumming to the symphonic world with his "Suite for Drums and Orchestra" based on Leonard Bernstein's West Side Story. He debuted his arrangement with the Pasadena Pops Orchestra as the featured drum soloist and was an immediate hit with critics and patrons there and in other cities. He is currently working on another innovative "Suite for Drums and Orchestra" comprised of classic James Bond movie songs.
 In 2011, the Recording Academy gave the Ramones a Grammy Lifetime Achievement Award in Los Angeles, where all three of the band's drummers (Tommy, Marky and Richie Ramone) stood beneath the same roof for the first time ever.  In 2012, Richie was the only surviving Ramone featured on the second Joey Ramone solo album, "Ya Know?"  On October 8, 2013, Richie released his first solo album, "Entitled," which features new songs written by Richie as well as new recordings of songs he wrote for the Ramones.  Billboard notes, "Richie's 12 freshest cuts aim to please fans of both rock and metal with its blend of power chord-chugging simplicity and guitar hero virtuosity." 
Richie released his second CD, "Cellophane," in August 2017, followed up by a collectible, clear vinyl LP version, and a 7" single for the track "I Fix This."
Most recently, in December 2018, Richie has released his book "I Know Better Now" about his time before, during and after the Ramones.
Tender Beats
Rock & love from Columbia, Australia and The United States. After immigrating from Columbia in 2017, lead singer and band founder Oscar Fernando reimagined in Tender Beats in NYC with musicians Matthew Lippold (bass) and Waverly Langstone (drums).the band is here to do soulful rock & roll with thunderstorm guitars and melodic lines.
The Noid
A gritty rock & roll trip through the bad part of town, with a detour through the fiery pits of Hell itself!
Big Green Limousine
These Phoenixville native punks have been at it for over 2 decades, with their slick brand of catchy pop punk harmonies and heavy riffs. Playing steadily for 20 years with the same roster, BGL always brings the party!