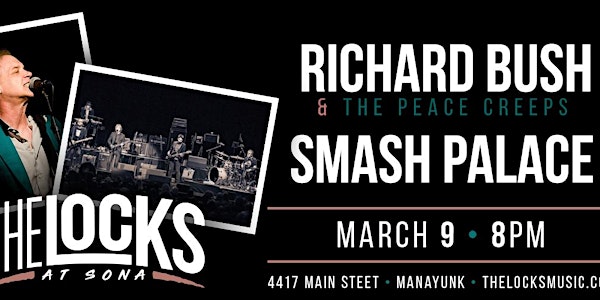 Richard Bush & The Peace Creeps co-bill with Smash Palace
Location
The Locks Music
4417 Main St
Philadelphia, PA 19127
Sales Have Ended
Ticket sales have ended
Tickets are no longer available for purchase online. To inquire about purchasing tickets at the door, call (833) 533-0330.
Richard Bush & The Peace Creeps co-bill with Smash Palace
About this event
The Peace Creeps is the current musical project featuring former A's captivating frontman Richard Bush. Richard and his A's were the darlings of Philly in the '70s and early '80s and had the hits "After Last Night" and "A Woman's Got The Power", which was later recorded by both Clarence Clemons and Jennifer Holliday. They released two albums on Arista Records and toured nationally, but they disbanded due to disputes with their record company. After that Bush had a few other bands and then took along hiatus to write and record. Finally, along with guitarist John Marchiano, bassist Roy Fisher and drummer Jeff Pancoast, The Peace Creeps were born. Bush and song writing partner, AJay McLaughlin's clever lyricism, along with their Elvis Costello–like wit, Faces–like looseness and the pop sensibilities of the Beatles are reasons for their appeal. Their second album, the backward looking/forward sounding, "Time Machine" is available at CD Baby.
********************************************************************************************
Smash Palace returns with their 12th CD (titled "Right As Rain"), with 5 rock 'n roll tracks designed to be your soundtrack for the summer 2018. The Butler brothers do what they do best... 60′s jangle rock, 70′s rock swagger, 80′s power pop, 90′s Brit rock all rolled into a contemporary style that's all their own. It's like listening to songs you know but haven't heard before. If this is your first Smash Palace listening experience, you've picked a great place to start because the band just keeps getting better with each release. It's the sound of a band that's the real deal; a dedicated band that's paid its dues and continues to create some of the best melodic rock n roll you'll ever hear. The Butler brothers were first discovered by Hilly Kristal at CBGB's then signed to Columbia Records. The band then moved on to Epic Records and now records for Zip Records. They were rediscovered by label president Art Herman after playing a show at the Cavern Club in Liverpool, 2005. This is the bands 8th CD release for Zip Records.
Band members:
Stephen Butler lead vocals and lead guitar
Brian Butler lead vocals
David Uosikkinen Drums
Cliff Hillis vocals and guitar
Wally Smith keyboards
Greg Maragos bass guitar