Richard Blanco discussing: The Prince of los Cocuyos: A Miami Childhood
Description
In partnership with FIU's Creative Writing Department: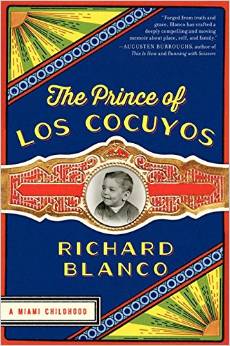 About the Book:
A poignant, hilarious, and inspiring memoir from the first Latino and openly gay inaugural poet, which explores his coming-of-age as the child of Cuban immigrants and his attempts to understand his place in America while grappling with his burgeoning artistic and sexual identities.
Richard Blanco's childhood and adolescence were experienced between two imaginary worlds: his parents' nostalgic world of 1950s Cuba and his imagined America, the country he saw on reruns of The Brady Bunch and Leave it to Beaver—an "exotic" life he yearned for as much as he yearned to see "la patria."
Navigating these worlds eventually led Blanco to question his cultural identity through words; in turn, his vision as a writer—as an artist—prompted the courage to accept himself as a gay man. In this moving, contemplative memoir, the 2013 inaugural poet traces his poignant, often hilarious, and quintessentially American coming-of-age and the people who influenced him.
A prismatic and lyrical narrative rich with the colors, sounds, smells, and textures of Miami, Richard Blanco's personal narrative is a resonant account of how he discovered his authentic self and ultimately, a deeper understanding of what it means to be American. His is a singular yet universal story that beautifully illuminates the experience of "becoming;" how we are shaped by experiences, memories, and our complex stories: the humor, love, yearning, and tenderness that define a life.
About the Author:
Richard Blanco is one of the most beloved and influential poets and storytellers writing today. As a historic inaugural poet, public speaker, teacher and memoirist, he continues to invite audiences to reconnect to the heart of the human experience and all of its beautiful diversity. Through the power of his words and presence, Blanco taps into out unspoken dreams, hopes and frustrations. He captures the human spirit and condition, in all of its complexities, opening up our minds and encouraging us to see beyond our differences to share in the universal experience of our humanity. Just as Carl Sagan brought cosmology into our living rooms, Blanco is appealing to audiences everywhere and inspiring a new way to think and feel about the poetry of our day, making it an accessible, inclusive and transformative part of our everyday lives.

Blanco was born in Madrid in 1968, immigrating as an infant with his Cuban-exile family to the United States. He was raised and educated in Miami, earning a B.S. in civil engineering and a M.F.A. in creative writing from Florida International University. Blanco has been a practicing engineer, writer and poet since 1991. He has traveled extensively in his adult life, living and working throughout Europe and South America. He has taught at Georgetown University, American University, Writer's Center and Central Connecticut State University. Blanco currently resides in the tranquil mountains of Bethel, Maine.

His books, in order of publication, are: City of a Hundred Fires (1998), Directions to the Beach of the Dead (2005), Looking for the Gulf Motel (2012), One Today (2013), Boston Strong (2013), and For All of Us, One Today: An Inaugural Poet's Journey (2013).

In 2013, Blanco was chosen to serve as the fifth inaugural poet of the United States, following in the footsteps as such great writers as Robert Frost and Maya Angelou. Blanco performed One Today, an original poem he wrote for the occasion, becoming the youngest, first Latino, immigrant and openly gay writer to hold the honor.

Following the inauguration, he continued connecting communities through occasional poetry. He has written and performed occasional poems for such organizations as Freedom to Marry, the Tech Awards and the Fragrance Awards. In May of 2013, Blanco wrote Boston Strong, an occasional poem he performed at the TD Boston Garden Benefit Concert and at a Red Sox game at Fenway Park. Following his performances, he released a limited edition Boston Strong chapbook, with all proceeds going to those most affected by the Boston Marathon bombings.

Blanco has received numerous honors for his writings and performances, including an honorary doctorate from Macalester College and being named a Woodrow Wilson Visiting Fellow. His first book, City of a Hundred Fires received the prestigious Agnes Starrett Poetry Prize. His second book, Directions to the Beach of the Dead won the PEN / American Beyond Margins Award. His third book, Looking for The Gulf Motel received various accolades, including the Tom Gunn Award, the Maine Literary Award and the Paterson Prize. His poems have appeared in countless literary journals and anthologies, including Best American Prose Poems and Ploughshares.

Blanco continues to write and perform for audiences around the world. In addition to his occasional poetry and performances, he is currently working on a full-length memoir and is collaborating with renowned illustrator Dav Pilkey on a children's book.