Description
DO YOU WANT TO MAKE THE BEST BARBECUE IN YOUR NEIGHBORHOOD OR AT YOUR TAILGATE?
Take your barbecuing skills to the next level at Orange Door Kitchen with Andy Husbands, the award-winning chef, author and Pit Master behind The Smoke Shop, Boston's acclaimed barbecue restaurant. A competitive BBQ circuit champion, Husbands is a master when it comes to smoking meat. In this class, he will teach you about 4 different styles of ribs, a variety of rubs and sauces, and answer any questions you might have about smoking the competition. Part hands-on and part demonstration, you'll learn the ins and outs of BBQing at home, operating pits, butchering meat, and making rubs. Don't miss your chance to:
help prepare, cook, and taste Spare Ribs, St. Louis Ribs, Baby Back Ribs, and Beef Ribs

sharpen your bartending skills with a cocktail demonstration by Orange Door Kitchen.

participate in a Q+A session and book signing with Andy

dig into a barbecue feast of ribs, rubs + sauces, and The Smoke Shop sides

go home with a recipe package of all recipes made
Tickets include a welcome snack, up-close-and-personal smoking and cooking instruction with Pit Master Andy Husbands, a barbecue feast, a signature cocktail, non-alcoholic beverages, and take-home recipes. Additional beer, wine, and spirits will be available for purchase.
........
More About Andy Husbands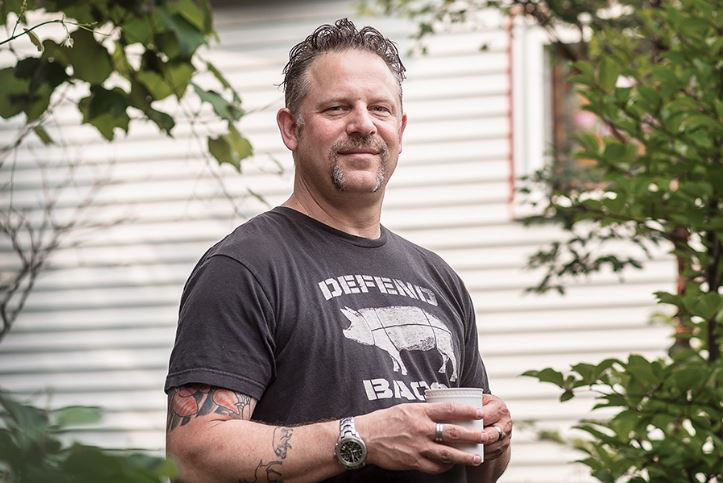 Andy Husbands is the award-winning chef, author and Pit Master behind The Smoke Shop, Boston's acclaimed barbecue restaurant, and two-time winner of Boston Magazine's "Best Barbecue" in 2018 and 2019, as well as The Improper Bostonian's "Boston's Best" Award for "Best Barbecue". Currently with three locations in Cambridge's Kendall Square, Boston's Seaport District, and Assembly Row in Somerville, MA, Husbands is "smoking" the competition. With a career spanning nearly 30 years in the restaurant industry, Husbands serves as one of the city's most celebrated culinary leaders and foremost authority on regional Barbecue and live-fire cooking in New England.
A long-time passion project for Husbands, The Smoke Shop is a culmination of his early years as a Pit Master under James Beard Award-winning chef Chris Schlesinger at East Coast Grill, and nearly two decades on the competitive barbecue circuit, showcasing his modern approach to slow-cooked, competition-style barbecue, also dubbed by Husbands as "City Q". He is the co-founder of internationally-recognized team, IQUE BBQ, which became the first in the Northeast to win the Grand Champion title at the Jack Daniel's 2009 World Championship Invitational Barbecue in Tennessee, as well as the co-author of five coveted cookbooks, including Wicked Good Burgers, Wicked Good Barbecue, Grill to Perfection, The Fearless Chef, and his latest, Pitmaster: Recipes, Techniques & Barbecue Wisdom, awarded "Book of the Year" by National Barbecue News in 2017, with plans to release his sixth cookbook in Spring 2020.
Hailed "Boston's Meat Maven" by The Boston Globe, Husbands first came into the national spotlight competing on Season 6 of FOX Television Network's fiery Hell's Kitchen, and has since appeared on CBS This Morning, Food Network, FOX & Friends, Cooking Channel's Burgers, Brew & 'Que, and most recently, as a celebrity guest judge on Season 1 of Food Network Canada's Fire Masters.
Deeply rooted in the community, Husbands passionately drives awareness for Share Our Strength, the nation's leading childhood hunger relief organization, serving as honorary chair of its annual Taste of the Nation fundraiser. He is also an active board member of the Massachusetts Restaurant Association, for which he was honored as MRA's Chef of the Year in 2014, as well as a Rodman Celebration Restaurant Chair and avid volunteer at local women's shelter, Rosie's Place.