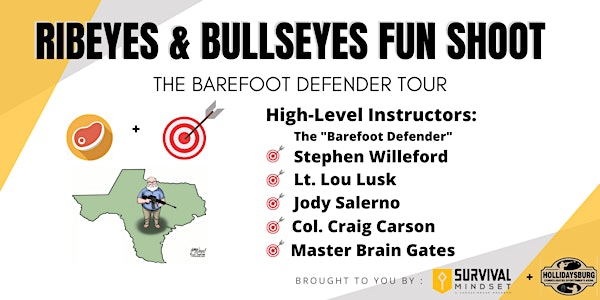 RIBEYES & BULLSEYES WITH THE BAREFOOT DEFENDER
A live-fire opportunity where you will receive one-on-one coaching and feedback from 5 high-level instructors! Join us!
When and where
Location
Hollidaysburg Sportsmen's Club 472 Hollidaysburg Sportsman Road Hollidaysburg, PA 16648
About this event
Opportunity to fun shoot 5 different scenarios, including:
"Shooting Steel" (Sharpening your skills shooting steel)
"Shooting from Concealment" (Shooting from a variety of positions and situations)
"Dinner Out" (Scenario of engaging multiple attackers while dining)
"Don't Shoot the Hostages" (shoot/no-shoot scenarios)
"Bowling with Bullets" (shooting bowling pins)
Rarely is there a live-fire opportunity where you will receive individualized coaching and feedback from this level of an eclectic mix of Range Officers/Instructors:
Stephen Willeford, The Barefoot Defender from Sutherland Springs, TX who stopped the attacker known for the worst church shooting in the US
Lou Lusk, a 29-year military veteran. 7 tours. Served with TF-20. Was on the 2003 rescue of Jessica Lynch from Iraq. Survived multiple IEDs.
Jody Salerno, owner of Elite Firearms and Training, Pittsburgh, PA. Firearms instructor. One of the top female PA competitive pistol shooters.
Master Brian Gates, Executive Protection Specialist/Celebrity Bodyguard. Defensive tactics expert. 8th degree Blackbelt, Grandmaster. Law Enforcement Handgun and DT Instructor.
Craig L. Carlson, retired US Army Colonel. Former defense contractor. Former Sr. Advisor to the Ministry of Defensive of Georgia. Papal Knight. Author.
$250/ticket includes 12oz Ribeye, Red Skin Mashed, Corn on the Cob, Roasted Vegetables, Onion & Mushroom Sauce, Cole Slaw, Dinner Roll, Chocolate and Carrot Layer Cake, a variety of Non-Alcoholic Beverages, and you will receive a Stephen Willeford "Sheepdog" Challenge Coin personally presented by The Barefoot Defender.
Bring your own firearm(s), ammo, holster, "eyes & ears" protection. One hundred rounds of ammo will be more than enough to run all 5 ranges. If time permits, there may be an opportunity to do additionally shooting.
Additionally, we will be shooting a hand of poker throughout the event. You have the chance to play and earn for the best hand.
Note: This is a fundraiser event. Proceeds will go to providing the all-day FREEDOM FEST event on Saturday, September 26, to the community at no cost.
We hope you will join us in this fun and educational event.