Ribbon Cutting Ceremony Richmond Greenway Bioswale

Wednesday, July 18, 2012 from 11:00 AM to 12:00 PM (PDT)
Event Details
The Watershed Project is pleased to invite you to a Ribbon Cutting Ceremony on July 18th, 2012 from 11:00 AM to 12:00 PM at the Richmond Greenway between 6th and 8th Streets.
Way back in 2008, The Watershed Project worked with a group of foster youth from Richmond to design and plant a native plant garden on the southwest corner of the Greenway at 6th Street. We noticed that whenever it rained, lots of rainwater would find its way to the ditch behind the garden, rushing in a huge wave towards and through the stormdrain - carrying with it contaminants from the surrounding streets and legacy pollutants from the site itself.
So we decided to build a bioswa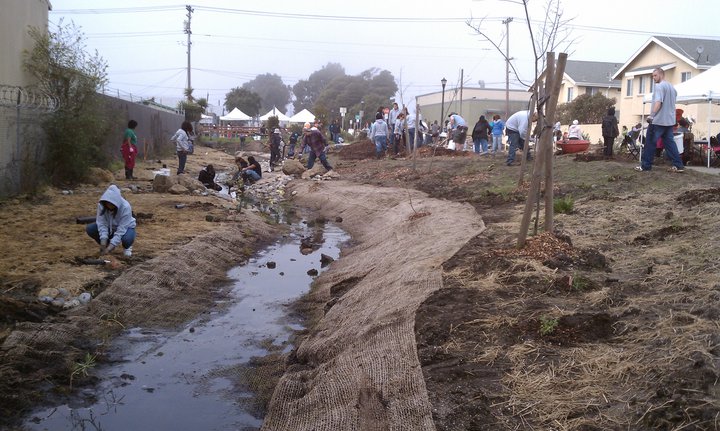 le at the Greenway - an engineered creek that would imitiate nature by slowing the rain down, capturing the pollutants and keeping them from reaching the Bay.
This part of the Greenway has been transformed from a fairly barren spot of land with a bike path to a vibrant native plant garden that connects people to nature, reduces stormwater pollution, encourages wildlife in a natural habitat, enhances urban agriculture, educates students of all ages and demonstrates the efficacy of low impact design to address urban stormwater issues.
Join The Watershed Project and the many supporters who made the Greenway Bioswale possible.
To learn more about the amazing transformation at the Richmond Greenway and The Watershed Project's Bioswale please visit:

www.thewatershedproject.org/WhatWeDo/GreeningUrbanWatershed.html
www.youtube.com/watch?v=4gsE8QaKtxE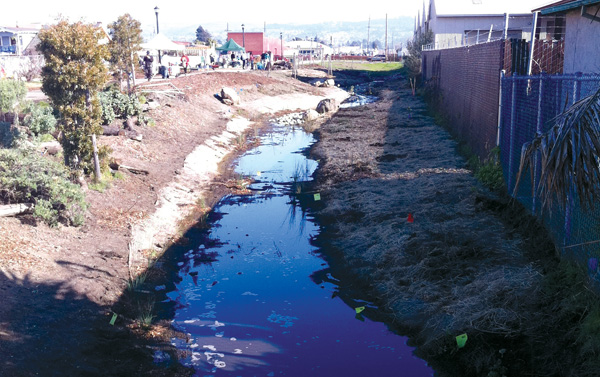 When & Where

Richmond Greenway Trail
6th St
Richmond, CA 94804


Wednesday, July 18, 2012 from 11:00 AM to 12:00 PM (PDT)
Add to my calendar
Organizer
The Watershed Project
The Watershed Project is committed to inspiring Bay Area communities to understand, appreciate and protect local watersheds.
We are working to restore and preserve the unique ecosystems that make up the San Francisco Bay. We bring a watershed perspective to the urban environment, promoting green design and supporting natural cycles.
We engage students, teachers and classroom volunteers, in creek beds and on the shoreline, giving them the tools to create and care for healthy watersheds. We reach out to support grassroots watershed organizations and nurture young people who aspire to environmental careers defending precious natural resources.
We all have the power to protect our local watersheds. Exercise your power—join us.
Ribbon Cutting Ceremony Richmond Greenway Bioswale