"Rhythms of Punjab" Dance Choreography Workshop

Tuesday, July 24, 2018 from 8:00 PM to 9:30 PM (PDT)
Event Details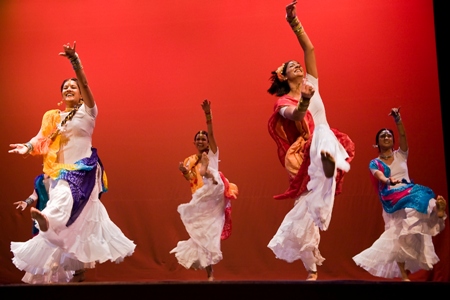 "Rhythms Of Punjab" Choreography Dance Workshop
With Dholrhythms Dance Company
Geared towards women

Heard of Dholrhythms Dance Company or our monthly Non Stop Bhangra dance night in SF? Ever wanted to learn something similar to our dance performances? Come try our "Rhythms of Punjab" Choreography dance workshop and get a taste of movements we often perform including at our Non Stop Bhangra event. Class will teach a beautiful, fun choreography mixing in the folk rhythms from Punjab, India with some added Bollywood flavor! Class is geared more towards women.

At the end of the session, we will film the routine for fun (with whoever chooses to participate) You are welcome to attend the class even if you choose not to be a part of the recording.

So wear your brightest colors, grab some girlfriends, and come learn some vibrant choreography you can bust out next time you get invited to an Indian wedding :)

Class will be taught by Vicki Virk who is the co-founder/creative director of Dholrhythms Dance Co and Non Stop Bhangra. She has been teaching/performing for 15 years in the Bay. Led by vicki's Punjabi heritage, Dholrhythms Dance Co highlights the ancestral and ethnic roots of the Punjabi dance forms while pushing boundaries by sometimes mixing in other rhythms leading to exciting dances full of joy and passion.

::::::::::::::::::::::::::::::::::::::::DETAILS:::::::::::::::::::::::::::::::::::::::
DATE  & TIME
Tuesday, July 24th | 8:00-9:30pm class
9:30-:9:45-recording the routine for those that want to participate

LOCATION:
Abada Capeoira Brazilian Art Center
3221 22nd Street | San Francisco

FEE:
$15 Early Bird | $ 20 Day Of |
Online registration recommended

AGES:
14 and up unless accompanied by an adult

LEVELS:
Accessible to all levels but recommended for those that have previously attended some type of dance classes. 

WHAT TO WEAR(NOT REQUIRED):
We are inviting you to wear any bright color, comfortable to dance in clothing with a little indian/bollywood flavor. This is not a requirement so you are welcome to wear whatever you feel comfortable dancing in.

:::::::::::::::::::::::::::::::::::::::::::::::::::::::::::::::::::::::::::::::::::::::::::::
***If you have any questions, please email us at info@dholrhythms.com 
When & Where

Abada Capoeira San Francisco
3221 22nd Street
San Francisco, CA 94110


Tuesday, July 24, 2018 from 8:00 PM to 9:30 PM (PDT)
Add to my calendar
Organizer
~Move to the rhythm of your soul and you'll never miss a beat~


Dholrhythms Dance Company is a SF Bay Area dance company dedicated to promoting the artistic and cultural heritage of India through the rhythms of Punjab with classes, workshops, performances, and events, providing a unique platform for people of diverse backgrounds to come together and dance in a positive and fun environment. 
 Dholrhythms also hosts the monthly event, Non Stop Bhangra, now in its 14th year of production and voted "Best Dance Party" in The Bay by Readers Poll in 2017. Non Stop Bhangra is a unique cultural experience creating sold out nights and write-ups as one of the best dance floor nights in San Francisco. 

Weekly Bhangra Dance Classes
High Energy, Culturally Enriching, Fun, and A Great Cardio Workout
Easy to learn movements & open to all levels
Drop-ins are always welcome

San Francisco | Tuesdays | 8:00pm-9:00pm
Abada Capoeira Art Center | 3221 22nd Street (at mission) 

Berkeley | Saturdays | 9:00am-10:00am
Ashkenaz | 1317 San Pablo Ave. (at gilman)