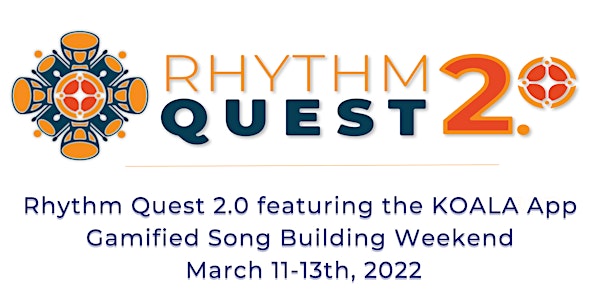 Rhythm Quest Song Building Weekend with KOALA
Find your groove with digital music making.
Refund Policy
Contact the organizer to request a refund.
Eventbrite's fee is nonrefundable.
About this event
☝️What's Rhythm Quest 2.0 - Koala Edition?
Rhythm Quest is a gamified digital music making experience designed for teams and groups.
Through a unique self-selected journey, each participant is sent on a quest to find and create music with the sounds they collect.
For this event, we'll take you on a digital tour of the KOALA digital music app ($5, sold seperately) to collaborate with others and create new musical experiences.
Within minutes, you'll learn to build songs and tap into a deep well of inspiration for your musical, teaching and therapeutic projects.
🎓What you'll learn
A framework to help you to discover and develop new musical ideas.
How to record, sample and perform an original song using a smartphone or tablet.
How to collaborate and get inspired with others in a supportive group setting.
Best practices for publishing and sharing your music with the world.
🎟️Register for Exclusive Benefits
Your event ticket grants you access to the following benefits, only available to attendees
Printable course curriculum and recorded videos of every session during the event.
A digital music making kit, featuring 10 custom made royalty-free samples to get your music making journey started.
Access to RhythmQuest invite-only online Slack community, where you can connect with attendees, access additional content and share your music for feedback and inspiration.
A certificate of completion that you can show off to your colleagues and friends!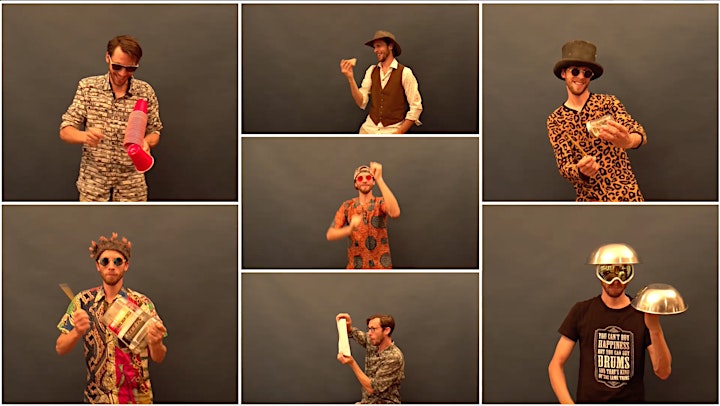 🥁Phil Didlake: Your Virtual Tour Guide
Phil Didlake, MT-BC is a board certified music therapist and the director of Drum Innovation. Phil has facilitated in-person drumming programs with communities and teams for over 12 years. In March of 2020, Phil transitioned his services to online platforms where he has continued teaching and facilitating group drumming programs online. Recently, Phil co-presented with Christine Stevens at the American Music Therapy Conference on the therapeutic applications of hosting and facilitating drumming experiences online. Phil continues to pioneer and inspire others to co-create music both online and for in person events.
Read more about the inspiration behind Rhythm Quest.
Event Details
Friday, March 11th 5 - 6:30 PM Pacific Time (PST)
Welcome Session: Select Your Guiding Compass
In this kick off session, you'll learn about the RhythmQuest method and applying it to Koala.
You'll also learn tips and tricks about how to record and import audio samples into your smartphone or tablet device.
Saturday, March 12th from 10 - 11 AM (PDT)
Preparing for the Journey
In this session you'll explore a beat-making "route" with the provided sample pack.
Make sounds your own by transforming your sounds with sample editing techniques like cropping, changing pitch & keys, and applying effects.
Saturday, March 1-2pm (PST)
Blaze your trail
Practice your beat in performance mode and learn about how to deal with common technical and personal roadblocks you may encounter, like writer's block and performance anxiety.
Sunday, March 13th 10 - 11:30 AM (PST)
Publishing and Sharing
Learn about the history of sample-based music making and it's benefits outside of traditional music making and performance.
You'll learn about how to attribute music made with samples with Creative Commons licenses, and considerations to make when sharing your work in the public domain.
Sunday, March 13th at 2pm (PST)
Song Release Party: Free and open for everyone to attend
Celebrate the end of your Rhythm Quest as we play attendees new musical creations and reflect on the musical journey we've all taken over the weekend.
Attendance is recommended but not required. Videos of the presentations will be made available to all attendees. We ask that everyone try and attend the final Song Release Party.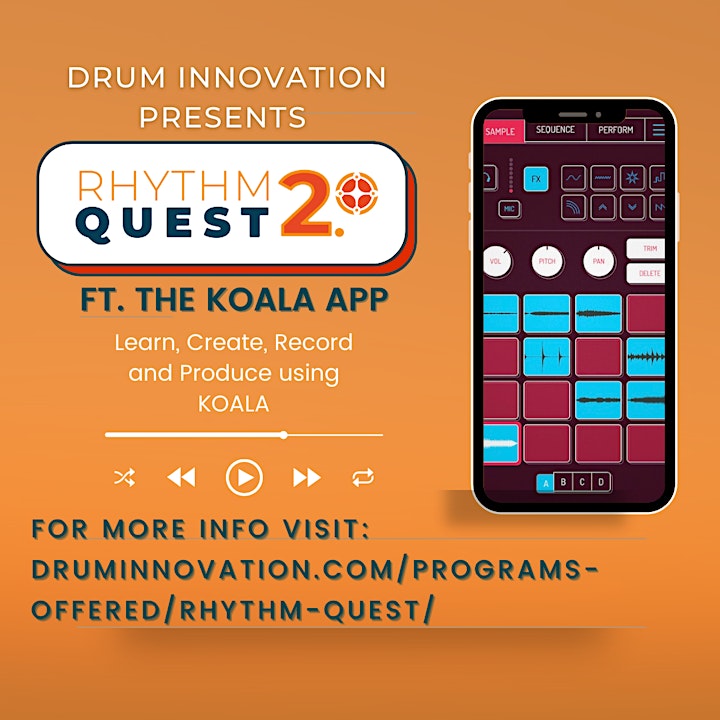 🧐Common Questions
How do I know if Rhythm Quest is for me?
Whether you've got a guitar gathering dust, rock out on the regular with your band or haven't had the courage or motivation to play music before, Rhythm Quest is for you!
We believe Rhythm Quest is great for anyone, but the following people may find this event especially satisfying...
Teachers looking for new ways of learning, creating, and teaching music online or with a mobile device in a classroom
Musicians who are new to digital music creation
Teachers, therapists or group facilitators looking to create music for specific programs
Anyone who loves beat-making and electronic music
Do I need any special training or equipment to participate in the event?
KOALA is a mobile music making app that costs $5 and is available for Apple and Android smartphone and tablet devices. It is not included in the price of the ticket.
No prior music experience is necessary to participate, but the following tools will help you get the most out of the event:
Smartphone or tablet, with at least 30 mb of available space.
Access to a desktop or laptop device during the event.
A reliable internet connection.
Zoom videoconferencing software.
Familiarity downloading apps and saving/transferring files on your mobile or tablet device.
If you still have questions about registering for the event or would like to see if you qualify for a student or group discount rate email info at druminnovation.com or visit us at www.druminnovation.com