Description
Join Master Iconographer Dr. George Kordis for a 7-day workshop to learn the skills of traditional iconographic painting using the principles and rhythm of the Byzantine system as a strong foundation for creating beautiful Christian icons.
Dr. Kordis will teach the specific skills of the Byzantine approach through in-depth demonstrations and detailed exercises in the art, expression and language of the icon. Along with teaching the importance of good freehand drawing skills (the critical basis of all contemporary Byzantine icon-painting), Dr. Kordis will share an invaluable window into the unique, artistic and spiritual process of creating an limited-palette icon from beginning to end with his limited palette technique. Along with the daily hands-on sessions, there will be short lectures and other visual inspiration addressing iconography, icon history and theology.
All students – beginners and experienced alike -- will benefit from the valuable techniques learned in this rare opportunity to study with one of the world's top iconographers.
The icon subject for the workshop will be either an angel or more simple saint face for beginners, with George allowing the subject to be open for independent choice for those with prior icon painting experience. *** This workshop is limited to only 12 students.***
The main goal of the

workshop

is that students will acquire, develop and improve good, practical and artistic

icon

-drawing and painting skills while gaining a deeper sense of the art, beauty and meaning of

icons

.
There is a minimal materials list (scroll down), with all pigments provided by instructor.
7-DAY WORKSHOP TUITION COST: $750
Please note there is now offered limited availibility to lovely affordable group accomodations (private room, shared bath) that we are renting in a downtown Woodstock farmhouse only a few minutes walk from the workshop. If deciding to book that option, the lodging portion of that ticket is non-refundable. Please contact Keri (at 603.313.4822 or keriwiederspahn@gmail.com) to confirm availibility and reservation before purchase.
+ + +
WORKSHOP REGISTRATION DETAIL:
This workshop is offered tuition-only, with all lodging and meals handled independently by the student, and hosted by Keri Wiederspahn who will assure a wonderful experience in the beautiful downtown Woodstock, Vermont!
Teaching dates of the icon painting workshop will be April 26 -- May 2 (held 9 to 4pm daily with an hour off for lunch from noon to 1pm -- note that Sunday 4/29 will meet from 2 to 6pm only). A unique retreat experience, students will have the option of sharing daily meals at local restaurants, and morning prayers together. We also hope to have both Orthodox and Catholic priests visit during the workshop to both bless and/or provide mass.
We ask that people arrive by 9am to start the first day together, and can depart anytime after the end of the afternoon session on May 2 (although we will likely be having a dinner together for those who can stay). Keri is happy to help coordinate connecting rides to Woodstock that arrive and depart by train, plane and bus, and will help you to find ideal lodging accomodations in line with your budget and type -- from local hotels and inns to Airbnb's as well as more modest arrangements from local friends who have offered rooms for the workshop for a modest fee.
Tickets to the workshop can be purchased here on-line, or by sending in a check.
Students wishing to secure their spot with a $250 DEPOSIT may do so by purchasing that option by ticket on this site, or by sending in a check to the address below until March 15. Note that the balance will be due in full by April 1 (or discussed as to a plan for final payment). Please note, if you use this registration platform for the deposit, to avoid duplicate registration fees, we suggest your second payment to made by check.
If you prefer to pay completely by check, please make sure to email Keri to secure your space while we wait for your check to arrrive: keriwiederspahn@gmail.com.
Make checks out to Keri Wiederspahn and mail to: KORDIS ICON WORKSHOP *Attn: Keri Wiederspahn, 3364 West Woodstock Rd, Woodstock, VT 05091 USA
REFUNDS:
Please note we will accept refunds 30 days out, minus a $100 non-refundable cancellation fee. Any last minute cancellations will consider refunds only at the discretion of the organizer.
LODGING, MEALS AND TRAVEL SPECIFICS:
Only a little over two hours from Boston, MA, the renowned and quintessential Woodstock, VT sits along the Ottauquechee River near the Green Mountains. The workshop itself will be held in the beautiful historic St. James Parish Hall -- an aesthetically appropriate space with natural light for the workshop.
Lodging
There are a variety of inns and hotels within walking distance of the downtown Woodstock workshop space. Please contact Keri for a list of lodging options. Those also needing more affordable solutions should know that some local friends are also renting out rooms.
* Please note there is now offered limited availibility to lovely affordable group accomodations (private room, shared bath) that we are renting in a downtown Woodstock farmhouse only a few minutes walk from the workshop. The reservation for that option is from the night before the workshop of WEDNESDAY, APRIL 25 until check out on WEDNESDAY, May 2 (our last workshop day) for a total of 7 nights lodging -- $400 total (average of $56 per night). If deciding to book that option, the lodging portion of that ticket is non-refundable. Please contact Keri (at 603.313.4822 or keriwiederspahn@gmail.com) to confirm availibility and reservation before purchase.
SOME GREAT WOODSTOCK ​LODGING TO CONSIDER:
​The famous Woodstock Inn (although pricy...):​
The Shire:
The Ardmore:
Some AirBnB's:
(These are just a small sampling!)
houses to share:
(
I also have a wonderful artist friend who will rent out rooms in her house literally right next door to the workshop space at a very reasonable price @$50 per night)
Meals
Although everyone will be on their own for meals, Keri will coordinate our sharing meals if desired as well as leading opportunity to visit the best food spots in the area. We will have coffee and tea available throughout the day, and encourage those arriving the night before to join and gather for a group meal together.
Travel
Easily accessible from Boston (2.5 hours by car or bus), or New York City (4.5 hours by car, bus or train). We can help to make suggestions as to what will work best with arrival and departures to the workshop.
By Plane: The nearest airports are Lebanon, NH (30 minutes), Manchester, NH (1.5 hours), or Boston's Logan International Airport (2.5 hours). People coming into Logan can take a Dartmouth Coach bus direct to Lebanon, NH or take a connecting flight into the Lebanon, NH airport. We can help suggest local transport for participants from the NH Manchester Airport. We are able to pick up from the Lebanon, NH Airport or the Dartmouth coach bus stop free of charge or you can call the new Uber in our area for transport to Woodstock. The Burlington, VT Airport may also be considered to fly into, but all connecting transportation will need to be handled independently (by personal rental car or car service for instance).
By Bus: Destinations are either White River Junction, VT (Greyhound Buses) or Lebanon, NH (Dartmouth Coach). Either of these bus stations are convenient for us to pick up.
By Train: Rutland, VT and White River Junction, VT are destination stops with Amtrak, originating from New York City.
ACTUAL WORKSHOP LOCATION: 73 Central St, Woodstock, VT 05091 (2nd floor, rear entrance)
The class will meet daily from 9:00am to 4pm (with one hour lunch break, 12 to 1pm).
More specifically, the WORKSHOP AGENDA will be as follows:
Day 1: Introduction. The ideals and Principles of Byzantine Iconography. Byzantine painting as a system. Drawing and painting demonstrations and prototype development.
Day 2: The making of the Icon: The foundation, painting technique with background, proplasmos, clothes -- opening icon
Day 3: The making of the Icon: Continuation
Day 4: The making of the Icon: (*Sunday -- shortened day ) Introduction of flesh tones Day 5. The making of the Icon: Continuation of flesh tones Day 6: The making of the Icon: Detail work Day 7. The completion of the Icon: Last details. Lettering.
Generous discussion on students questions throughout. (* As Sunday will be a lighter day, meeting only 2 to 6pm with Day 7 a half day running until 1pm to allow ample departure travel).
LIST OF MATERIALS
1. Pencils (2-3B) & erasers
2. sheets of paper for sketching or a sketchbook
3. 3 small jars for the mixing of colors
4. One piece of plexiglass (25x35 cm) for the mixing of colors
5. Paper tissues or a piece of soft absorbent cloth
6. Plastic Floral Palette (Dick Blick art materials.
http://www.dickblick.com/products/alvin-plastic-floral-palette/#photos
7. Long- haired round brushes for egg tempera (pure red sable or their synthetic
equivalent). Suggested : Watercolors Brushes (http://www.dickblick.com/products/winsor-and-newton-sceptre-gold-ii-brushes/# No, 2,4,6,10.
8. Some Flat brushes from the same series.http://www.dickblick.com/products/winsor-and-newton-sceptre-gold-ii-brushes/#photos
(The above types of brushes are recommended and Dr. Kordis will also bring a small selection of brushes to borrow and use while in the workshop)
10. The pigments will be delivered to the students by the Iconographer.
11. Small plastic cappuccino or candy cups
12. One rectangular clay board ( 11x14), which can be purchased through Dick Blick,http://www.dickblick.com/items/14915-1105/, or students are welcome to bring another icon board (of 11 x 14 size) to their liking.
Dr. Kordis' Biography
Born in Greece in 1956, George Kordis studied theology at the University of Athens, and later pursued his studies in theology and the aesthetics of Byzantine painting at Holy Cross Greek Orthodox School of Theology in Boston, gaining an MA in theology. In 1991 he was awarded his Doctorate in Theology at the University of Athens, where he was appointed to the post of Lecturer and served as assistant professor in Iconography. In addition to his academic work, Dr. Kordis periodically lectures as visiting professor and teaches icon painting courses in the US (Yale University, St. Vladimir's Seminary, among others).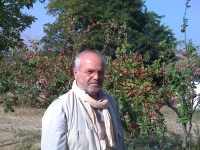 His book, "Icon as Communion: The Ideals and Compositional Principles of Icon Painting," is highly regarded as one of the only practical guides available today for learning iconographic drawing.
In addition to painting portable icons, Dr. Kordis has painted many churches throughout the world, and many more recently in the U.S.
Currently, Dr. Kordis is working on creating the International Centre of Iconography in Athens due to open Fall 2018, which will feature both icon exhibitions as well as rigorous education in contemporary iconography.

CONTACT
For any additional questions please call or email:
Keri Wiederspahn: keriwiederspahn@gmail.com, 603.313.4822

+ + +