Description
Rhythm! Discovery Center is the world's foremost drum and percussion museum; founded by the Percussive Arts Society in 2009. Rhythm! features unique, interactive exhibits highlighting a rich collection of historic artifacts and hands-on percussion instruments. Drawing upon cultures from around the world, Rhythm! offers an incomparable experience in exploring the universality of rhythm and percussion, and its role in shaping communication, music, art, performance and society.
Rhythm! also offers a diverse array of educational programming designed to supplement its interactive exhibits, providing a place for everyone to explore first-hand the world of percussion. Learn about playing techniques, delve into individual instruments, and enjoy musical performances from local and national performing groups. Located in downtown Indianapolis, Rhythm! invites visitors of any age to come Find Your Rhythm!™
Mission Statement:
Rhythm! Discovery Center is dedicated to advancing the understanding of percussion and its role in world cultures through interactive educational experiences.
Vision Statement:
The vision of Rhythm! Discovery Center is to be the premier institution for demonstration and interpretation of the percussive arts. The primary goal is to acquire, preserve and present a definitive percussion collection and archive for public display and scholarly research. The Center will serve to develop and offer innovative community-based programs, interactive educational exhibits and artistic performances.
Rhythm! Discovery Center is a creative vision of the Percussive Arts Society, Inc., the largest member-based international percussion organization in the world.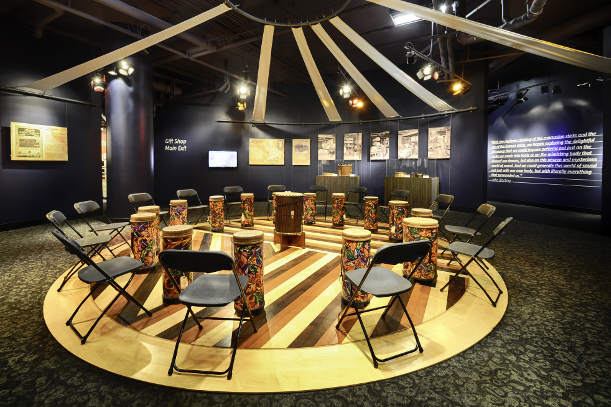 FAQs
Can I touch and play on all the instruments in the museum?
Although most exhibits in the museum are interactive, we ask that you please refrain from touching or playing instruments that are behind ropes or on platforms. But don't worry, there will be lots of instruments you can play. Thank you!
Do I need to make a reservation to visit?
No, you do NOT need a reservation for general visits to Rhythm! Guests are welcome to visit any time during our regular business hours. However, if you are interested in a guided or self-guided group tour, please contact us prior to your visit to check availability.
Is Rhythm! accessible for those with disabilities?
Yes! Rhythm! meets all Americans with Disabilities Act requirements and is accessible to everyone, regardless of age or disability. Those with wheelchairs or who are unable to ride the escalators may take the elevator down to Rhythm! located on the 1st floor of Claypool Court across from the Colts Grille.

Are strollers permitted in the museum?
Yes. However, if you wish to leave strollers behind, please check in at the admission's desk before you begin your visit and staff will provide a safe space for storage. To ensure the safety and security of the museum's artifacts, large strollers and other items may be prohibited.
Is there a baby-changing station?
Yes. Baby-changing stations are located in both the men and women's restrooms near the rear of the museum.
Is photography allowed?
Yes. Please turn off your flash!
Can I bring food into the museum?
Sorry, for the safety and security of our artifacts, we ask that you refrain from having open food or drink in the museum. If you do have food when you enter Rhythm!, you will be asked to store it behind the front desk or dispose of it.
Where can we park?
Rhythm! is centrally located by multiple parking garages and public street parking. Please refer to our Directions page or this Downtown Parking Map provided by Visit Indy.
Where can we eat?
We are located just below Panera, Weber Grill, Colts Grille, the Artsgarden and the Circle Centre mall food court! There are also a number of restaurants within walking distance that offer a diverse range of dining options. Please refer to this Downtown Restaurants Map provided by Visit Indy.
I'm visiting from out of town. Where are nearby hotels?
Rhythm! is centrally located right in downtown Indy and within walking distance to numerous hotels! Please refer to this Downtown Hotels Map provided by Visit Indy.
Can I purchase a gift ticket to the museum?
Yes. Please contact us by email or call (317) 275-9030 to speak with staff.
Will Rhythm! donate to my silent auction or fundraising event?
Rhythm! is happy to donate a family membership certificate to many non-profit events. Please mail or email to rfunkhouser@pas.org a formal letter (including your Tax ID) requesting a donation. Some exceptions may apply, and we reserve the right to decline any requests.
Do you offer drum lessons?
Rhythm! offers a vast array of educational Saturday Programs that are included with the cost of admission. If interested in private drum lessons, this may be arranged by speaking to our museum staff. Availability is limited.