Description
You know The Alumni Group for throwing the best trap music brunches and day parties in the city. We have a reputation for turning up on a Saturday. But this week, we'll be "Easy Like Sunday Morning" at our Rhythm & Brunch All-R&B brunch and day party. Rhythm & Brunch will feature a live performances from the R&B Boys, Barry Antoine, and some others who'll belt out soulful covers of your favorite slow jams while you enjoy the brunch food and drink specials you've come to love at our events. It's all going down on Sunday, 2/12, at Mist Harlem. Don't miss out!

***From 12-2pm brunch will be served in the restaurant from 2-7pm brunch will be served in the studio***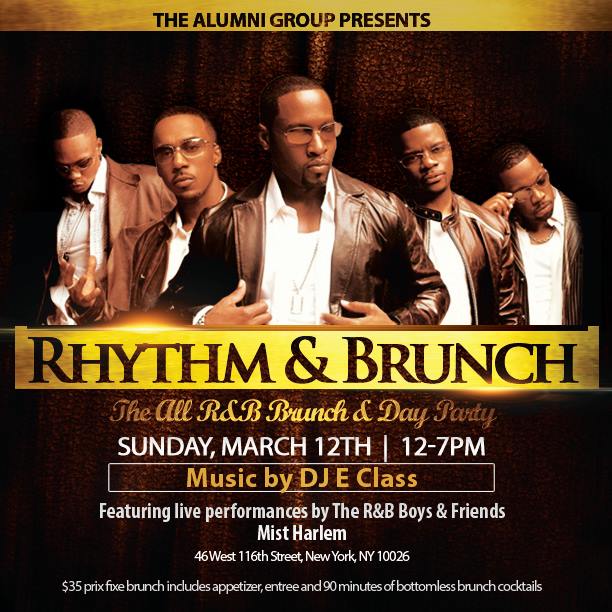 Mist Brunch Menu $35 Prix Includes Appetizer, Entrée and 90 minutes of bottomless brunch cocktails.
*Prices per item are for those who DO NOT wish to partake in the prix fixe menu*
-Starters Choice of One-
Caribbean Seafood Soup $10
Kale & Mixed Green Caesar Salad $7
Pholourie Vegetables with Chadon Beni Aioli $10
Entrees
Steak & Eggs With Crispy Potatoes $18
Barbecue Jerk Chicken Rice and Peas, Plantains, and Vegetables $15
Chicken & Waffles $17
Lemon Butter Shrimp with Crispy Coo Coo and Tomato Fondue $15
Butter Milk Fried Chicken Sandwich with Handcut Fries $15
Mist Burger With Handcut Fries $15
Curry Cauliflower with rice and peas, plantains, and vegetables $15
Sides
2 Eggs Any Style $4
Turkey Bacon $4
Pork Bacon $4
Home Fries $5
Sweet Potato Fries $7
Handcut Fries $7
Plantains $4
Extras
Chicken Lollipops (6) $10
Fried Calamari $12
Cheese Fries $11
Add Jerk Chicken $4, Shrimp $5, Vegatables $4
Mac & Cheese $10
Bottomless Brunch Cocktails (1.5 Hours)
Mimosa
Tropical Bellini
Sangria (White or Red)
Champagne/Birthday Specials
Chandon Selfie Bottles $9 each, $40 bucket of 5