Outdoor Patio Season begins at R.House with 8 food vendors, to-go cocktails, boozy sweet treats, live music, an ice cream truck & giveaways!
About this Event
It's Outdoor Patio Season at R.House!
In celebration of the reopening of our outdoor space, after months of curbside pick-up, we're hosting a social-distancing summer patio launch!
Featuring
Delicious food from eight R.House vendors (Amano Taco, Be.bim, BRD, Creole Soul, Hilo Poké and Sushi, Molina Pizza, STEM, and Taharka Brothers Ice Cream).
To-Go cocktails and drinks from r.bar including boozy sweet treats
the Taharka Brother's Ice Cream truck
Floral giveaways from Kosmic Gardens
Live Music from Shelby Blondell starting at 7:30pm
Admission is FREE! Register in advance for a chance to win one of our sponsored giveaway prizes. Registering in advance DOES NOT guarantee table seating on the patio.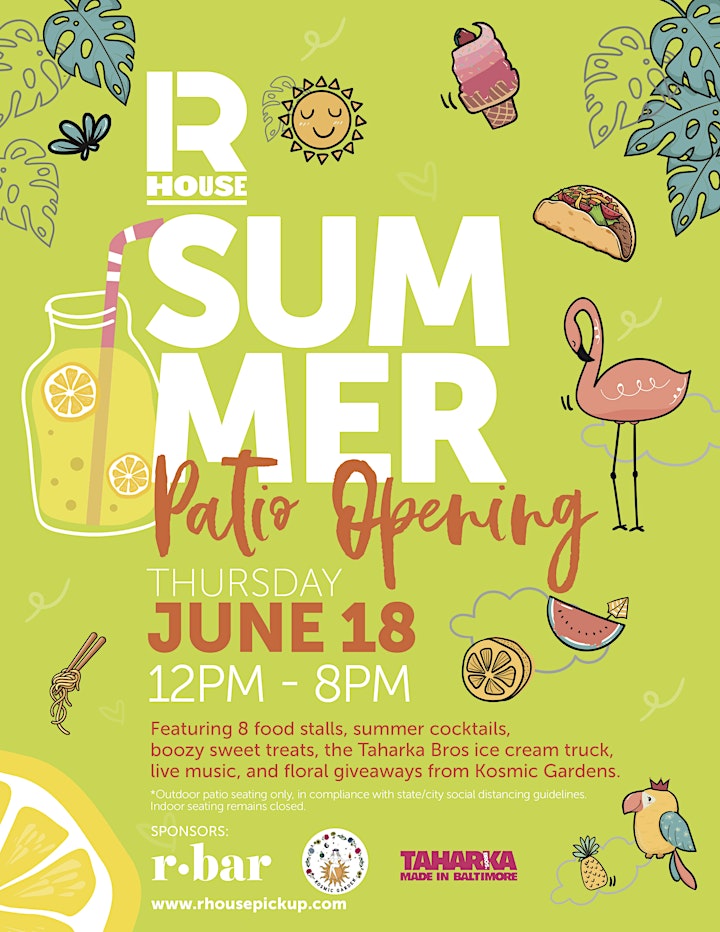 *R.House only offers outdoor patio seating at this time, in compliance with state/city social distancing & sanitation guidelines. Indoor seating remains closed.
Please Note the Following
Patio tables will be available on a first come basis with no table service. Tables will be available for groups of six or less people.
Patio guests can order food online from their favorite vendors and pick up their food in a designated contactless zone before taking it to their table to eat. Cocktails and drinks will also be available from r. bar.
Guests are required to wear a mask when not eating or drinking.
Reservations, group meetups and private events are not allowed at this time.
All guests on the R.House patio must either be seated at a table with a food order or standing in line maintaining 6 feet of social distance in front or behind them.
Following the patio re-opening, R. House's patio hours are 12-8pm Wednesday through Sunday and until 10pm on Fridays and Saturdays.
Online ordering and curbside pick-up from R. House food and drink vendors will remain available every day.
Giveaway Sponsors
By registering in advance to attend our Summer Patio Reopening, your name will be entered into a drawing to win an amazing prize from one of our giveaway sponsors. Our giveaway sponsors include:
Are you interested in becoming one of our event sponsors? Shoot an email to marketing@R.HouseBaltimore.com!
Subscribe to our email list for first access to events & tickets: http://bit.ly/RHouseEmails
ABOUT TARA RYAN KOSMAS & KOSMIC GARDEN: As a burn survivor and registered nurse, Tara holds a unique perspective from both the lens of patient and caregiver. It is for this reason Tara has committed to Heal the Healers. Kosmic Garden is a local Baltimore-based flower shop and Heal the Healers is one of their passion programs, being that Tara herself is also a Registered Nurse. Her frontline debriefing program is a psychologically safe space for nurses to express emotion without fear of judgement. A place for honest dialogue and self reflection. 
ABOUT SHELBY BLONDELL: Shelby Blondell is an international, songwriter, singer, inventor and speaker from Linthicum MD, whose determination  shows that even brain surgeries cannot get her down. Shelby has a unique sound that captivates a crowd by bringing them to their feet and hitting their heart, encompassing sounds as if Lauren Daigle, Sara Bareilles and Andy Grammer were having a tailgate. Shelby's  music, story, and work have been featured on radio and multimedia internationally, with a radio hit TOP 10, "Fun In The Sun", on the European Indie Music Charts while sharing the stage with artists like Pentatonix, Howie Day at iconic venues like Merriweather Post Pavilion and Blues Alley.
ABOUT R. HOUSE: R. House is Baltimore's launchpad for outstanding food and creating community. It is the place to come together. It's a food hall, but more than that, it's a community. We believe in being neighbors, not guests; we see possibilities, not limitations. This is your gathering place, your kitchen table, your office, and your front stoop. This is your house, our house, R. House.