Description
This event is SOLD OUT. There will be no walk-in tickets available.
The Rhode Island Offshore Wind Summit will convene leaders from around the world and across the public and private sectors to share insights and explore business opportunities for clean energy in Rhode Island.
This transition presents opportunities for many sectors of the clean energy industry, particularly offshore wind, from early-stage startups to global energy companies. The main question is how Rhode Island should take advantage of the opportunity and create hundreds of sustainable, local jobs.


AGENDA
8:30am - 9:30am: Registration and Light Breakfast
9:30am - 10:00am: Welcome by Rhode Island Governor Gina Raimondo and NECEC President Peter Rothstein
10:00am - 10:15am: State of the US Offshore Wind Market
Liz Burdock, President and CEO, Business Network for Offshore Wind
10:15am - 10:30am: What's New & Spinning – Ørsted
David Hang, President, Orsted US Offshore Wind
10:30am - 10:45am: Networking Break
10:45am - 10:50am: Remarks by Rhode Island Secretary of Commerce Stefan Pryor
10:50am - 11:45am: Pitch & Sip Part 1 – Fast-paced pitches by local and regional businesses to showcase their services and expertise to prospective partners
11:45am - 12:00pm: What's New & Spinning – Vineyard Wind
12:00pm - 1:00pm: Networking Lunch
1:00pm - 2:00pm: Panel Discussions and Breakouts
Supply Chain Panel - Rhode Island's Offshore Wind Resources: Learn about Rhode Island's many resources to support offshore wind, including business incentives and grants, workforce training, port infrastructure and more
Grid Modernization Panel - Renewable Energy Integration and Grid Modernization: Learn about what is required to integrate intermittent renewable energy from offshore wind into the grid and what opportunities there are

2:00pm - 2:15pm: Coffee and Networking
2:15pm - 2:30pm: What's New & Spinning – Equinor
Julia Bovey, Director Of External Affairs, Equinor Wind US
2:30pm - 3:15pm: Pitch & Sip Part 2
3:15pm - 3:30pm: What's New & Spinning – Mayflower Wind
3:30pm - 3:45pm: Coffee & Networking
3:45pm - 5:00pm: Making the Rounds or Startup Pitches
Track 1 - Making the Rounds: Offshore wind developers and tier 1 suppliers will be available for local firms to make introductions and explore opportunities for participation
Burns & McDonnell,

Equinor, GE, Mayflower Wind, MHI Vestas, Orsted, Siemens, Vineyard Wind, Commerce RI, RI Department of Labour and Training, ProvPort, Quonset Port, and URI
Track 2 - Cleantech Pitch Sessions: Select cleantech startups with technologies applicable to offshore wind will give shark-tank style presentations to investors
5:00pm - 7:00pm: Closing Remarks from Rhode Island Secretary of Commerce Stefan Pryor and Networking Reception
HOTELS: Please visit Discover Newport for a list of available hotels in the area. July is a busy season in Newport. Please book your hotel early!
IMPORTANT PARKING INFORMATION: Due to limited parking at our venue, we will be providing a shuttle service between Innovate Newport and the Newport Visitor & Transportation Center (23 America's Cup Avenue, Newport, RI 02840). The shuttle service will run from 7:45AM to 10:30AM at the begining of the event and from 5:00PM to 8:00PM at the end of the event. The Visitor's center is approximately 1.5 miles from Innovate Newport. Parking at the Visitor's center is $25 for the day.


HOST SPONSOR

PREMIER SUMMIT LUNCH SPONSOR

PREMIER SUMMIT RECEPTION SPONSOR

SUMMIT SPONSORS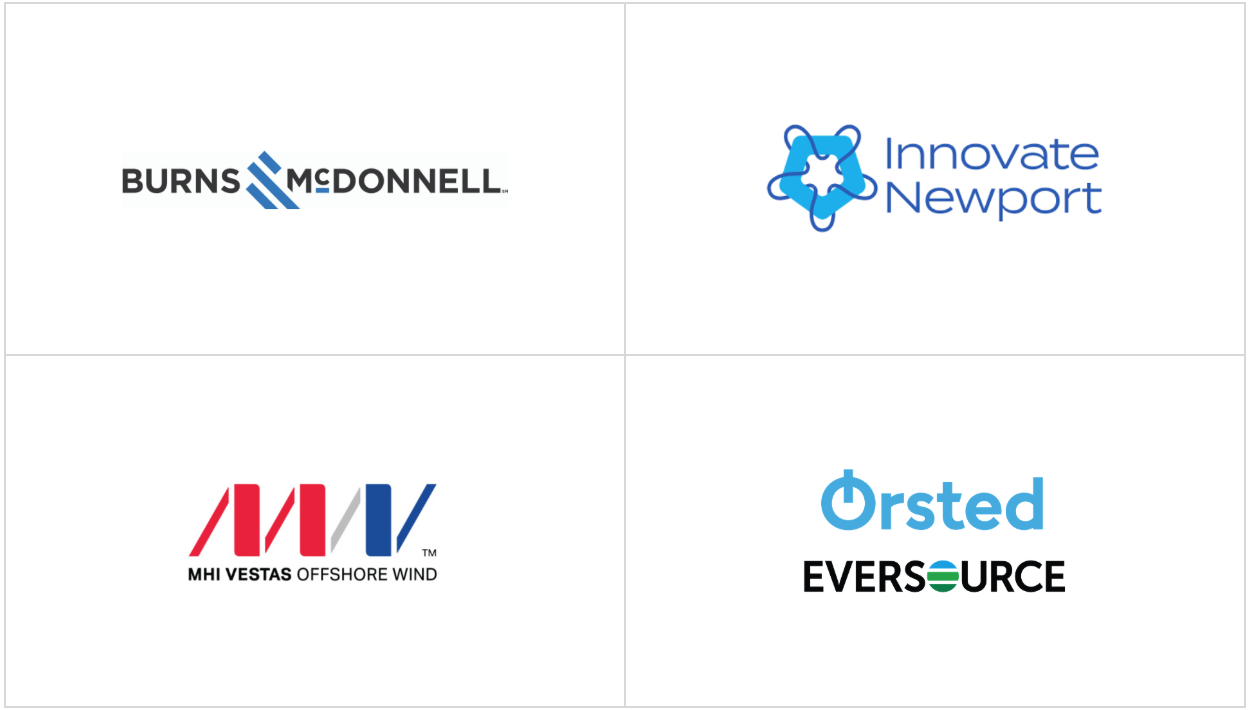 RECEPTION HOST