Join us in celebrating and honoring our accomplished Rhode Island College alumni and college community members!
About this event
Each year, the Rhode Island College Alumni Association presents awards to exceptional graduates and members of the Rhode Island College community. Honorees are chosen on the basis of professional achievement, community involvement and service to the college and the Rhode Island College Alumni Association.
This year's virtual ceremony will be recognizing the achievements of honorees from 2020 and 2021.
For more information on our honorees visit our Facebook page.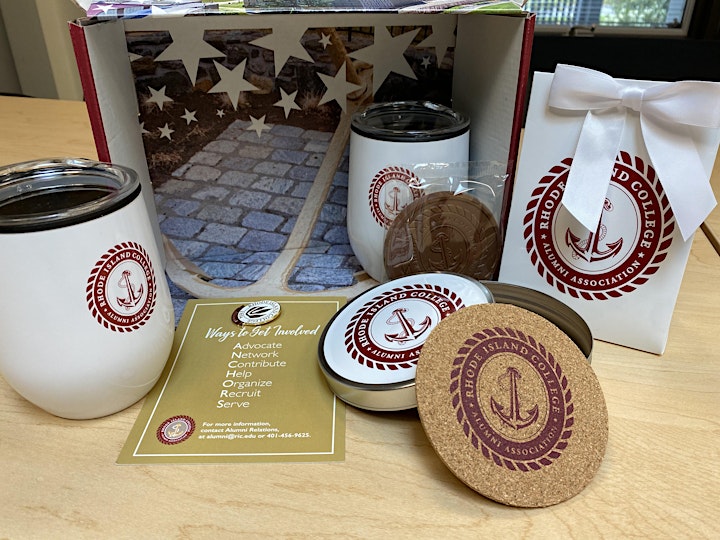 The Celebration in a Box includes two tumblers, coaster set with tin container, chocolate cookie, trail mix, and an alumni pin for a donation of $50+.
John Nazarian Alumna/Alumnus of the Year Award
2020 Honoree: Frederick Harrison '07
2021 Honoree: Dr. Sandra Enos '71
Charles B. Willard Achievement Award
2020 Honoree: Dr. Brenda Dann-Messier '73, M.Ed. '74
2021 Honoree: Maria Ducharme R.N. '87
Alumni Service Award
2020 Honoree: Dayna Gladstein '83, M.S.W. '87
2021 Honoree: Elizabeth Rochefort '10
Young Alumni Award
2020 Honoree: Brittany Richer Ahnrud '13, M.Ed. '16
2021 Honoree: Nick Lima '16
Alumni Faculty Award
2020 Honoree: Dr. Charles McLaughlin '78, M.Ed. '84
2021 Honorees: Deborah Siegel and Frederic Reamer
Alumni Staff Award
2020 Honoree: Jessica Silva Cimorelli '00
2021 Honoree: Janet Phillips
Honor Roll Recipients
2020 Faculty of Arts and Sciences
Marcela Betancur '12
Kim Clark '95
Yvette Mendez '99
2021 Faculty of Arts and Sciences
Eric Auger '92
Ann Corvin '08
Joe Pari '94
Feinstein School of Education & Human Development
2020 Honoree: Ronald Beaupre '96
2021 Honoree: Stacey Aguiar '12
School of Business
2020 Honoree: Olalekan Adeduji '08
2021 Honoree: Jonathan Macomber '17
School of Social Work
2020 Honoree: Maria Cimini '02, M.S.W. '05
2021 Honoree: Joise Garzon '12, M.S.W. '13
School of Nursing
2020 Honoree: Valerie Almeida-Monroe '11
2021 Honoree: Claire Creamer '80
Organizer of Rhode Island College Alumni Awards Celebration