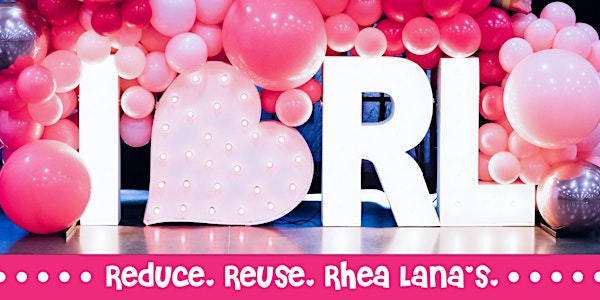 Rhea Lana's of Overland Park MASSIVE Spring & Summer Family Sale (2/24-3/5)
Rhea Lana's of Overland Park is hosting a Safe, Family Shopping Event! Get the entire family set for all things Spring & Summer!
About this event
Our Sale will be open to the public Feb. 27th through March 5th. We're thrilled to offer families the option to purchase a ticket and shop before we open to the public! Our Pre-Sale Shopping Extravaganza will be held from Thursday, Feb. 24th through Saturday, Feb. 26th.
Multiple options allow you to choose the time and ticket price that works best for YOU! The key to scoring the BEST deals is shopping early! This event will have all the things you need to get your babies, children, and teens set for this Spring & Summer! 5% of all ticket sales will be donated to the Child Protection Center.
Click here for the full shopping schedule! To join us as a Consignor, click here. You can even work the event; we are hiring temporary workers! Click here to submit your info on our team member interest form.
Shop nearly 100,000 items from roughly 1,000 family's, all at once, and save 60-90% off retail prices! Since each item is inspected you can rely on us for HIGH-QUALITY children's clothing and items at unbeatable prices!
What you will find when you shop at Rhea Lana's:
✔️ Clothes (sizes infant-teen) including maternity/pregnancy
✔️ Shoes
✔️ Baby Equipment
✔️ Furniture
✔️ Toys, Books, DVD's, Electronics
✔️ Bedding
✔️ Nursery Decor
✔️ High-end Adult Athleisure
✔️ Joovy Baby Gear
✔️ Much, much more!
We accept Cash and Credit (MasterCard , Visa, Discover & American Express)
Shopping is always FREE with no tickets/passes necessary once we open to the public on Sunday, Feb. 27th.
VOTED TOP 10 NATIONAL CHILDREN'S CONSIGNMENT SALE!!
Kids are expensive and life is hectic! Rhea Lana's of Overland Park is the answer for busy and savvy moms like you!
Sale Coordinators: Melissa Schroeder & Katelyn Logan
email: katelyn@rhealana.com or call/text 816-308-6672