Rhea Lana's Family Shopping Event - Cincinnati Children's Consigment
Rhea Lana's of North Cincinnati is hosting a Children's Consignment & Shopping Event! Get your kids set for all things fall & winter!
About this event
Please Note
Entry on our public shopping days is always FREE. The paid tickets being sold on this page simply allow you to shop first during our private presale!
Important Rules this Event
Frankly, we don't know what the requirements on face coverings from the city and state will look like in October, but we will certainly follow them. Either way, there will be free disposable masks available at the door.
Presale ticket required for everyone who is not in a stroller or baby carrier.
About this Event
We're thrilled to offer families the option to purchase a ticket and shop before we open to the public! Multiple options allow you to choose the time and ticket price that works best for YOU! The key to scoring the BEST deals is shopping early! This event will have all the things you need to get your children and teens set for the Fall and Winter! Follow our Facebook Event HERE.
Click here for the full shopping schedule!
Shop 40,000+ items all at once and save 60-90% off retail prices! Since each item is inspected you can rely on us for HIGH-QUALITY children's clothing and items at unbeatable prices!
What you will find when you shop at Rhea Lana's:
✔️ Clothes (sizes infant-teen) including maternity/pregnancy
✔️ Shoes
✔️ Baby Equipment
✔️ Furniture
✔️ Toys, Books, DVD's, Electronics
✔️ Bedding
✔️ Nursery Decor
✔️ Much, much more!
We accept Cash and Credit.
Shopping is always FREE with no tickets/passes necessary once we open to the public on October 10th.
Kids are expensive and life is hectic! Rhea Lana's of North Cincinnati is the answer for busy and savvy moms like you!
Nicole Zistler
Nicole@rhealana.com
513-258-3699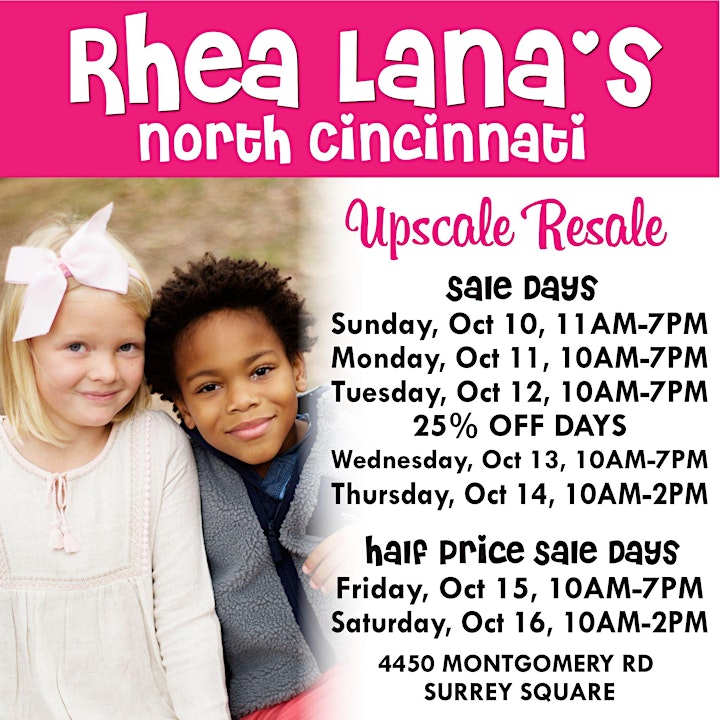 Organizer of Rhea Lana's Family Shopping Event - Cincinnati Children's Consigment