About this Event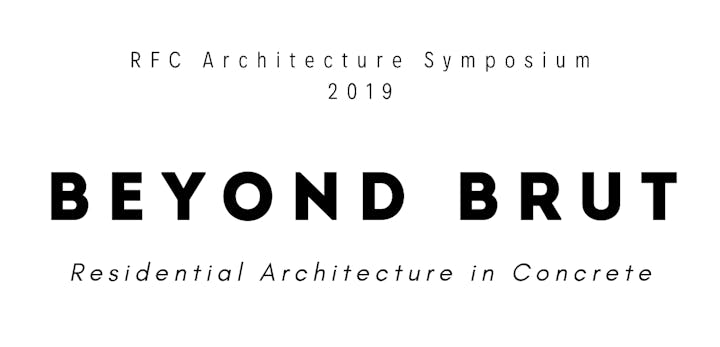 The Raymond Farm Center (RFC) has teamed up with the American Institute of Architects (AIA) and the Custom Residential Architects Network (CRAN®) for a one-day symposium titled "BEYOND BRUT: Residential Architecture in Concrete" focusing on historic and contemporary residential architecture in concrete. Our speakers will look at the works of architects and designers including Antonin & Noémi Raymond, Le Corbusier, Frank Lloyd Wright, Rudolf Schindler, John Lautner, Tadao Ando, and Toyo Ito.
SPEAKERS + TOPICS
John DeFazio, AIA + RFC Executive Director
The Reinanzaka House & Antonin & Noémi Raymond
Pioneering Concrete Architecture in Japan
Manisha Shodhan Basu
Shodhan Villa— Concept to Creation
A Walk Through of Le Corbusier's Last House
Frank Escher
Between Earth and Heaven: The Architecture of John Lautner
James Steele Ph.D
Conflicting Influences on Japanese Modernism
To learn more about this year's RFC Architecture Symposium 2019 or our speakers, click here.
T I C K E T S (Includes Lunch) :
AIA Members $200
Non-members $250
AIA Students $150
Learn more about our Student Admission Scholarships - limited availability!
Continuing Education Credits : AIA CES 5 LU Credits
Special Dinner $80
Join the Raymond family and our guest speakers for a special dinner hosted at the Raymond Studio. ***Tickets can be purchased as an add-on and must be purchased in advance!***
Sunday RFC/ Nakashima Joint Tour $60
Sign up for an exclusive joint tour of the Raymond Farmhouse and Nakashima Woodworkers on Sunday November 10th from 11am - 2pm. The group will meet at the Raymond Farm Center. Refreshments will be provided. Spots are limited! ***Tickets can be purchased as an add-on and must be purchased in advance!***
We would like to thank our sponsors & collaborators for helping fund and promote this event:
AIANY Cultural Facilities Committee