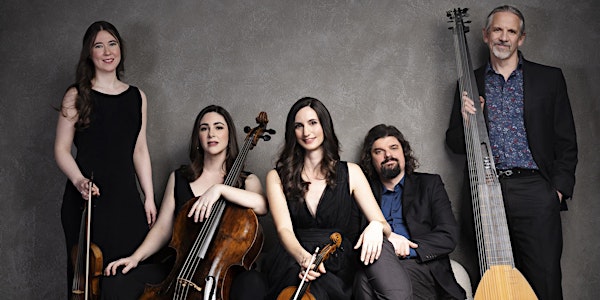 Rezonance Ensemble: Crossing Borders
We take a guided tour of Baroque Europe with composers who travelled, and imported different musical styles.
By Rezonance Baroque Ensemble
Date and time
Sun, Mar 26, 2023 3:30 PM - 4:30 PM EDT
Location
St. David's Anglican Church 49 Donlands Avenue Toronto, ON M4J 3N5 Canada
About this event
Travel seemed to be in the blood for a handful of the most celebrated composers of the Baroque era. With Crossing Borders, Rezonance takes you on a musical journey with composers who spent time living abroad—that is, away from their true homelands—who found ways to integrate the regional styles and techniques of the music wherever they went. Though originally German, Handel became so entrenched in England he is often now thought of as having dual citizenship! And did you know Lully was Italian? This concert will include a wide range of such composers including German Georg Muffat, Italians E.F. Dall'Abaco and Francesco Geminiani, Frenchman J-M LeClair, as well as George Frideric Handel. Given so much variety, this will be an especially fun concert!
Active among early music performers since 2012, Rezonance Baroque Ensemble is one of the most exciting groups on Toronto's classical music scene. Unafraid of improvisation and experimenting with new concert formats, and already known for giving entrancing performances that resonate with today's audiences, Rezonance is well on its way to becoming one of the foremost chamber music interpreters in Toronto. Inspired by history and informed by the present, Rezonance leads audiences through the discovery of under-appreciated and unusual works, and new ways of hearing the classics, in a manner that is intimate, accessible, and fun, while maintaining the highest possible artistry.
St David's Anglican Church, 49 Donlands Ave.
Doors: 3:00pm
Concert: 3:30pm - 4:30pm
Seating is unassigned.
ACCESSIBILITY: If you are in need of assistance accessing the venue, please find one of our volunteers wearing an ORANGE STICKER and they will direct you to someone who can assist you.
This concert will be recorded for release at a later date still to be determined. Ticketholders for the live event will also have access to the online concert. More information including the date, and a link will be sent to the email provided.
We strongly encourage attendees to wear masks.
Rezonance would like to gratefully acknowledge the support of the Canada Council for the Arts in making this concert possible.