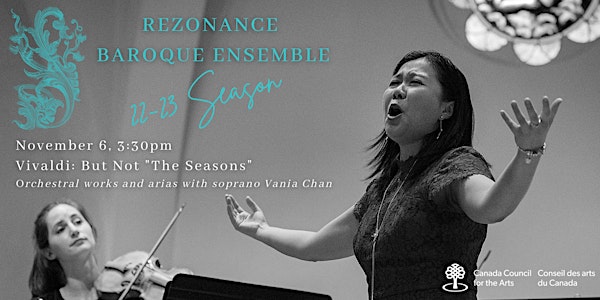 Rezonance Baroque Ensemble - Vivaldi: But Not "The Seasons"
Orchestral works and arias by Vivaldi, with soprano Vania Chan
When and where
Location
St. David's Anglican Church 49 Donlands Avenue Toronto, ON M4J 3N5 Canada
About this event
Rezonance once again brings you the vocal pyrotechnics of coloratura soprano Vania Chan, this time with arias by Antonio Vivaldi. Some, such as the Domine Deus from his "Gloria", may be familiar, while others are the hidden gems you have come to expect from Rezonance programming. Get to know a different side of Vivaldi's orchestral music as well, with a selection of his concerti for strings - no one instrument gets to shine in these concerti that showcase the entire orchestra.
Active among early music performers since 2012, Rezonance Baroque Ensemble is one of the most exciting groups on Toronto's classical music scene. Unafraid of improvisation and experimenting with new concert formats, and already known for giving entrancing performances that resonate with today's audiences, Rezonance is well on its way to becoming one of the foremost chamber music interpreters in Toronto. Inspired by history and informed by the present, Rezonance leads audiences through the discovery of under-appreciated and unusual works, and new ways of hearing the classics, in a manner that is intimate, accessible, and fun, while maintaining the highest possible artistry.
Vania Lizbeth Chan is a versatile artist, active in the fields of vocal performance and academia (M.M., Manhattan School of Music; PhD, York University). A lyric coloratura soprano, Vania's voice has been described as "gently shimmering" (Opera News, NY) and "lovely and agile" (@KarasReviews). She has performed in Canada and internationally, making her Carnegie Hall debut as a 1st prize winner in the Barry Alexander International Competition (NY). Vania recently toured Europe, performing the music of Claude Vivier (Soundstreams). In September, she premieres the role of Wenli in City Opera Vancouver's production of Chinatown. Vania's upcoming performances for Fall 2022 include singing with Toronto's Glenn Gould foundation (GlennGould@90), the role of Eurydice (Offenbach's Orpheus in the Underworld, Toronto Operetta Theatre), the role of Celia (Mozart's Lucio Silla with Voicebox: Opera in Concert), and singing with the Toronto Consort in their Praetorious Christmas Vespers concert. Vania is thrilled to be performing again with Rezonance Baroque Ensemble!
St David's Anglican Church, 49 Donlands Ave.
Doors: 3:00pm
Concert: 3:30pm - 4:30pm
Seating is unassigned.
This concert will be recorded for release at a later date still to be determined. Ticketholders for the live event will also have access to the online concert. More information including the date, and a link will be sent to the email provided.
Given that Covid cases as well as seasonal colds and flu are rapidly increasing, we strongly encourage attendees to wear masks.
Rezonance would like to gratefully acknowledge the support of the Canada Council for the Arts in making this concert possible.