Our favourites from France!
About this event
We adore playing French chamber music together, and look forward to sharing the experience with you in this intimate salon-style mini concert. Rezan Onen-Lapointe and harpsichordist David Podgorski will play works by Francois Couperin and more.
How it works:
Purchase a $10 ticket on the Eventbrite site (or make a donation of $10 or more). You will receive a link to the concert via the email you provide, the day before the event.
You can join us at 7 on the 13th for the official "premiere," where you will be able to chat with us on YouTube during and after the concert, or you can watch at your leisure for one week following the broadcast.
The performance will be streamed on YouTube. Simply follow the link you receive at the time the concert is scheduled to begin.
If you have a YouTube account (same as Google) you can log in to participate in the chat.
The concert will be about 30 minutes long, plus a short pre-concert chat and post-concert Q&A.
Follow us on Facebook and join our email list to make sure you see all the announcements!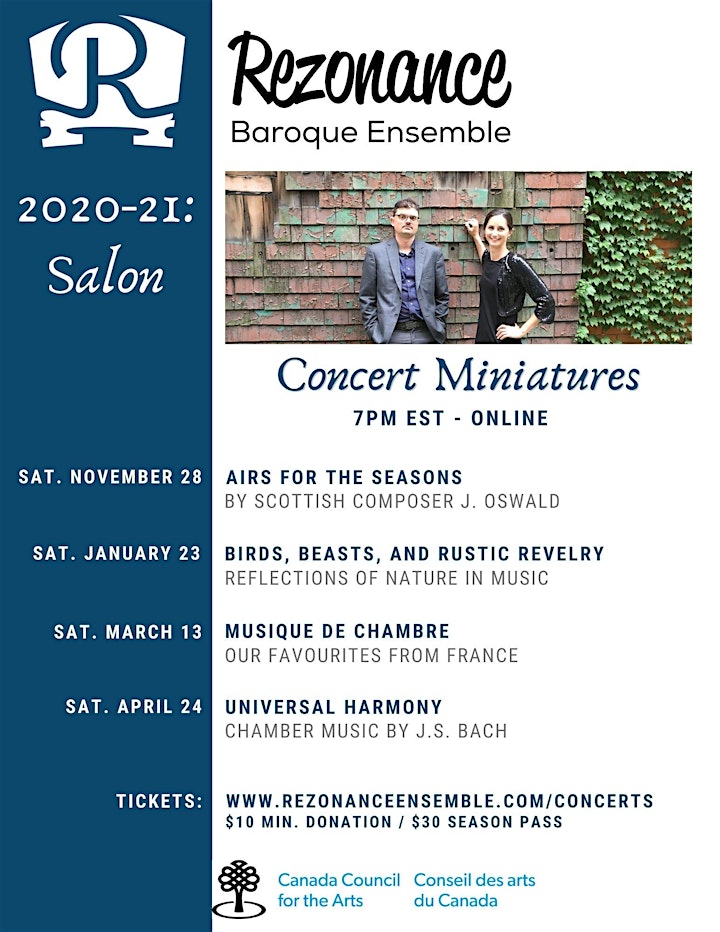 About the performers:
Active since 2012, Rezonance Baroque Ensemble is one of the most exciting new groups on Toronto's classical music scene. Unafraid of improvisation and experimenting with new concert formats, Rezonance are on their way to becoming some of the foremost early music interpreters in chamber music in Toronto, and are already known for giving great performances in ways that resonate with today's audiences. Inspired by history and informed by the present, Rezonance leads audiences through the discovery of under-appreciated and unusual works, and new ways of hearing the classics.
Rezan Onen-Lapointe - Violin, Artistic Director
Violinist Rezan Onen-Lapointe is in demand as a freelance specialist in historical violin performance, and is becoming known as an ensemble leader and soloist. Rezan plays regularly with Aradia Ensemble, with whom she has recorded two albums for Naxos, including the JUNO-nominated "Vivaldi's Sacred Music, vol. 4." She has performed with most of the early music groups in Southern Ontario, including the Windermere String Quartet, Musicians on the Edge, Scaramella, Talisker Players, Musicians in Ordinary, Elixir Baroque Ensemble, the Nota Bene Baroque Players, Cor Unum Ensemble, and the Ottawa Baroque Consort. Rezan holds a Masters degree in Baroque violin from McGill University where she studied with Hélène Plouffe, and completed further studies at the Royal Conservatoire of the Hague (Netherlands) with Ryo Terakado. Always interested in expanding her knowledge and perspectives, she recently returned to the Netherlands for a workshop in historical acting techniques led by renowned flautist and researcher Jed Wentz, at Leiden University. She is exploring how these historical ways of expressing emotion on stage relate to musical expression of the time.
David Podgorski
Harpsichordist David Podgorski obtained a Masters degree in harpsichord performance from McGill University, where he studied with Hank Knox, and pursued further studies at the Royal Conservatoire of the Hague with Jacques Ogg. David completed a demo recording in Italy of the solo harpsichord works of d'Anglebert. He continues to perform regularly, and has performed in solo, chamber, and orchestral concerts in Canada, the United States, and Europe. He enjoys exploring historical improvisation techniques, performing intimate salon concert recitals, and recording. David is a founding member of Rezonance Baroque Ensemble, and he has written Early Music articles and reviews for Ludwig Van Toronto, and Wholenote Magazine. www.soundcloud.com/david-podgorski
Date and time
Location
Refund policy