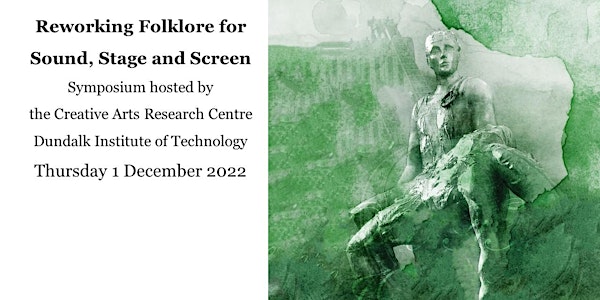 Reworking Folklore in Sound, Stage and Screen
Dundalk Institute of Technology is pleased to welcome participants to a symposium on the theme of reworking in Irish folklore.
When and where
Location
Dundalk Institute of Technology Dublin Road Marshes Upper A91 K584 Dundalk Ireland
About this event
The Creative Arts Research Centre at Dundalk Institute of Technology is pleased to welcome participants to a symposium on the theme of reworking in Irish folklore, hosted in the School of Informatics and Creative Arts on Thursday 1 December 2022.
The reworking of Irish folklore is a process that surrounds us every day, coming to define how our communities speak, write, sing, and dance. For centuries, the constant rejuvenation and reinvention of these customs, what Lauri Honko calls folklore's "second life", has been fueled by the shifting social and political environment of Ireland. The diverse works of poets, singers, stage writers, filmmakers, archivists, and lawmakers contribute to a cultural landscape that never remains static. In an age when new technologies allow these traditions to reach fresh audiences, transformed in ways never seen before, an understanding of reworking has never been so pertinent to the study of Irish folk culture.
Wishing to bring together new perspectives on Irish folk heritage, this symposium invites papers from researchers in all disciplines that engage with the history and reinterpretation of folklore. Presentations from all (inter)disciplinary fields are invited, including visual art and filmmaking, radio, stage, music, literature, and tourism. Topics for discussion might include, but are not limited to the reworking and representation of folktales and mythology, historical customs, oral tradition, and local beliefs in:
• Film and animation
• Music, rhyme, and ballads
• Theatre performance and dance traditions
• Literary fiction and poetry
• Computer games and AR/VR technologies
We are delighted to be welcoming Dr Susan Motherway, Munster Technological University, co-editor of the recently published Staged Folklore, The National Folk Theatre of Ireland 1968-1998 with Professor John O'Connell to present a keynote paper.
We would like to thank everybody for their support, in particular Dr Gerard 'Bob' McKiernan, President of DkIT; Dr Adèle Commins, Head of Department of Creative Arts, Media and Music; our colleagues who are chairing sessions; Alice Hoey and the administration team in the School of ICA; Terry Creagh and Brian Culley for their technical assistance on the day; Michael McMahon, Paul Scollon, Derek Farrell, and the School of ICA technicians for advanced technical support; Linda McQuaid, Siobhán Molloy and the DkIT Communications Office; Dr Susan Motherway and all of the presenters for sharing their research.
Symposium conveners,
Dr Daithí Kearney and Luke Malone
Programme:
9.15 - Welcome Video - Performing Oriel's Heritage, Oriel Traditional Orchestra
9.30 - Welcome - Dr Gerard Bob McKiernan, President of Dundalk Institute of Technology
9.45 - Session 1: Visual Culture
Leandro Pessina (DkIT) - 'Lú Festival of Light: Reworking Folklore Through Festival Experience in Drogheda'
Dr Glenn Doyle (DkIT) – 'Emerging Practices of Sharing Everyday Images of Children in Irish Society'
10.25 - Session 2: Policy and Identity
Dr Maurice Mullen (DkIT) – 'The State as an Agent of Reworking'
Joanna Sweeney (UL) – 'The Tar Road to Sligo: An Investigation into the Regional Musical Identity of County Sligo'
11.10 - Break - Screening of 'Brigid's Cloak', outreach project with the Parish of St Brigid's Church, Dunleer, Co. Louth
11.25 - Session 3: Song
Dr Daithí Kearney (DkIT) – 'Creating Music in Youghal: Representing Local Folklore Through Song'
Roy Arbuckle (Independent Scholar) – 'Shapeshifter'
Colleen Savage (DkIT) – 'A Second Life for The Lost Songs of the Border - Amhráin Chaillte na Teorann'
12.30 - Lunch
1.30 - Session 4: Film and Animation
Luke Malone (DkIT) – 'Old Faces, New Perspectives: A Critical Examination of the Mother and the Crone in Cartoon Saloon's Irish Folklore Trilogy'
Dr Gerard Gibson (UU) – 'Ancient Myths, New Energies: The Revitalisation of Irish Folklore for the Modern Horror Screen'
Dr Maria Behrendt (Philipps-Universität Marburg) – 'Why Max Won't Sing in German, but Hans Will: Irish Folk Music as a Narrative Device in German Films'
2.30 - Session 5: Theatre and Dance
Carol Leavy Joyce (DkIT) – 'Reworking Folklore in the Dance Theatre Production Mnà na hÉireann'
Dr Adèle Commins (DkIT) – 'Representing Ireland on the Stage in Stanford's Comic Opera Shamus O'Brien'
3.10 - Break - Performing Oriel's Heritage, Oriel Traditional Orchestra
3.30 - Session 6: Music and Composition
Annalisa Monticelli (DkIT) – 'Folkloric Ideas in the Compositions and Arrangements of Michelle Esposito'
Orly Watson (QUB) – 'New Roads to the Land of Youth'
4.10 - Keynote Speaker
Dr Susan Motherway – 'Staging Folklore at the National Folk Theatre of Ireland (1968-1998)'
5.00 - Conclusion