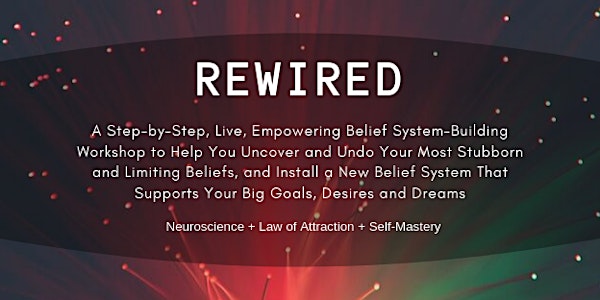 REWIRED: A Live, Empowering Belief System Building Workshop
An in-depth, step-by-step, live Empowering Belief System building workshop.
About this event
REWIRE: An in-depth, step-by-step, live Empowering Belief System building workshop to help you uncover and undo Your most stubborn and Limiting Beliefs and Install a new Belief System that supports your goals, desires and dreams.
During this live event, we will cover 6 modules and 1 Bonus Material module for a total of 7 modules. The workshop is slated to be roughly 90 minutes, but we may go over as there is a live Q&A after each module.
Attendees will receive lifetime access to:
1) A recording of the live workshop, including all slides with six modules and live Q&A
2) The "Empowering Belief System Building Worksheet" to reuse again and again forever!
What We'll Cover:
Module 1: What are limiting beliefs and where do they come from?
Module 2: How do limiting beliefs impact the way we think, feel, believe, behave and the results we get?
Module 3: How do limiting beliefs impact us on a neurological level?
Module 4: What are the two only ways of undoing limiting beliefs and installing new ones?
Module 5: How long does it take to undo a belief and install a new one?
Module 6: New Empowering Belief System Building Workbook
Module 7: BONUS MATERIAL: Empowering Belief System Booster Glossary and Guide
Who is this workshop for?
This workshop is for anyone who knows that the only thing keeping them from having, doing and BEing what they truly want is the belief that they can't. It is for individuals who understand that years of programming and wiring through childhood experiences, hardships, trauma and poor decisions will require radical self-awareness, personal responsibility, and a committed and consistent approach to transforming your belief system from the inside out.
Who is it not for?
Course and workshop hoarders who want to consume more content but take no action. Individuals who feel no sense of personal responsibility and refuse to engage in profound self-awareness.
Ready to get REWIRED?
Purchase your ticket right here. Once your order is confirmed, you will recieve an email immediately with the live workshop event link. Put it on your calendar, and the day of, just click on the link.