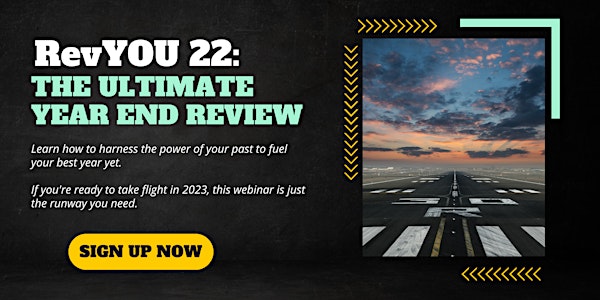 RevYOU 22: The Ultimate Year End Review
"You can't really know where you're going unless you know where you've been." - Maya Angelou.
About this event
People often say, "don't look back, you're not going that way...."
I say, "IF you DON'T look back you will keep going that way."
Failing to take a purposeful look at where we've just been is a wasted growth opportunity.
This webinar is for you if you're looking to:
- Squeeze the juice out of 2022
- Serve up a glass of sweet success in 2023
AND/OR if you have any of these more specific goals like:
-----> Making more money
-----> Finding a partner
-----> Getting healthy
-----> Starting a new career
-----> Finding Joy
-----> Letting go of limiting beliefs
-----> Breaking a bad habit
If you see your greatest success peaking above the horizon, now is the time to harness the power of your past to fuel that future you're dreaming of.
This will be the most valuable zoom meeting you attend this year.
In 30 minutes you will:
Learn how to step out of emotion and into reflection to review your year effectively,
Get my fail-proof framework to ask the right questions and finally find the answers you've been looking for, AND
Discover how this process can serve you in every aspect of your life to help you unlock your fullest potential.
We will never again get the chance to learn from our recent mistakes, celebrate our recent successes, or observe our recent behaviors.
That means we'll likely make the same mistakes again, overlook our progress, and stay stuck in the same bad habits/patterns.