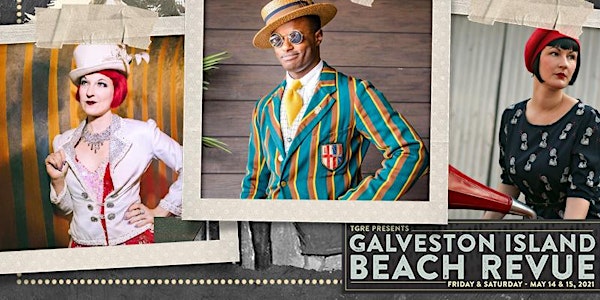 Revue Prevue Party w/ Dandy Wellington and His Band
Meet the 2021 Bathing Beauties at this Exclusive Preview Party
When and where
Location
Beach Central Seawall Boulevard Galveston, TX 77550
About this event
Galveston's official kick-off to summer welcomes you to the 2021 Galveston Island Beach Revue at the exclusive Revue Prevue party, hosted by Dandy Wellington and His Band! The night also welcomes Amelia Foxtrot and Gin Minsky for special Friday-night-only performances. Food trucks will be on site for paid food options.
Ticket holders will enjoy complimentary craft beer and wine and will receive a drink ticket for one complimentary cocktail from DTO Galveston. The evening also is the publics first introduction to the 2021 Bathing Beauties contestants.
Tickets are non-refundable and include standing-room-only admission to Saturday's Beach Revue.
ABOUT DANDY WELLINGTON
Inspired by the Big Band Era of Jazz, Dandy Wellington, and his Band have taken the sounds of the 1930s and 40s and created a world of well-dressed music. With a passion for obscure songs steeped in the Jazz tradition, Dandy Wellington has assembled a catalog of music that invokes an atmosphere of class. From the golden age of cinema to the bounce of New Orleans, each song is hand-selected and played to perfection by a band cut from the cloth of elegance. This year marks the sixth year of Dandy's participation at the Galveston Island Beach Revue. Learn more at www.dandywellington.com.
ABOUT GALVESTON HISTORICAL FOUNDATION
GHF was formed as the Galveston Historical Society in 1871 and merged with a new organization formed in 1954 as a non-profit entity devoted to historic preservation and history in Galveston County. Over the last sixty years, GHF has expanded its mission to encompass community redevelopment, historic preservation advocacy, maritime preservation, coastal resiliency, and stewardship of historic properties. GHF embraces a broader vision of history and architecture that encompasses advancements in environmental and natural sciences and their intersection with historic buildings and coastal life and conceives of history as an engaging story of individual lives and experiences on Galveston Island from the 19th century to the present day.