Event Information
Refund policy
Contact the organizer to request a refund.
Eventbrite's fee is nonrefundable.
A weekend devoted to growth, healing, and introspection.
About this event
There are two mind states (the alpha states) that, when mastered, enable us to function optimally: Hyper-alertness (masculine energy) and deep rest (feminine energy).
Mastering these alpha states = tuning into the Divine feminine: Learning how to turn it off so that we can more predictably turn it on! The divine femine is the listening and healing part of our core that is often repressed in our overly masculine do-do-do culture.
This weekend is devoted to changing our internal song from do-do-do to do-be-do-be!
It's going to be 4 virtual zoom sessions, part lecture/discussion, and part hands on yoga, meditation and integration. AND we have some special guests to show us how to shift from a sympathetic posture to a parasympathetic, master our breathing, and tap into our DIVINITY.
Autumn is representative of death , which creates space new life. Falling leaves, burning trees, changing seas; nature is telling us it's time to go inward. It's time to check in, listen, and double down on our feminine energy so we can let go of what's no longer serving us and create space for more of what allows us to grow. We can only evolve after letting go of the parts of ourselves that no longer serve us.
The theme of fall is DECISION (direct translation = to cut out (de-cision)). The goal will be to cut out the parts of ourselves that seek comfort and stagnation, to optimize ourselves towards our higher purpose!
Life is simply a game of constantly saying yes or no,
struggles come when we say maybe....
Easy life -> HARD decisions
Hard life -> easy decisions (avoiding the hard ones)
An easier life begins with letting go: Surrender
***The death of the idea of yourself is the precursor to life as your TRUE SELF. Surrender is the reconciliation of that which is innate: Peace, love, and freedom. One cannot surrender their authentic self b/c their authentic self is already there.
The life we seek to access isn't necessarily incumbent upon attaining money or fame (extraordinary praise) FIRST. The life we desire is more successfully accessed through the reconciliation of the deep seated subconscious patterns of insecurity and inadequacy that govern our decisions. Money and fame(if desired) become the consequence of living authentically - When we learn how to set ourselves free, we can teach others this valuable art, and becoming the teacher adds a layer of value + accountability to yourself.
This is only attainable when we DECIDE to let go of the fear of anyone else's judgments, habitually. That is to say, when we decide to lessen our grip of the percieved image we have built up of ourselves in the eyes of others. We fear the death of our identity constructs ( ego, reputation), but ironically joy lies right on the other side of this fear.
Join us on our mission to heal ourselves by diving back into our bodies, into our true nature, our true purpose (who we truly want to be). Using Eastern healing modalities backed by Western science, our mission is to uncover and restore the healer within us that makes us whole.
The only prerequisite is fostering the notion of having an open heart and an open mind!
Takeaways:
* CONNECTION: Connecting deeper with ourselves and like minded individuals who share the same struggles, concerns, and passions!
* Understanding basic yoga principles and utilizing the physical elements to open our mind and body up to forming new neural pathways.
* Implementing strategies to master our super human mental states.
* Mapping: Knowing where you are (physically and energetically) and where you wanna be.
* Utilizing this time to strengthen and or redefine your long term vision.
* Learning to shift from stress to mindful productivity
* Energy leadership- learning to energetically lead yourself through emotionally difficult situations.
* Breathwork - emotional mastery.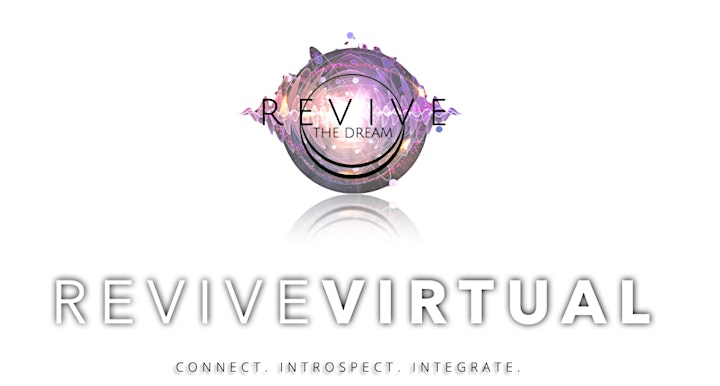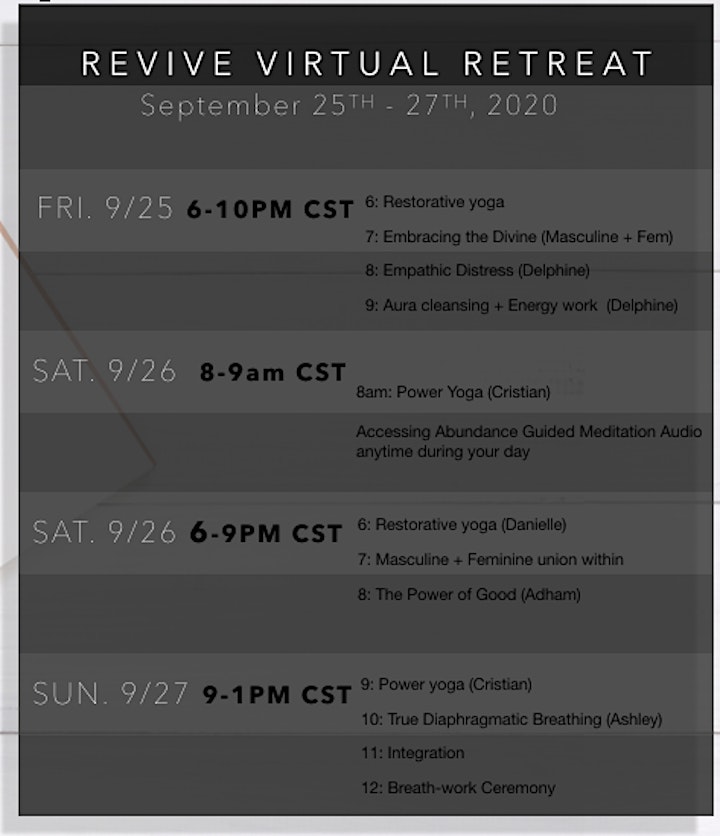 Date and time
Location
Refund policy
Contact the organizer to request a refund.
Eventbrite's fee is nonrefundable.