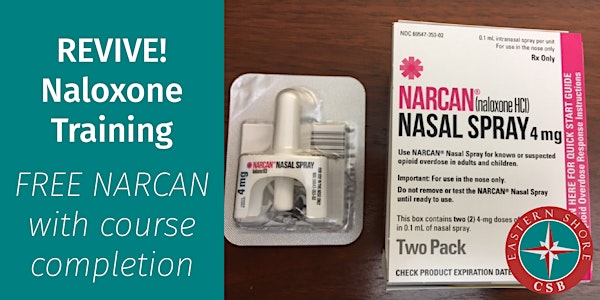 REVIVE! Lay-Rescuer Training (Naloxone Training)
REVIVE! is the Opioid Overdose and Naloxone Education (OONE) program for the Commonwealth of Virginia.
When and where
Location
ESCSB Office of Prevention 15150 Merry Cat Lane Belle Haven, VA 23306
About this event
REVIVE! Lay-Rescuer Training
REVIVE! is the Opioid Overdose and Naloxone Education (OONE) program for the Commonwealth of Virginia. REVIVE! provides training to professionals, stakeholders, and others on how to recognize and respond to an opioid overdose emergency with the administration of naloxone (Narcan ®). REVIVE! is a collaborative effort led by the Virginia Department of Behavioral Health and Developmental Services (DBHDS) working alongside the Virginia Department of Health, the Virginia Department of Health Professions, recovery community organizations such as the McShin Foundation, OneCare of Southwest Virginia, the Substance Abuse and Addiction Recovery Alliance of Virginia (SAARA), and other stakeholders.
Public Health Emergency
Virginia is currently under a public health emergency as a result of the opioid addiction crisis. Virginia has been severely impacted by opioid abuse, particularly the abuse of prescription drugs. In 1999, the first year for which such data is available, approximately 23 people died from abuse of fentanyl, hydrocodone, methadone, and oxycodone (the leading prescription opioids abused, commonly referred to as FHMO). By 2013, the most recent year for which complete data is available, 386 individuals died from the abuse of FHMO, an increase of 1,578%, with fentanyl being the primary substance fueling this increase. In 2013 alone, there was an increase of more than 100% in deaths attributed to fentanyl use. In 2013, as before in 2011, drug-related deaths happened at a higher per capita level (11.0 deaths per 100,000) than motor vehicle crashes (10.1 per 100,000).
Naloxone - Virginia Statewide Standing Order
A Standing order serves as a prescription for all Virginians who would like to obtain Naloxone. Virginia residents can now request Naloxone directly from the pharmacy without out having to visit their doctor or medical provider first.
Naloxone, a prescription medication, is an opioid antagonist drug that reverses the effects that opioids have in the brain. When a person overdoses on opioids, the opioid overwhelms specific receptors in the brain, slowly decreasing respiration and heart rate before finally stopping it altogether. Naloxone has a very high affinity for these receptors and effectively pushes the opioid off of the brain receptor. This action allows a person's body to resume respiration. Naloxone has been used for years by emergency medical technicians and emergency room doctors to reverse opioid overdose emergencies. Outside of this singular purpose, naloxone has no effect on the body, and poses no danger to anyone who accidentally administers it to themselves or someone else.
Naloxone is a proven public health response to the epidemic of opioid overdose emergencies. The Centers for Disease Control and Prevention indicate that since 1996, when the first program to distribute naloxone to Lay Rescuers (REVIVE!'s terminology for community members who have been trained on naloxone administration) was implemented, 152,283 persons received training on administering naloxone. Those individuals have saved 26,463 lives by administering naloxone to individuals who were experiencing an opioid overdose emergency.