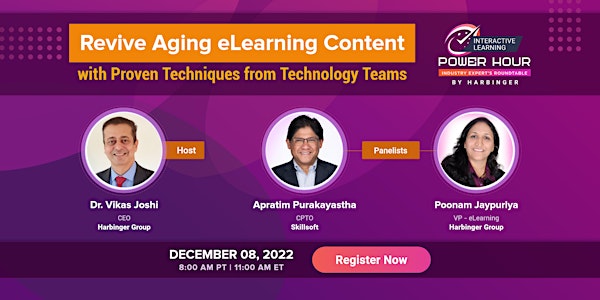 Revive Aging eLearning Content with Proven Techniques from Technology Teams
Join this webinar to understand what is Content Aging and how you can update your aged content library without scraping it.
About this event
Do you have a large learning content library? Is that content still relevant and up to date?
Online learning has taken over as a key L&D strategy and delivery modality when it comes to training employees. While online learning is the need of the hour, it is equally important to regularly update the learning content to avoid the problem of content aging.
Using aged content in your eLearning modules can prove more detrimental than not implementing eLearning at all. It also restricts businesses to better prepare for the future of learning and keep their L&D content fresh and relevant amid rapidly changing technologies, techniques, laws, ecosystems, competency requirements, and way people work.
Besides, here's why you should update aging content regularly:
• Incorrect latest information
• Ineffective learning and training
• Increasing costs of maintenance
• Learner expectation mismatch
• Wasted time and resources
Did you know, you can overcome content aging by applying proven techniques used to resolve tech debt issues by technology teams? Yes, you don't always need to scrap and start all over again. Like tech debt, content aging can be resolved by simply updating what is necessary. It's also true that not every content aging issue needs to be resolved.
Our upcoming Power Hour "Revive Aging eLearning Content with Proven Techniques from Technology Teams" will dive deep into the largely unfamiliar but highly important topic of content aging. Hosted by Dr. Vikas Joshi, CEO of Harbinger Group, the interactive virtual roundtable will feature our esteemed panelists:
Apratim Purakayastha, CPTO of Skillsoft
Poonam Jaypuriya, VP - eLearning of Harbinger Interactive Learning
Join this webinar on Dec 8, 11 am ET to get unique insights and perspectives of industry experts on how to deal with aging eLearning content.
Key Takeaways
• Decoding the concept of content aging and content aging indicators
• Best practices to avoid content aging and for future content maintenance
• Tech Debt vs Content Aging: Things to learn from tech debt management
• A holistic solutions approach using tech debt principles to resolve content aging