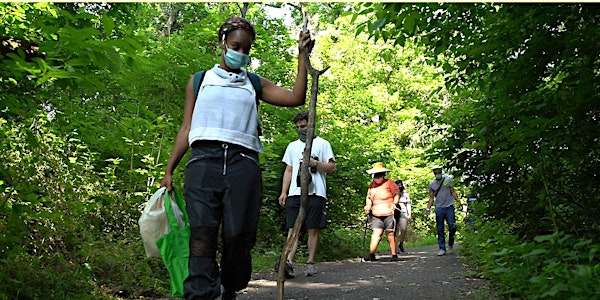 Multiple dates
Revival Walks at Tacony Creek Park
Take a reflective walk, facilitated by Dance Artist Lela Aisha Jones/FlyGround, through the Tacony Creek Park / Watershed.
By Olney Culture Lab of CultureTrust Greater Phila
Date and time
October 31, 2020 · 9am - November 28, 2020 · 6pm EDT
Location
Tacony/Tookany Creek Park Cheltenham Avenue & Crescentville Road Philadelphia, PA 19120
About this event
Using our stories, creative play based in movement, and other art forms, take a reflective walk, facilitated by Movement Artist Lela Aisha Jones/ FlyGround, through the Tookany/Tacony Creek Park/Watershed.
Come closer to living in reciprocity and exchange with the natural environment by offering and by contemplating its role in our lives as beyond serving us.
Earth's life does not need us to survive, we need it. ~ Freida Jacques (Indigenous Elder, Onondaga Nation)
You will need to:
Bring your journal, audio recorder, sketchpad, or any tool to reflect and archive this cultural memory.
Be prepared to work individually, with socially-distanced partners, and collectively.
Bring a towel to sit on if you do not like sitting on grass or rocks. We will take breaks to reflect.
All participants must register to attend. Groups will be no more than 15 people. As a group, we will adhere to CDC safety guidelines.
Walk Schedule:
Saturday, October 31, 2020 | 9:00am to 11:30am
Saturday, November 28, 2020 | 9:00am to11:30am &
*3:30pm to 6:00pm
*Participants of the walk beginning at 3:30pm must be16 years or older.
Safety: Please wear masks. You may also want to consider gloves, shoes for walking/moving, long pants, sleeves, and the weather.
The "Revival Walks" are a part of The Olney Embrace Project produced by Olney Culture Lab. The project will be a multi-disciplinary, multi-site exploration of the Olney neighborhood, its residents and our diverse cultures and stories. Enlisting the support of an amazing team of distinguished artists, dancers and musicians; we aim to permeate a variety of civic spaces with meaningful arts and cultural engagements from now until the end of 2021. In addition to activating well-known locales such as North 5th Street business corridor, Fisher Park and Tacony Creek Park among others, we will also be working to find ways to navigate the pandemic and converse with audiences through the digital realm. Through this project, we aspire to increase the community's sense of potential, positive identity, and social-civic wellness.
Lead support of The Olney Embrace Project is provided by William Penn Foundation.
Additional support provided by Einstein Medical Network, Philadelphia Activities Fund, PECO and Pennsylvania Council on the Arts.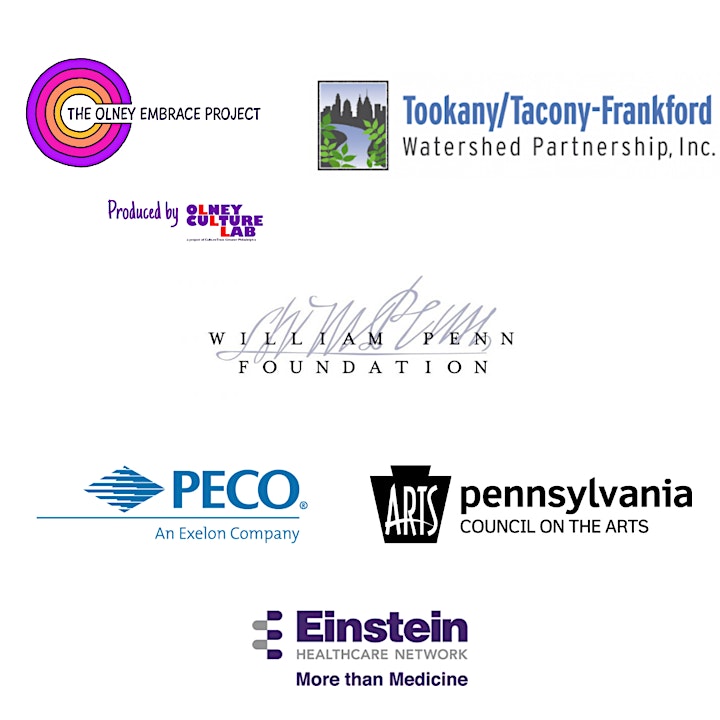 About the organizer
At Olney Culture Lab, we believe that culture can be a catalyst for community development and social change. Our mission is to celebrate cultural assets by designing and producing events and programs that showcase the multitude of cultural expression found in the greater Olney neighborhood of Philadelphia. By strengthening networks in the community and creating strategic alignment of cultural assets and resources, we increase social capital and a sense of civic pride. 
Contact: olneyculturelab@gmail.com