Event Information
Location
Music Farm
32 Ann Street
Charleston, SC SC
Description
2nd Annual Lowcountry Local First Revival: Be Wary of Quick Fix Elixirs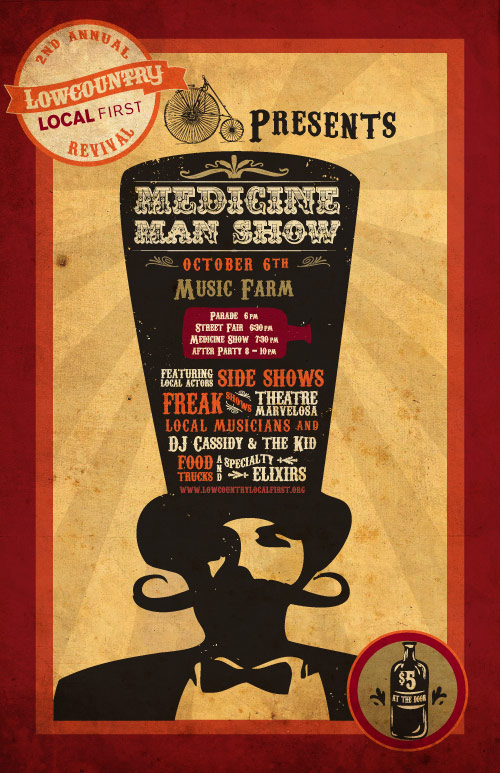 With the economy once again on everyone's minds, it is more important than ever to support locally owned businesses. Please join Lowcountry Local First and many of your favorite local Charlestonians as they fight to keep our community safe from quick fixes and other dangerous big box elixirs.
October 6th, Dr. TrickInaBox and his medicine man show will roll into town down to the Music Farm promoting their newest quick fixes for our community and economy. Greet and support your favorite food trucks and other local businesses at the LLF Street fair before experiencing the many talents of Theatre Marvelosa, Local Musicians with the 10% shifters and DJ Cassidy & The Kid.
Inside we will offer local libations, fire walking and more!
THIS IS A DIFFERENT TWIST ON A FUNDRAISER. 5 Local Dare Devils have agreed to help LLF raise funds for the Buy Local Movement. The Dare Devil who raises the least amount by the evening of the event will have to walk over burning coals during the production! After your purchase your ticket, help your favorite local hero by making a donation on his or her behalf. These fabulous Dare Devils are:
Angel Postell of The Charleston Wine + Food Festival
Roger Martinez of American Automated Payroll
Cyrus Buffum of Charleston Water Keeper
Lee Deas of Obviouslee Marketing
Darcy Shankland of Charleston Magazine

October 6th
6:00-6:30 Medicine Man rolls into town and parades down to the Music Farm
6:30-7:15 LLF Street Fair- Local Food trucks and member business booths
7:30-8:00 Production: Be Wary of Quick Fix Elixirs
8:00-10:00 After Party DJ Cassidy & The Kid

Purpose: Launch the LLF membership drive and promote the best practice of supporting locally owned businesses.

Cast of Characters:
The Medicine Man Dr. TrickInaBox & his band of National Lampoons
Reverend Ben Savensoles (Dana Mitchell from the Have Nots)
10% Shifters Choir
Check out the video from last year's Revival that the Charleston City Paper did here!
Date and Time
Location
Music Farm
32 Ann Street
Charleston, SC SC