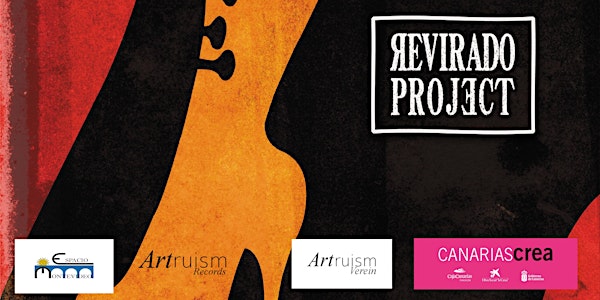 Revirado Project (Tango-Jazz) in Vienna by Enrique Thompson
When and where
Location
Espacio Montevideo 117 Stadtbahnbögen 1180 Wien Austria
Description
Revirado Project is a non conventional and open meeting point. We blend Tango, jazz and Argentine folk through improvisation, giving space to spontaneous creations, experimentation, dance and diverse forms of art. Created by the saxophonist and composer Enrique Thompson and published by Artruism Records.
https://reviradoproject.bandcamp.com/album/vuelta-de-p-gina-page-turn
Follow our events subscribing here: http://bit.ly/HMhh6x
Im Revirado Project wird Musik mit hauptsächlich argentinischen Wurzeln mit Jazz und Improvisation zusammengebracht. Das Projekt stellt das Saxophon als eines der Hauptinstrumente ins Zentrum im Zusammenhang mit sehr verschiedenen verschiedenen Bandformaten wie Quartett mit Piano, Schlagzeug und Saxophon, sowie Streichinstrumenten, Stimme, Bandoneon, Gitarre und elektronische Musikinstrumente.
Dieses Projekt ist sowohl zum Hören, als auch zum Tanzen entworfen. Sobald die erste Aufnahme veröffentlicht ist, wird man auf Tour gehen und das Produkt in verschiedenen Agenturen Europas und der Vereinigten Staaten bewerben.
Nachdem ich viele Jahre als Saxophonist und Komponist in verschiedenen Projekten (von Jazz, Latin, Theatermusik, klassische Musik und eigenen Kompositionen) tätig war, habe ich beschlossen diese Arbeit in einem einzigartigen Projekt zu vereinen, das all diese Erfahrungen mit besonderem Fokus auf Jazz und Tango sowie eigene Werke und Beiträge verschiedener TeilnehmerInnen vereint und somit ein Musik- und KünstlerInnenkollektiv, welches nicht nur die Musik, sondern optional auch Tanz, Visuals und Theater einschließt. Der Tango hat sich zu einer internationalen Musikrichtung entwickelt, dessen größtes Publikum in Europa, Japan und den Vereinigten Staaten zu fnden ist. In Europa, sozusagen der Wiege des Tango, von den Instrumenten bis hin zur Bildung der typischen Orchester, die einem Symphonieorchester nacheifern, dem Einfuss der klassischen Musik, der italienischen, jüdischen, polnischen und spanischen (allerdings mit einem neuen Touch) - seine Entstehung ist es wohl, was das bekannte Gefühl für diese Musikrichtung im Alten Kontinent auslöst.
Cultura Canarias, Canarias Crea, Artruism Records, Artruism Verein, Espacio Montevideo, Jazzy Mondays Berlin