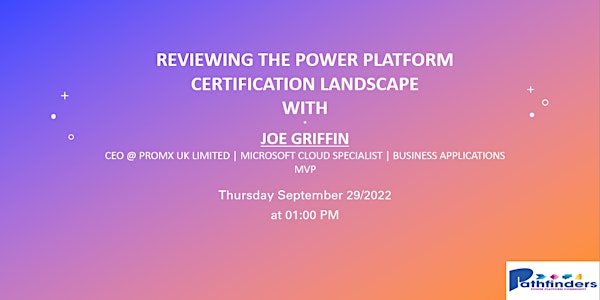 Reviewing the Power Platform Certification Landscape
Reviewing the Power Platform Certification Landscape
About this event
The number of Power Platform certifications has quadrupled in recent years. While this presents a challenge for individuals or organization's looking to validate their skills, it also provides more opportunities than before to devote yourself to learning a given topic, demonstrate your technical competency, and earn an industry-recognized accreditation in the process.
To help those considering certification, this session will provide an end-to-end overview of all Business Application exams currently available to take. We'll evaluate each exam, the expected skills measured for each exam and tips and techniques to maximize your revision time. There will also be ample opportunities for attendees to get help on a particular exam. At the end of the session, we will equip attendees with the knowledge and resources they need to start their learning journey.
Why Attend?
• To Inspire and motivate community members to achieve their set goals and dreams. It is never too late, and it is not to early to start their journey in IT or in life in General
• Put your experience to good, to be inspired or to inspire others
• Network with community members, leaders, and exceptional mentors
What to do next
• Register for the event!
• Get started by being part of the community, Let's grow together in the cloud platform.
• We are pathfinders and we got this, we can come together and make a difference
What is Coming?
This is a monthly session our next meeting is on October 2022
if you want us to keep you on our mailing address and send you an invite please complete the Pathfinders form
Let's Inspire and motivate each other, IT is a big ocean to swim by yourself.
Organizers