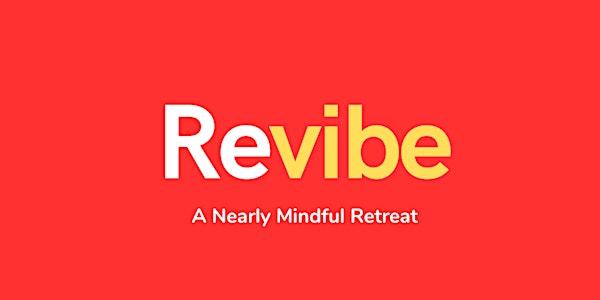 Revibe - A Mindfulness Retreat with Janet Fouts
How's your vibe right now? Can you feel it? Do you know when it changes, or how to raise and lower it depending on what your heart needs?
By Janet Fouts -Nearly Mindful
Date and time
Saturday, June 10 · 9:30am - 4:30pm PDT
Location
Jamison-Brown House 1507 Warburton Avenue Santa Clara, CA 95050
Refund Policy
Refunds up to 7 days before event
About this event
We've all had our high and low vibes the last few years. We've experienced a range of emotions, including joy, excitement, dismay, frustration, and loss. Let's let that go for a day, focus on self-care and just BE.
Because maybe what you need to be happy is to take care of YOU.
The Revibe retreat offers refuge from the world out there and permission to focus on your own self-care right here–in your heart.
What if you could take a day just for your own wellness and recharge your vibe?
What if that day would be full of heart, compassion, beauty, and gratitude?
What if you learned new tools to better care for yourself and those around you?
What if the retreat is to be held in a beautiful historic home with access to a gallery full of art to reflect on in the heart of Silicon Valley?
Are you looking to develop your emotional intelligence and communication skills?
Do you want to learn how to connect with yourself and others on a deeper level?
If so, our one-day retreat focused on learning to tune in to the vibe when and wherever you are is just what you need!
What's a vibe, you ask? It's all about understanding and connecting with our own energy and that of others. It's about being able to sense the vibe of ourselves and those around us and respond in a way that's authentic and effective.
Here's what you'll take away from this retreat:
Deeper self-awareness: When we recognize our own personal vibe, we become more aware of our emotions and how they affect our interactions with others. This helps us regulate emotions and respond in a more informed and effective way.
Greater empathy: Recognizing the vibe of others around us develops greater empathy, compassion, and understanding for the emotions and experiences of others. We can connect with others on a deeper level and build stronger relationships.
Become a better leader at home or in the office: Leaders who can "read the room" can create a more positive and productive work environment. By understanding and responding to the vibe of their team members and stakeholders leaders build a culture of trust, respect, and collaboration.
This one-day retreat is the perfect opportunity to take a break from your busy life and focus on yourself and your personal growth. You'll connect with other like-hearted humans, engage in fun group activities, and gain valuable insights and real-world skills to apply in your personal and professional life as well as in your community.
We invite you to join us for a day of exploration of how vibration, creation, and mindful practice together affect us all in a positive way.
Frequently asked questions
How long is this retreat?
About the organizer
Janet Fouts is the principal coach and founder of Nearly Mindful, a Silicon Valley mindfulness training organization. With over 25 years working in the digital marketing and technology industries, she understands the need to come home to our human needs and find personal fulfillment in our lives at home and at work.
She skillfully works at the nexus of tech, neuroscience, and mindfulness, and believes deeply in the value of self-awareness and emotionally intelligent communication at all levels of business.
As a personal and emotional intelligence coach, facilitator, speaker, and trainer, she brings the tools of mindfulness, positive psychology and emotional intelligence together to help leaders and their teams realize their full potential.
With the Nearly Mindful workshops, retreats, group, and one-on-one coaching sessions, Janet makes emotional intelligence and mindfulness relatable and doable for everyone.