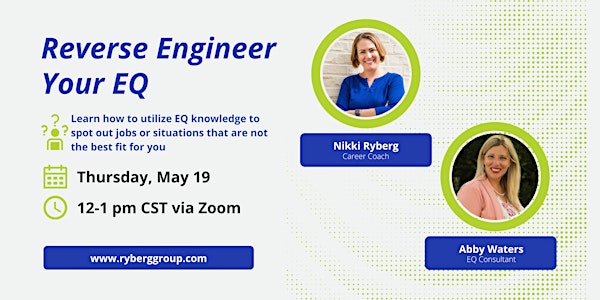 Reverse Engineer Your EQ
Learn how to utilize EQ knowledge to spot out jobs or situations that are not the best fit for you.
About this event
Reverse Engineer Your EQ!
Wondering how to avoid a toxic boss in the next role? Wondering how to scope out teams that are terrible fits for your style? How do you really scope these things out?
Let's talk with an EQ expert to discuss the ways you can use EQ, short for Emotional Intelligence, to use this knowledge for your own power.
We can't avoid all discomfort or bad situations in life, but we can educate ourselves to understand others more, learn more about ourselves, and figure out how to blend the two.
We will spend time talking about how to look or understand those "red flags" we almost all say we realize AFTER the fact of a breakdown in a relationship. Abby Waters is a wonderful resource on this topic, she runs a consulting firm that offers organizational and EQ consulting all over the US. Join us to learn more!
Note: this event will not be recorded, so please plan to attend live if you'd like to join us. Thanks!