Reverend Run @ Revolution Rock Bar

Saturday, October 9, 2010 at 9:30 PM

-

Sunday, October 10, 2010 at 2:00 AM (EDT)
Event Details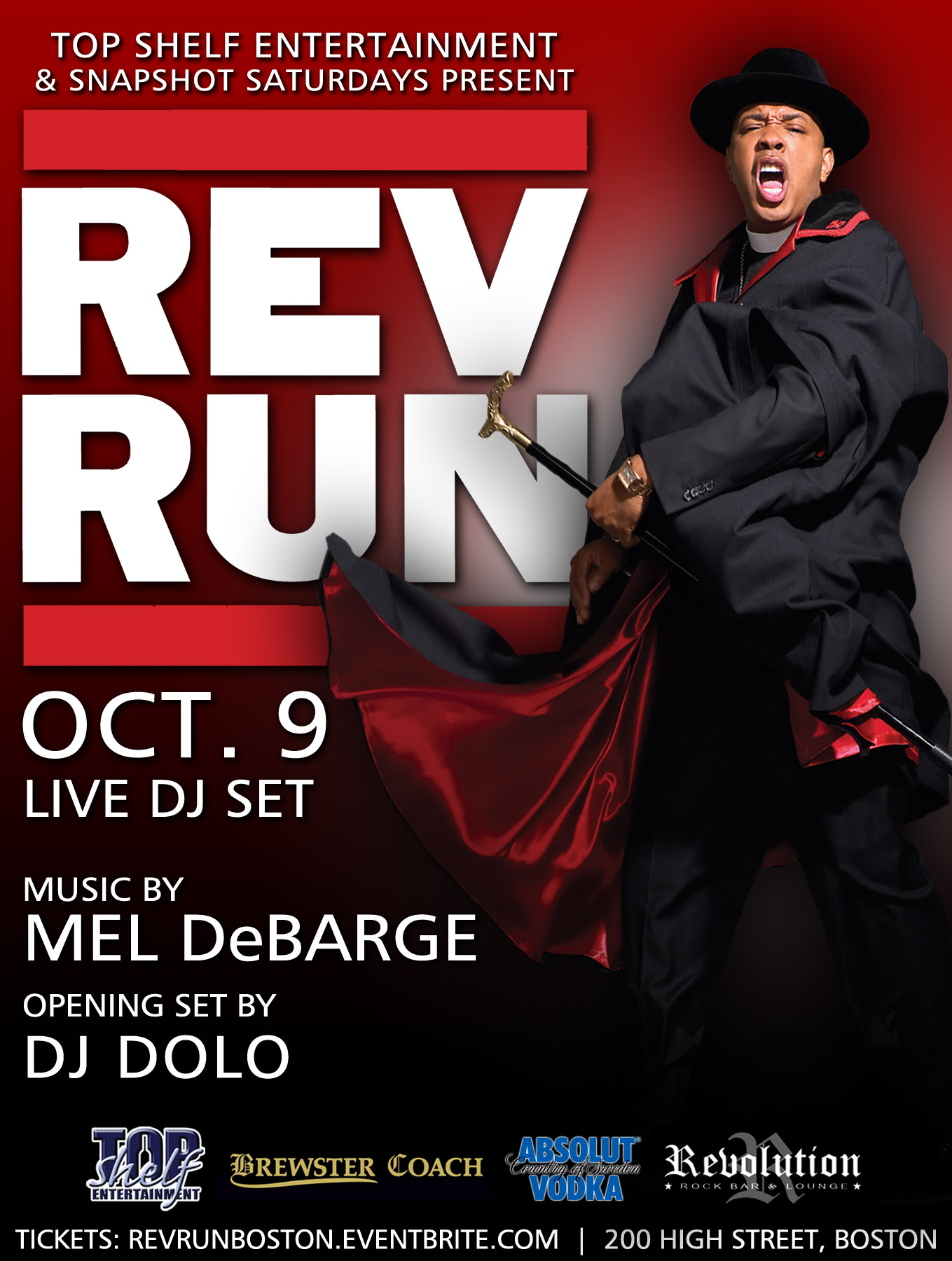 On Saturday, October 9th, Top Shelf Entertainment invites you to "Walk this Way" as the legendary Reverend Run will be performing a live DJ set & rocking the crowd at Revolution Rock Bar!
Music also provided by the world-famous DJ Mel DeBarge & Boston's DJ Dolo, with DJ J.Stacks spinning in the lower lounge.
About Reverend Run:
Reverend Run is universally considered to be one of the greatest icon/pioneer/revolutionaries in bringing hip hop to mainstream pop culture in the 1980s, and he is still one of the most respected names in pop culture almost 30 years later, with his popular MTV reality-show, "Run's House." 
It has been a long road for Reverend Run: from the basements of his Queens, New York homeland where he once spun records as Kurtis Blow's DJ to performing in front of worldwide audiences as a premier rapper, this pioneer has seen more than most.
As one-third of Run-DMC, the hip-hop group that changed the sound of rap by simultaneously being more street and rock n roll than their contemporaries, Run-DMC emerged on the scene with boom box classic single "Sucker MCs" (1983), and never looked back. Dressed in their trademarked black hats, outfits to match and strangely laced Adidas sneakers, Run-DMC swaggered onto the stage of Americans collective consciousness, determined to make rap music more than a street soundtrack for folks in the hood. Their embrace of the "look and style of the street" would define the next 25 years of hip hop fashion. 
Run-DMC would go on to release several more billboard chart-topping hits, including  the classics "King of Rock", "It's Tricky", and "My Adidas."  However, it was their collaboration with Aerosmith on the legendary "Walk this Way" rap/rock crossover track that not only became one of the biggest hits of the decade, but also is said to have been the most influential song of all-time in bringing rap to mainstream pop culture.
"...More than any other hip-hop group, Run-D.M.C. are responsible for the sound and style of the [hip-hop] music."  - Allmusic.com
"Run-D.M.C. took hardcore hip-hop from an underground street sensation to a pop-culture phenomenon. Although earlier artists, such as Grandmaster Flash and the Sugar Hill Gang, made rap's initial strides on the airwaves, it was Run-D.M.C. that introduced hats, gold chains, and untied sneakers to youth culture's most stubborn demographic group: young white male suburban rock fans. In the process, the trio helped change the course of popular music, paving the way for rap's second generation."  - Rolling Stone Magazine
Run-DMC was the first rap act to boast several major accomplishments:
A #1 R&B charting rap album
The second rap act to appear on American Bandstand (the Sugar Hill Gang appeared first on the program in 1981)
The first rap act to chart in the Top 40 of the Billboard Hot 100 more than once
The first rap artist with a Top 10 pop charting rap album
The first rap artist with gold, platinum, and multi-platinum albums
The first rap act to appear on the cover of Rolling Stone magazine
(one of) The first rap act(s) to receive a Grammy Award nomination
The first rap act to make a video appearance on MTV
The first rap act to perform at a major arena
Signed to a major product endorsement deal (Adidas)
The first rap act to be inducted into the Rock and roll hall of fame
Tickets: $20 each (first 200), then $25 each until sold out
Tables:
For tables, please email: VIP@topshelf-entertainment.com
NO REFUNDS, PROPER DRESS REQUIRED, 21+ event. 
Doors open @ 9:30 pm
THIS EVENT IS SPONSORED BY THE FOLLOWING:
HTTP://BREWSTERCOACH.COM
HTTP://ABSOLUT.COM
When & Where
200 High St.
Boston, MA
02110


Saturday, October 9, 2010 at 9:30 PM

-

Sunday, October 10, 2010 at 2:00 AM (EDT)
Add to my calendar