Sales Have Ended
Ticket sales have ended
Advanced ticket sales have ended for this event either because the event has started or because tickets are sold out. A limited number of tickets may be released on day of show via the waitlist.
Sales Have Ended
Ticket sales have ended
Advanced ticket sales have ended for this event either because the event has started or because tickets are sold out. A limited number of tickets may be released on day of show via the waitlist.
Second show added due to popular demand! A blistering night with legendary Dallas psychobilly trio.
About this event
$30 - $50
DOORS 7:30 PM / SHOW 8:30 PM
THIS EVENT IS 21+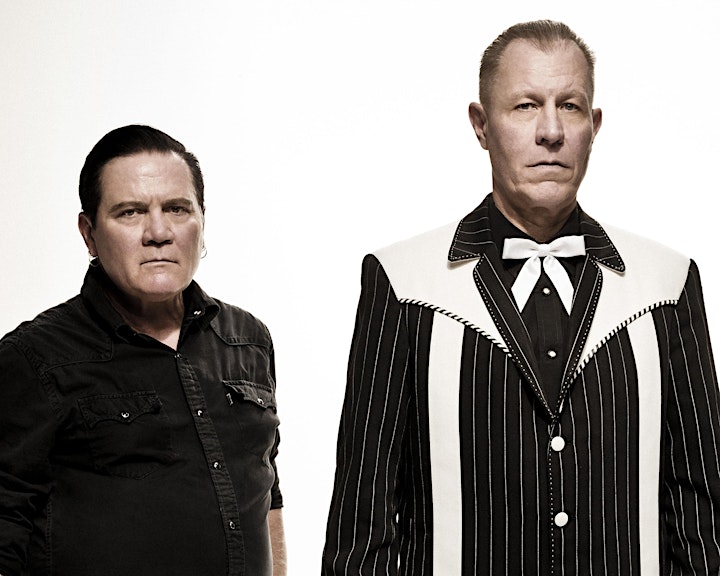 Instagram | Twitter | Facebook
Loaded guns, space heaters, and big skies. Welcome to the lethal littered landscape of Jim Heath's imagination. True to his high evangelical calling, Jim is a Revelator, both revealing & reinterpreting the country-blues-rock roots of American music. He's a time-travelling space-cowboy on a endless interstellar musical tour, and we are all the richer & "psychobillier" for getting to tag along.
Seeing REVEREND HORTON HEAT live is a transformative experience. Flames come off the guitars. Heat singes your skin. There's nothing like the primal tribal rock & roll transfiguration of a Reverend Horton Heat show. Jim becomes a slicked-back 1950′s rock & roll shaman channeling Screamin' Jay Hawkins through Buddy Holly, while Jimbo incinerates the Stand Up Bass. And then there are the "Heatettes". Those foxy rockabilly chicks dressed in poodle-skirts and cowboy boots slamming the night away. It's like being magically transported into a Teen Exploitation picture from the 1950′s that's currently taking place in the future. Listening to the REVEREND HORTON HEAT is tantamount to injecting pure musical nitrous into the hot-rod engine of your heart. The Reverend's commandants are simple.
ROCK HARD, DRIVE FAST, DIE TRUE.
And no band on this, or any other, planet rocks harder, drives faster, or lives truer than the Reverend Horton Heat. These "itinerant preachers" actually practice what they preach. They live their lives by the Gospel of Rock & Roll.
From the High-Octane Spaghetti-Western Wall of Sound in "Big Sky" — to the dark driving frenetic paranoia of "400 Bucks" – to the brain-melting Western Psychedelic Garage purity of "Psychobilly Freakout" — The Rev's music is the perfect soundtrack to the Drive-In Movie of your life.
Jim Heath & Jimbo Wallace have chewed up more road than the Google Maps drivers. For twenty-five Psychobilly years, they have blazed an indelible, unforgettable, and meteoric trail across the globe with their unique blend of musical virtuosity, legendary showmanship, and mythic imagery.
"Okay it's time for me to put this loaded gun down, jump in my Five-Oh Ford, and nurture my pig on the outskirts of Houston. I'll be bringing my love whip. See y'all later." - Carty Talkington Writer/Director
Rev your engines and catch the sermon on the road as it's preached by everybody's favorite Reverend. Don't forget to keep an eye out for the 11th studio album from REVEREND HORTON HEAT, boldly titled Rev, due out January 21st.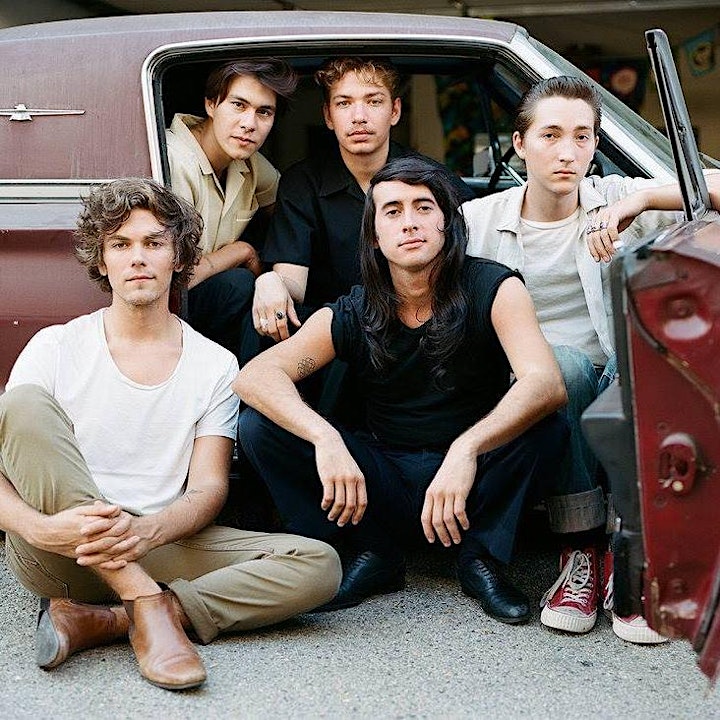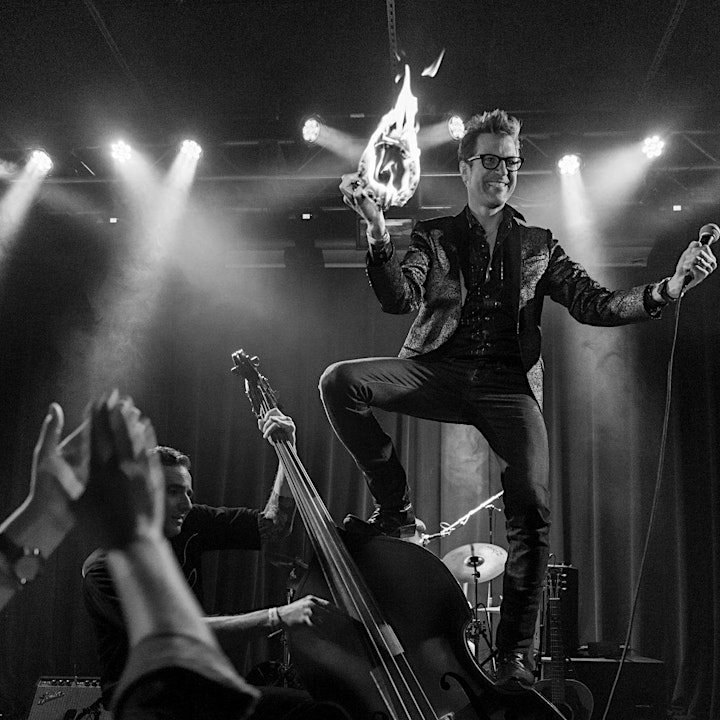 The Dusty 45s have inspired and fired up crowds for over two decades to the delight of fans and critics alike. With their signature style and unique sound, the band is a consistently powerful and energetic player in the Americana field.
Led by charismatic singer/songwriter, guitarist and trumpeter, Billy Joe Huels, the raucous band tears through Huels' original songs that draw inspiration from the roots of Rock, Rhythm and Blues, Honkytonk and Jazz. Current members of The Dusty 45s also include, Jerry Battista (lead guitar), Robin Cady (upright bass), Kohen Burrill (drums), and William Stover (piano). Huels and his outfit have steadily built their fan base since 1997. The Dusty 45s have toured extensively and they backed Rock and Roll hall of famer, Wanda Jackson multiple times. A highlight with Jackson was when they joined her opening for Adele's "21" tour in 2011.
The Dusty 45s have also shared the stage with many other musical greats including, Lyle Lovett, Lemmy Kilmister, John Prine, Big Bad Voodoo Daddy, Lucinda Williams, Leann Rhymes, Michael Franti & Spearhead, Brandi Carlisle and the Cherry Poppin' Daddies.
The Dusty 45s have released 7 recordings. The 2014 album, "Live and On Fire", showcases the best of their bold and brassy sound recorded live in Seattle WA. Huels is currently working on a new recording, due out in 2018.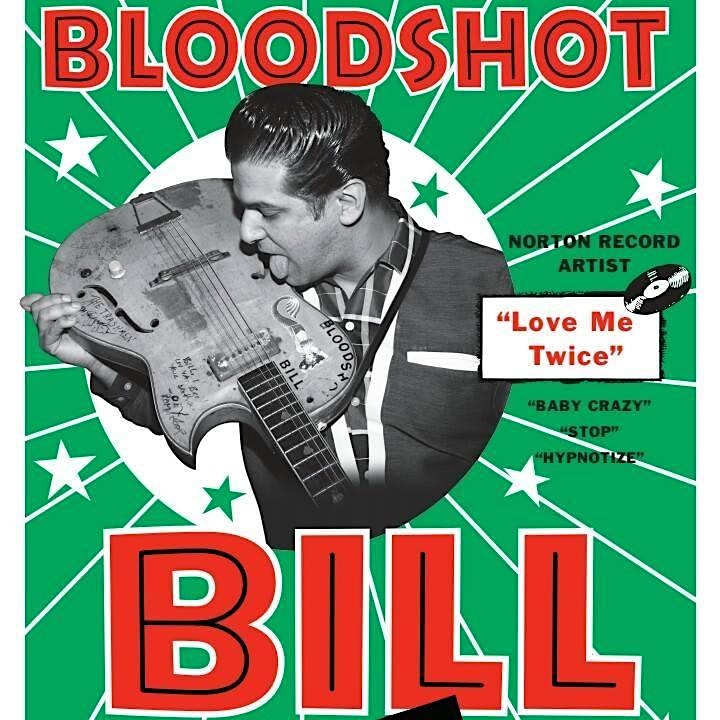 Instagram | Facebook | Bandcamp
BLOODSHOT BILL started in his hometown of Montreal around 1998, with just a guitar and a stomp board. Since then, he's had over 30 releases throughout Europe and North America. Touring constantly, he has collaborated with such acts as THE 5.6.7.8.'s, JON SPENCER, KING KHAN, beat poet CHARLES PLYMELL, MARK SULTAN, DEKE DICKERSON, and SHANNON SHAW. Plays well with others but is known mostly for his One Man Band act. Artist JOE COLEMAN once called him "a cross betwen Jimmie Rodgers & Popeye", and director JOHN WATERS says he's "like Roy Orbison with a head wound". He's been in movies too, usually playing himself. Has won FME's Coup De Coeur in 2007, and has more recently been a 3x-nominee for an AMERIPOLITAN award.
Performers
Date and time
Location
Refund policy
Organizer of Reverend Horton Heat