Event Information
Location
200 Stuart St.
Boston, 02116
Description
The Revere Hotel & Urban Legend Events present:
ONLINE TICKETS CLOSED
LIMITED TICKETS AVAILABLE FOR PURCHASE AT THE DOOR

The One Year Anniversary Party
A Pop Up Show Hosted by:
SUSANNE BARTSCH
At "One Night in Bartschland," a special pop-up party celebrating the one-year anniversary of Revere Hotel Boston Common, the nightlife scenes from New York, Paris, Tokyo and more come to Boston for an unforgettable night. Produced by the queen of New York nightlife, Susanne Bartsch, a legendary party planner who brings her world-renowned blend of fashion, edge and nightlife to the hub. This is Bartsch's FIRST party in Boston.
Expect wild fashion worn by colorful characters, a cast of New York nightlife socialites and performance artists who will take to the main stage to entertain throughout the night –including gender-bending socialite Amanda Lepore and NYC vogue king, Jonte Moaning. Thumping music, state of the art audio-visual effects, and a one-of-a-kind party space that transforms the Revere Hotel's 7,000 square foot Space 57, into a party atmosphere unlike anything the city has ever seen.
One night. One party. One Boston, under the lights.
"Bartsch's name is the nightlife equivalent of a couture label." - New York Times
"Susanne is the ringmaster presiding over a lawless carnival." -New York Magazine
"She is a true icon of the night and goes down in the nightlife hall of fame." - Ian Shrager Studio 54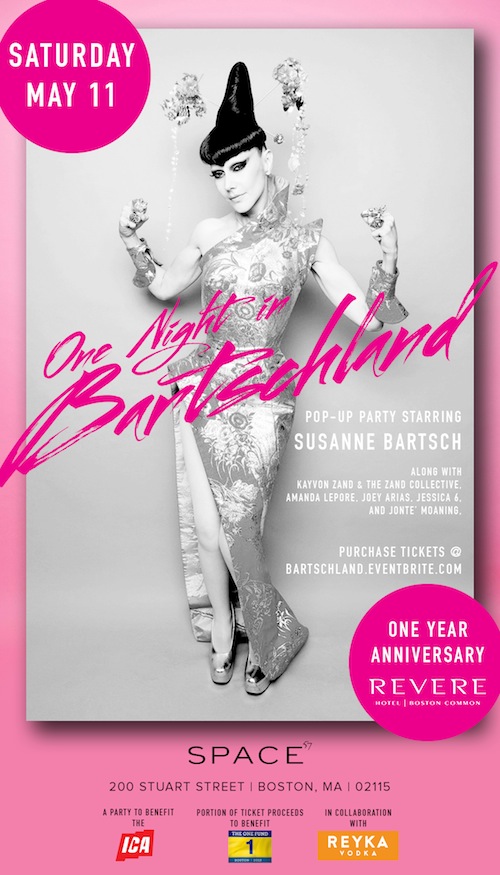 A Portion of Proceeds To Benefit:
The One Fund Boston
The Institute of Contemporary Art / Boston
SPECIAL PERFORMANCES:
The Zand Collective -Amanda Lepore - Joey Arias
Jonte Moaning - Jbdubs
THE LOCATION:
Space 57 inside the acclaimed Revere Hotel is downtown Boston's most unique event space boasting over 6,000 sq ft of space with 25 ft ceilings.
ATTIRE:
"At her parties, you are best off wearing a vintage corset, face paint, a headpiece, a cat suit, anything by Thierry Mugler, Alexander Mcqueen, or Vivienne Westwood, or barely anything at all." Blackbook Magazine
The Host Committee:
Ace Gershfield - Frank Stavrianopoulos - Salvatore Boscarino
Bryan Barbieri - Graham Wright - Ricardo Rodriguez
Joseph Gordon Cleveland - Robert Casey - Chris Tobeck
Mary Schwager - Nate Bluhm
Sean William Donovan - Scott Kearnan - Sandy Poirier
Julia Owens - Laura Baldini - Lisa Pierpont
Jeff London - Dylan Monroe - Kindra & Laura Daughters
Yvonne Tran-Nguyen - Dimitri Petrosian
---
If you weren't one of the 750 people that attended our "Studio 57" NYE Gala,
Check out Space 57 in Action!
Date and time
Location
200 Stuart St.
Boston, 02116