Refund policy
Contact the organizer to request a refund.
Eventbrite's fee is nonrefundable.
Musea Intentional Creativity Museum Show featuring artwork from students of the Ritual yearlong painting class guided by Shiloh Sophia.
About this event
Musea Intentional Creativity Museum invites you to join us for the Ritual - Revealing the Hidden Self Museum Show and Group Exhibition Opening. This exhibit features exquisite painted images created by students of the Ritual yearlong painting class, guided by Shiloh Sophia, over 13 moons in 2021.
Ritual is MUSEA's 2021 Intentional Creativity Course in Medicine Painting and Mythic Journaling dedicated to healing through calling the whole soul out of exile. This class focused specifically on the ways art-making can guide us towards mending our relationships with ourselves, our body, our community, our family, our lover/s, and our environment. And very specifically, how we organize our lifeways.
Throughout this yearlong journey, teachings were offered on:
Learning to live from Love catalyzed by the living with Ritual
Engaging in the Archetypal Potential of the Healed Healer
Practicing personal healing through Medicine Painting
Writing a mythical tale paired with your art
Integrating Your Hidden Self with Who You Are
Diving into the mystery of your beliefs about life and self
Awakening the Power of Your Mythic Imagination
Dedicating yourself to a Creative Spiritual Path
Practicing Meditation, Movement and Mindfulness
All members of this class met with each other online over zoom each month to connect, share their painting process, and engage in the experience and teachings together. By the end of the 13 moon cycle, many had created a powerful work of art that reflected a beautiful connection to the 'hidden' parts of themselves - a new and beautiful marriage and union within their own souls and psyches.
We look forward to celebrating these incredible paintings with you on March 16!
~ The Musea CoCurators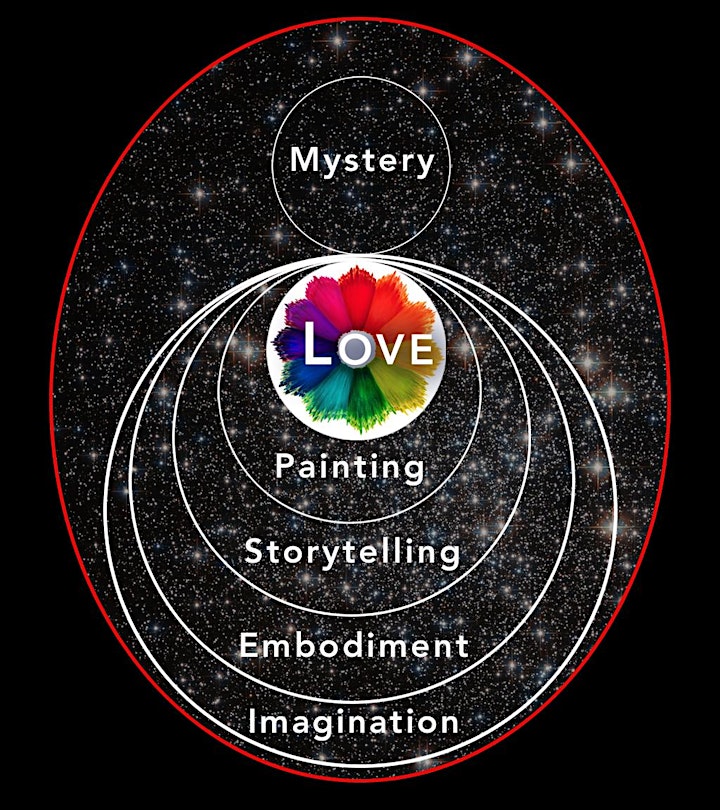 More About Ritual Yearlong Painting Class
Ritual is a yearlong painting experience that focuses on painting as a form of ritual - making art as the artifact (a record) of one's experience.
The Ritual Yearlong Painting Class focused on an archetypal image integrating two faces/selves. A single image of two becoming one that embraces the fragmentation within us as we call the whole soul out of exile. There are often two beings, the one we know and the hidden one. What Dr. Martin Shaw calls the 'Wild Twin'. The Inside self and the Mirror Self you share outside in the world are calling to one another across the cavern of the cosmos, lost without the other. Here at Mountain of Musea, we intuit that it is time to call them back together again.
As humans, we often seek outside of ourselves for that which we feel we are missing, in work, in relationships, in magic, in medicine, and in the material world. What if what we are seeking is the self already within us who hasn't been able to be fully self-expressed? What if the voice of the soul could speak clearly from within.
Through the Ritual yearlong journey, students were called to rise into the position of being a mythologist of their own consciousness, identity, and to shape their lives according to their soul's wisdom.
At MUSEA, we have noticed that paying this kind of attention and intention brings about a union of creativity with science, matter, and spirit. To our good pleasure and surprise, the feelings often expressed by students of these experience include things like...
Falling more deeply in love with your own self and life
Diminishment of physical and emotional pain
A heightened capacity for resilience and responsiveness
A fresh perspective on how you approach 'the world as it is'
Increased consciousness at the level of soul awareness
Falling in love may seem completely unreasonable in times such as these. But the Muse can't think of anything better to do...really.
"The collective psyche denies the present ego and, directly through this denial, creates anew. The floundering ego-particle, inundated with new, more richly adorned images, begins to re-emerge. We see this most beautifully in artistic productions."
― Sabina Spielrein, who worked closely with Carl Jung, sharing her ideas which shaped his work immensely.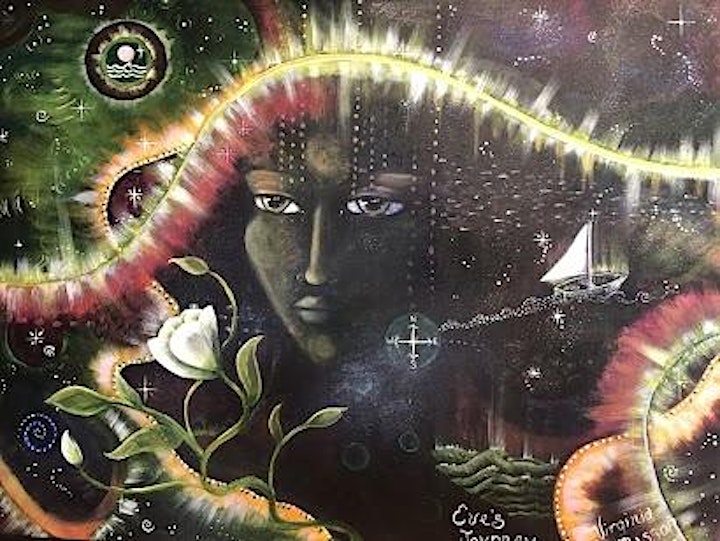 Painting: Eve's Journey ~ By Virginia Masson
"This was an incredible journey that had me laughing and crying, reeling and, yes, swearing! What most surprised me was the release of unjustified guilt and the recognition that, if one of my ancestors had made one different choice, even the bad ones, there's a good chance I wouldn't be here! I'm a miracle and need to treat myself like one!"